Whether it was the fast cars, the fashion or the great 80's music, the popular television show
Miami Vice
is how many young car geeks fell in love with Italian sports cars. The star of the show in our opinion is the black
1976 Ferrari Daytona Spyder
driven by Don Johnson. In this video interview with
Brian Grams
of the
Volo Museum
in Volo, Illinois, we learn a few of the show's secrets surrounding the cars. Share it with your fellow Ferrari fanatics and see if this isn't the show car that started their lifelong obsession. You know they had a poster of it on their wall!
The Ferrari 365 GTB Earns Nickname Daytona
If you are going undercover in the criminal world of 80's Miami, you need a car that exudes style and power. The Ferrari 365 GTB is that car. Introduced in 1968, the 365 GTB is Enzo Ferrari's response to the mid-engine Lamborghini Miura. A 1-2-3 sweep by Ferrari Racing (in the Ferrari 330 P-4) at the 1967 24 Hours of Daytona helps the 365 GTB earn the nickname, "Daytona" from the press.
Replica Ferraris Replace Real Ones
For the premier season, Miami Vice producers ask Ferrari North America for a couple of Daytona cars but Ferrari declines. The production company's solution is to have Tom McBurnie build two Ferrari bodies over Corvette chasses. Sadly, the only real Daytona appears on screen in the pilot episode for a brief 10 seconds.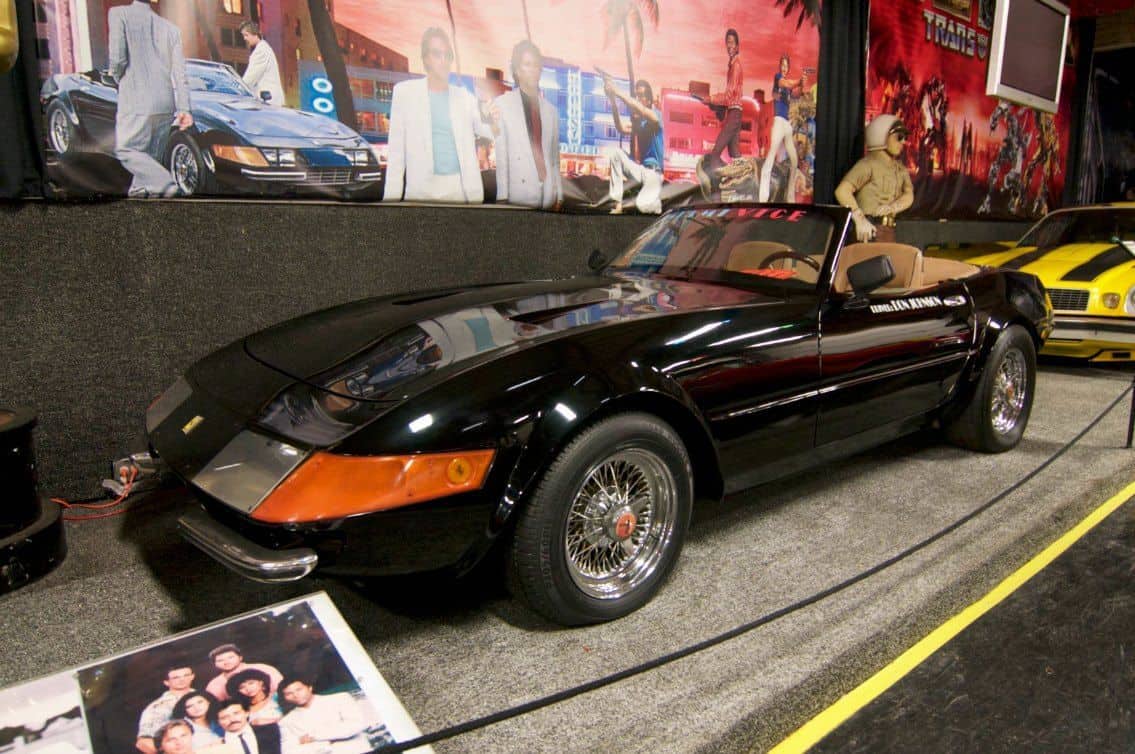 A Last-Minute Deal Saves Daytona Replicas
After learning the show is using replicas, Ferrari N.A. agrees not sue if the show replaces the fake cars with the latest Ferrari model, the Testarossa. Producers are about to destroy the replicas when Carl Roberts agrees to build a stunt Testarossa for shooting – if he could keep the pseudo Daytonas. The two Corvette Daytonas still exist today; one in the Volo Museum and the other with a private collector.
Preserving a Disco Era Icon
Despite being fakes, these cars are almost as rare as the original Ferraris. Miami Vice makes the Ferrari Daytona a star (despite the fact they used replicas). VIN number documentation proves the Volo Ferrari Daytona is one of the original two. For Ferrari fans and 80's devotees, these cars are automotive history and a cherished piece of a disco era childhood that needs to be preserved.
See Amazing Collections at the Volo
The Miami Vice Ferrari Daytona is part of the great TV and movie car collection on display at the Volo museum. From the
George Barris's
Munster Koach
and the
Batmobile
to the
Dukes of Hazzard's General Lee
and the
Back to the Future DeLorean
, Volo has something for everyone.
Collector and Classic Car Insurance for Less
Adding a unique car to your collection? Let Classic Auto Insurance set you up with the right protection for your one-of-a-kind vehicle. Our friendly, knowledgeable staff can answer all your questions and find the perfect policy for your needs. Visit our website at
www.classicins.com
and see how we can help safeguard your new dream car.