Classic Auto Insurance
Indianapolis, Indiana is home to a great many automobile and car collector lovers. Known as the Crossroads of America, the city rumbles at the heart of four Interstate highways and six U.S. highways. It's where the Indianapolis Motor Speedway hosts the most attended single-day sporting event in the world, the Indianapolis 500 – and the race never truly sells out. Even the single-seat, open cockpit, open-wheel race cars are nicknamed Indy Cars in honor of its Triple Crown of Motorsport heritage.
Local Company, Nationwide Coverage
Indianapolis is also home to Classic Automobile Insurance Agency, a family business built on a love of classic cars that drives truly inspired service for collector and classic car enthusiasts. Classic Auto is not only a part of the local collector car community for more than 25 years -there when you need us, not just a voice in a call center somewhere- our collector car insurance policies are underwritten by American Modern Insurance Group, a nationally recognized, A+ rated provider of first-choice specialty insurance. Classic Auto is licensed in 47 states and together, we craft one of the most inclusive classic auto and collector car insurance policies in the industry.
Insuring Your Collector Vehicle. Ensuring Your Passion
Classic Auto is an enthusiastic member of the collector and classic car community. Having owned a variety of collector cars, we understand your unique needs as the owner of a prized vehicle. Its age, rarity, value, unique features, limited use, availability of parts and services and popularity across generations require special protection. Whether you buy it at auction, drive it off the lot or restore it to perfection in your garage, we will build you a personal auto insurance program designed specifically for owners of collectible cars, and provide support when claim time comes.
Collector and Classic Car Insurance for Less
The team at Classic Auto makes sure you get an efficient shopping experience from start to finish. Our objective has remained consistent over the years: to provide adequate coverage to make you whole, should your car get damaged or you experience a total loss, or to adjust the claim so we can get your car back to its original condition.
From the nostalgic to the new, we insure a variety of collectible autos and trucks:
Antiques – 25 model years and older
Classics – 20 to 24 model years
Collectibles – 15 to 19 model years
Exotic Cars – Newer than 15 years
Street Rods/Customs – Mechanically and/or cosmetically altered
Race Cars – And their trailers
Kit Cars – Built from a purchased package and assembled by an experienced professional, manufacturer or dealer
Classic Auto agents work hard, becoming knowledgeable in all aspects of the business, doing their best to understand the current car market to provide you with the best service possible. We are also highly focused on satisfying your needs as quickly as we can, with a goal to bind your collector car policy within one business day. We have no other purpose than to provide you with the proper insurance protection for your investment at the lowest price available.
Giving Back to the Collector Car Community
Classic Auto loves collector and classic cars just as much as you do, and we take every opportunity we can to give back to enthusiasts at large:
Classic Auto is a participating sponsor of Artomobilia Weekend, which includes Carmel Artomobilia, one of the most unique collections of automobiles and automotive enthusiasts, Fuelicious, which raises money for charitable organizations and Shift, and interactive driving experience.
Classic Auto attends classic car events throughout the Midwest each year, from World of Wheels to the Detroit Autorama, interviewing owners on camera, getting their stories on the small screen and snapping stills of their dream cars for the enjoyment of car enthusiast everywhere.
Classic Auto partners with like-minded companies and organizations to better serve our customers – like SONAX, popular car care products at the Indy 500, and Volo Auto Museum.
Classic Auto is an active member of the Ford GT Forum for enthusiasts of the Ford GT.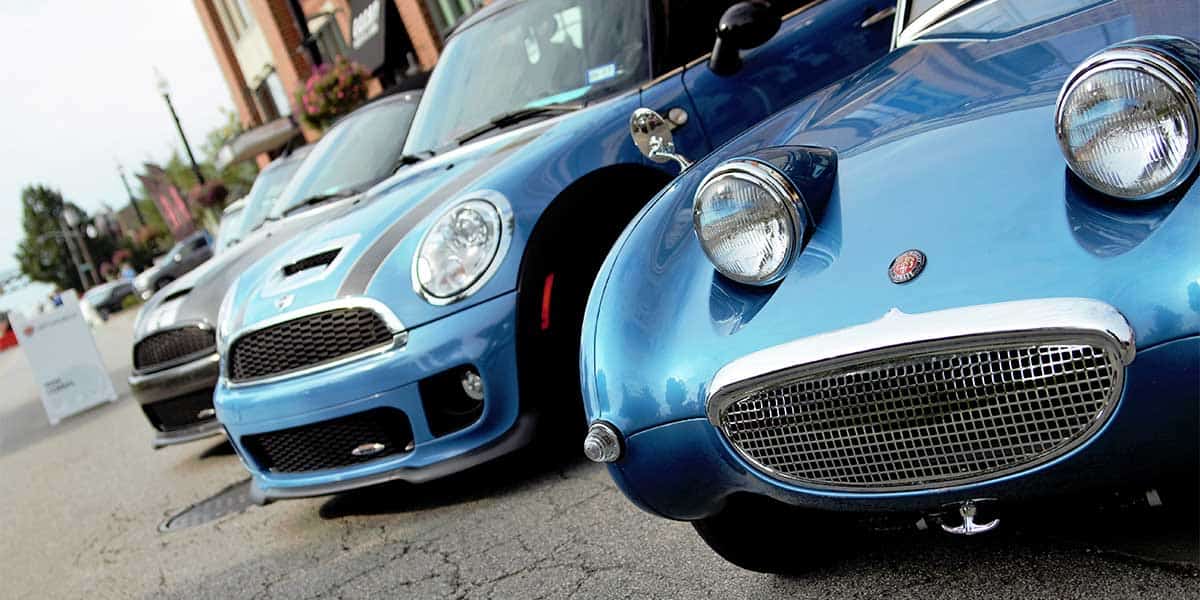 If interested in partnering with Classic Auto on events and activities that benefit the collector and classic car community, contact us at or call 1-888-901-1338.
Trust Us with Your Collector Car
An important part of Classic Auto's promise is protecting your investment. As a result, people trust us with their most prized classics as well as their cherished memories and dreams. See why more than 15,000 policyholders depend on Classic Auto Insurance for full coverage on collectible automobiles. Get a hassle-free quote instantly or contact us at 1-888-901-1338.