Are You Looking For Classic and Antique Truck Insurance?
Classic Auto Insurance – Not Your Ordinary Car Insurance Company
America loves classic trucks. It doesn't matter if it's a Chevy, Dodge or Ford, your pickup is an important part of your family. A lot of your time and energy goes into restoring this piece of rolling history, so why risk trusting it to any company but Classic Auto?
Restoring Your Classic Truck is a Not Just a Hobby
Our love affair with the truck has only strengthened as it evolved from a utility vehicle into the beloved family car. Classic Auto understands the intense memories pickups conjure in their owners and how restoring a truck is often more a quest than a hobby.
No "One Size Fits All" Classic Truck Policies Here
You take great pride in restoring your Ford F-100, Chevy 3100 or another classic exactly the way you want it. With our customizable classic truck insurance plans tailored to each individual customer and their vehicles, there are no "one size fits all" policies at Classic Auto Insurance.
Agreed Value Not Stated Value
At Classic Auto, we offer you Agreed Value coverage on your truck. Unlike other insurance companies that want to tell you what your truck is worth, we will work with you to determine the real value of your pickup and write a policy based on that price. So if life throws you a curve ball and your truck is totaled in a covered loss, you will receive the exact agreed upon value on your policy minus your deductible.
Classic Auto Insurance – Offering Peace of Mind at Affordable Rates
In addition to Agreed Value, our "Inflation Guard" provides an automatic increase in Vehicle Coverage every quarter, throughout the policy term, so you don't have to worry your beloved family truck may be underinsured. This is just another way we offer peace of mind to Classic Auto customers.
Flexible Plans and Rollover Miles Keep You Rolling Along
Choose from one of our three mileage plans -1,000, 3,000, or 6,000 miles- to tailor your Truck Insurance policy to your needs. For example, say you plan to attend a number of collector shows this year but only manage to make it to one. No problem. Classic Auto Insurance offers rollover miles from one year's policy to the next. We understand plans change and we don't feel you should lose miles just because you didn't use them.
Roadside Assistance – Only a Call Away
What if your truck leaves you broken down on the side of the road? Never fear! Your Classic Auto Insurance policy includes nationwide roadside assistance with guaranteed flatbed towing. We are just a call away.
Classic Auto – The Perfect Coverage for Less
Classic Auto Insurance knows how important your truck is to you and how many memories rest on its steel frame, which is why you deserve the perfect policy for your individual needs. Let one of our friendly, knowledgeable representatives answer all your questions. Chat online or give us a call today at 888-901-1338 for a free classic truck insurance instant quote. Restoring a classic American truck takes someone willing to go the distance to preserve a piece of history. Decide to switch to Classic Auto Insurance today and begin building the right coverage for your classic truck.
Classic Trucks Hold a Special Place in the Collector Car Community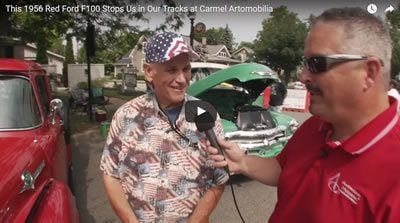 This 1956 Red Ford F100 Stops Us in Our Tracks at Artomobilia [Video]
Classic truck enthusiast Steve searches for three things when choosing a classic truck: 1) Mustang 2 front end suspension; 2) overdrive transmission; and 3) the color red. Steve finds all three in this 1956 Ford F100. A perennial favorite among collectors and hot rodders, the '56 model is a one-year-only body style with vertical windshield pillars. The front and back windshields are 55% larger and wrap around for more visibility. The seat is a full five feet wider, giving passengers more leg, head and shoulder room while reducing driver fatigue. Nothing less from the Ford designers, even back then. Wherever it goes, the F100 always draws a crowd, as Steve's does while on display at a recent Carmel Artomobilia in Indiana.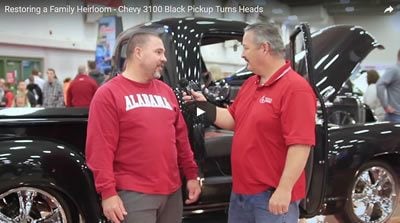 Chevy 3100 Black Pickup Turns Heads at 2016 WOW Indianapolis [Video]
Does the passion for classic cars run in the family? Possibly. When his wife wants to turn her father's old pickup into a one-of-a-kind showpiece, husband Adrian rolls up his sleeves to help make her dream a reality. It only takes this couple nine months to bring the unique 1953 Chevy 3100 truck back to life. Their restoration team redoes all the sheet metal, except for the doors and hood and replaces the engine with a GM 350 cubic inch 330 hp HO crate engine and the transmission with a 700 R4. The shiny carbon black metallic pickup has all new leather interior. Everything from the dash board inserts to the seats is tastefully done. It sure shows nice at the 2016 O'Reilly Auto Parts World of Wheels Custom Auto Show in Indianapolis – proving that the family that restores together, stays together.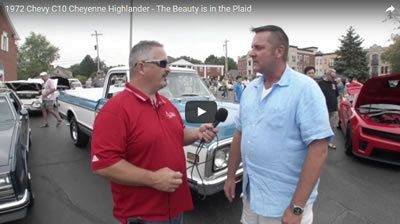 Rare 1972 Chevy C10 Cheyenne Highlander Has Us Loving Plaid [Video]
From the beautiful tartan blue inserts on the bucket seats to the stock 350 engine, this 1972 Chevy C10 Cheyenne Highlander truck looks just like it does when it rolls off the factory line almost 45 years ago. Chevy was about to introduce a totally different model truck a year later, so they offer the '72 class of C10s with a special Highlander package- plaid bucket, additional trim on the sides and a factory installed snap-based tonneau cover over the bed. It's part of what makes this truck a member of the family for Jim and his son, who bond over its restoration. Jim's C10 is a stunning example of why Americans fall in love with trucks.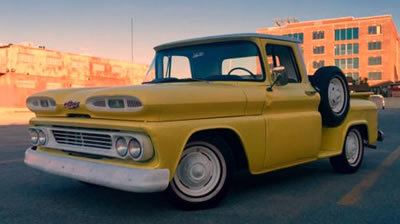 Like True Love, the 1960 Chevy C-10 a Rare Find
From 1960 to 1998, Chevy builds one of the most popular truck lines ever: The C/K series. Trucks like the 1960 Chevy C-10 Apache help drive sales through the roof. Meanwhile, drivers fall for this hardworking, comfortable ride. For the first two model years, the trucks also carry the name, Apache – a carryover from Chevy's Advanced Design Series to identify the various weight classes. A completely intact 1960 Chevy C-10 Apache is considered a rare find by collectors. Restoring one means finding parts from just two years of production. Some parts are not interchangeable with other C-10 trucks in the series. Still, it's a classic truck lover's dream.
Learn More About Classic Trucks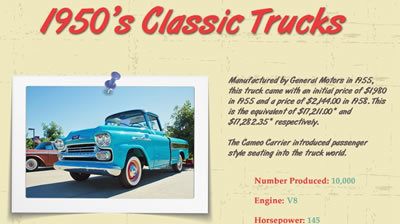 50's Classic Trucks [Infographic]
For so many Americans, the classic truck is king. This love affair is ignited right after the first mass produced truck, the Ford Model T Runabout, rolls off the assembly line on April 25, 1925. Nowhere in the world do people buy pickup trucks at the rate they do in the United States. Nowhere in the world do people collect and restore the classics like we do in America, either. In this graphic, we give you the stats on four collector trucks – the mid-50's Chevrolet Cameo Carrier, the 1956 Ford 100, the 1959 Chevrolet Fleetside and the 1957 Dodge D100 Sweptside. Check out their engines, horsepower, gross weight and manufacturing factoids that help make these classics part of an American love story that stands the test of time.