At three o'clock on Sunday 19 June 2016, the
No. 68 Ford GT
of Sébastien Bourdais (FRA), Joey Hand (US) and Dirk Müller (GER) crosses the finish line at Le Mans as the overall GT winner in LM GTE Pro category of the 2016 24 Hours of Le Mans. The
No. 69 Ford GT
of Ryan Briscoe (AUS), Scott Dixon (NZ) and Richard Westbrook (GB) joins the winners on the podium after scoring third place. The
Nos. 66 and 67 Ford GTs
finish in fourth and ninth places, respectively. And
Dave Bannister
, owner of
FordGTForum.com
and erstwhile man on the road to Le Mans, is THERE.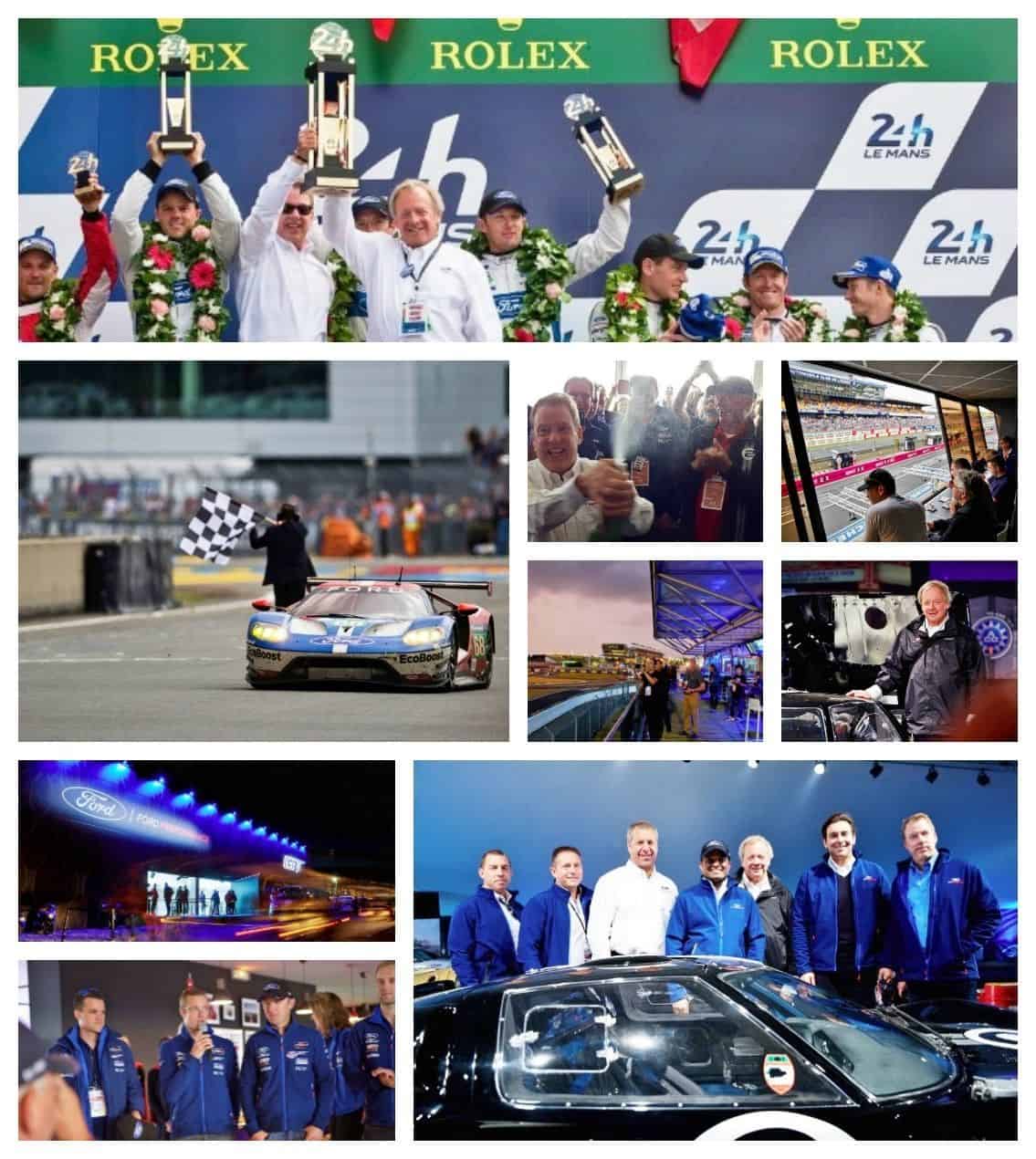 Historic Ford GT Parade Lap
Dave not only has a front row seat for the race, he participates in Ford's parade lap. OMG! This is where Dave says the entire experience goes to "next level insanity" for him on a personal level.
"We get on the track and the 1-2-3 cars from 1966 pull onto the circuit literally right next to me," Dave says. "I am literally in my Ford GT, in France, on the track at Le Mans, driving down the Mulsanne, getting rocks flung at my car by the three priceless cars that swept the podium in 1966, followed by the new Ford GT, driven by the man responsible for bringing the car back and convincing everyone it had to race. Throw in the podium finishing privateer Robertson Racing GT, the only husband wife team ever to podium, with Andrea being the first woman to do so in nearly a century. Oh, and the Ford GT behind me? Edsel B. Ford II is driving it."
"I get out after we pull off the track and tell Edsel I was seriously going to cry during the course of that lap. To see those three cars running down that circuit, the sound of their engines, the sight of all three and the new GT crisscrossing their paths, me being in the bridge between the generations … that's some serious once-in-a-lifetime stuff."
"At some point during this sequence of events, it dawns on me that I should sell my Ford GT, close the Forum, cancel all future Ford GT events and retire from the world of cars. This has to be it. If this is not Peak Ford GT, whatever that is will literally kill me. I can't handle anything better than this."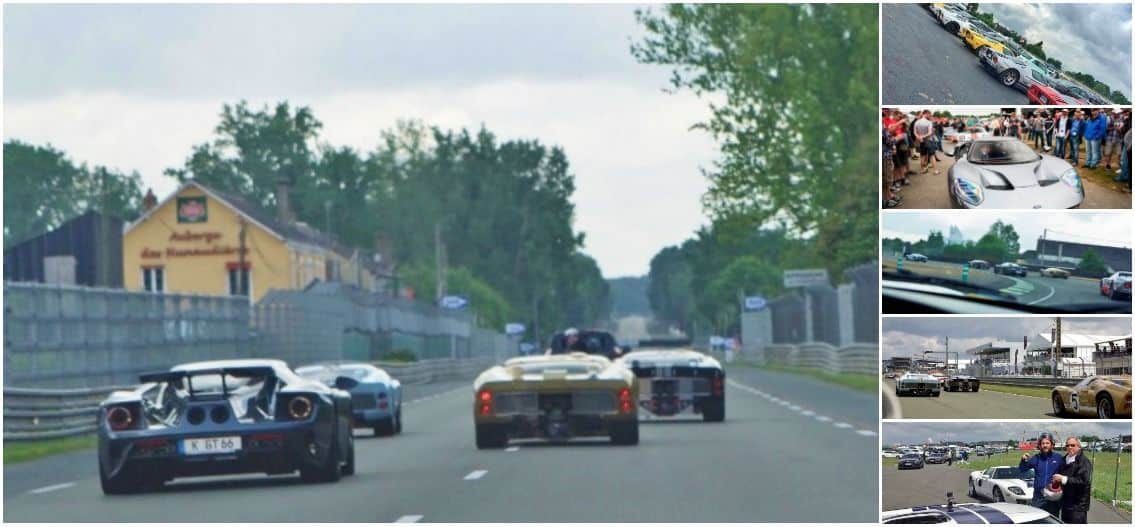 One for the Record Books
This 1-3-4 victory comes exactly 50 years after Ford's 1-2-3 victory at Le Mans in 1966. "This is an historic moment for the Ford Motor Company," says executive chairman Bill Ford, who welcomed a bevy of Ford GT owners in the company's hospitality suite for the race. "We dared to dream that we could return to Le Mans, 50 years after the incredible 1966 win, and take on the toughest competition in the world. The pride we all felt when the Ford GT crossed the line at Le Mans is indescribable. The team that designed, built and raced the Ford GT has worked tirelessly to bring us to this result and I am proud of each and every one of them. The Ford Chip Ganassi Racing team demonstrated the spirit of Ford, that of innovation, determination and true teamwork. We cherish our history and heritage, but today we made history again and I couldn't be more proud." With his 175th victory as a team owner, Chip Ganassi becomes the only owner in history to win the Indianapolis 500, Daytona 500, Brickyard 400, Rolex 24 At Daytona, 12 Hours of Sebring and 24 Hours of Le Mans.
Ford vs. Ferrari Battle Rekindled
After what's called a "titanic" battle with the No. 82 Ferrari during the race, the No. 68 Ford GT takes the lead for the final time in the 20th hour. Joey Hand is behind the wheel on the three occasions that the Ford passes the Ferrari, rekindling a 50-year-old rivalry between the two car manufacturers. "It's a big deal to come back here 50 years after the Ford win in 1966," Joey says. "I've won a lot of races and this is a big one. I'm honored to be part of this program. I'm a red, white and blue guy so to be part of the Ford family, where they treat you like their own, is a great place to be."

Visit FordGTForum.com for More
"What an amazing adventure, followed by such a great result. You should become the 'Rick Steves of Automobile Enthusiasts Exotic Travel.'" -w.a.nelson
In addition, Dave chronicles his
historic six-day road trip to Le Mans
and his entire Ford GT Le Mans experience with lots more pictures here on the Ford GT Forum. There you can see how Dave catches up with Ford Exec VP
Raj Nair
, still in his racing suit, gives him a big hug and congratulates him. "We did this for you guys," Raj tells him. Amazing.
Collector and Classic Car Insurance for Less
As an active member of the Ford GT Forum, Classic Auto is thrilled about Ford's shiny new win at Le Mans. We'd be happy to insure your Ford GT or any other classic or collector car. Our friendly experts will answer all your questions and find a customized policy for your specific needs. Visit our website today at
www.classicins.com
and see how we can help safeguard your dream car. Photos courtesy of the Ford GT Forum.