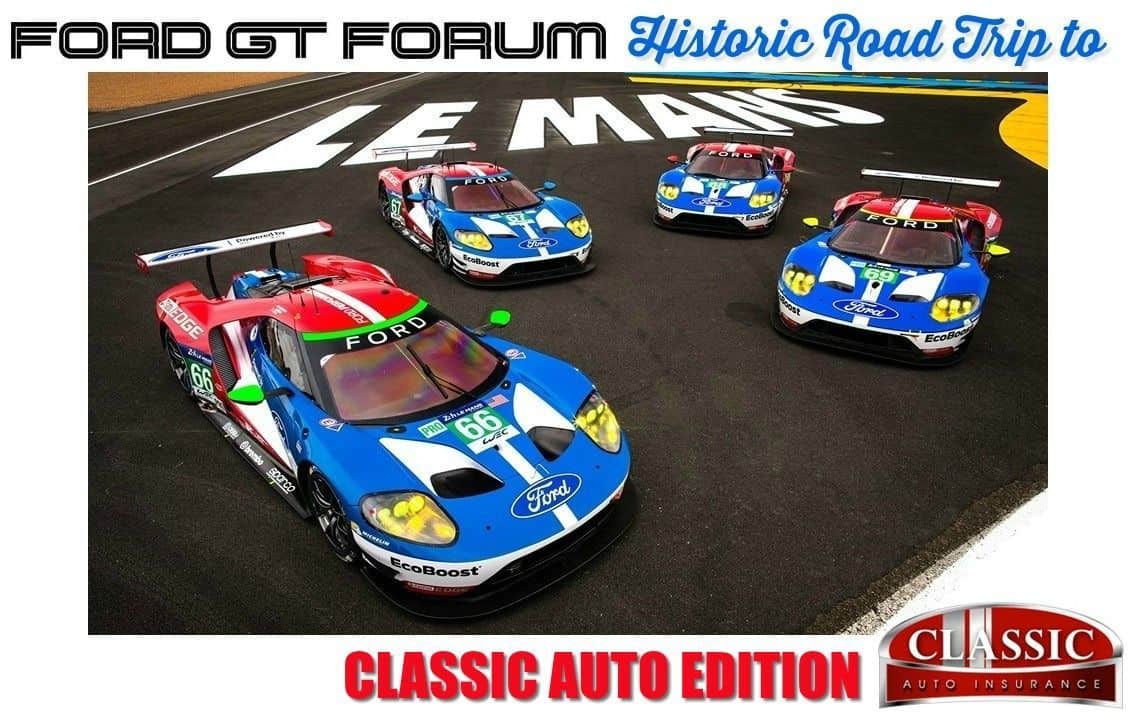 In celebration of the Ford GT's 50th Anniversary,
Dave Bannister
is embarking on a most excellent adventure. The founder of the
Ford GT Forum
and a few of his fellow GT owners are heading to
24 Hours of Le Mans
, the world's oldest and one of the most prestigious active sports car endurance race, held annually since 1923 in France. Along the way, they are taking a six-day European tour of motor racing circuits that play a role in the car's history … in the history of car racing, period. And we're going along for the ride.
GT Enthusiasts: Start Your Engines
"Ford hasn't raced at Le Mans in 50 years," Dave tells us. "This is the car's fiftieth anniversary. Ford is bringing the GT back. It's the return of GT, the return of four door racing and the fiftieth anniversary, all at once. We figure if we're going to do it, we might as well do it now." So, are you ready for Dave's six-day adventure? Vroom!

Day 6 – 8.4 Miles
"We are celebrating the next chapter in Ford GT history we're privileged to be a part of!"
Chassis P/1046
– the No. 2 Shelby-American Ford GT 40 MK II-A –
the car that won Le Mans
for Ford and America – is here at Le Mans, along with the fired-up race teams of new Ford GTs and the Band of Brothers, of course.
Once-in-a-Lifetime Opportunity
Dave Bannister and a limited number of Ford GT owners are participating in the historic return of the Ford GT to Le Mans as VIP guests of Ford Motor Company at its expanded facility at raccordement, the final corner of the circuit, and trackside suite. Hosted by Edsel B. Ford II at the race, with participation from Ford VIPs such as Chairman Bill Ford, CEO Mark Fields, Executive VPs Raj Nair and Jim Farley, they have full VIP access to:
Trackside qualifying and race viewing from the Ford Racing Centre
Access to the Ford Pit Suite above the garage during the race, Pit Walk and the Le Mans Museum
Guided tours of the Ford pit garages Circuit perimeter tours of different vantage points around the 8.4-mile circuit during the race
Special Friday lunch hosted by Edsel Ford and Henry Ford III with private driver meet and greet
Transport to the Le Mans center for the Friday driver's parade and a special VIP dinner
First-class food and beverage in the Ford Racing Centre, limited edition attendee-only gifts
Ford GT parking and a full package of media access to stay up to date with the race while on-site
End of race celebration
Top of Its Class
Fifty years after the Ford GT 40's original 24 Hours of Le Mans win, a Ford is back at the top of its class. At the first of three Le Mans qualifying sessions, the Chip Ganassi Team USA GTs are the two fastest cars in the LM GTE Pro class. Dirk Müller and #68 are the fastest with a 3:51.185 lap time, while the #69 Ford GT runs the second fastest. At Le Mans, which starts Saturday, June 18, the fastest laps from each car set the starting order. USA! USA! USA!

Day 5 – 500+ Miles
Italy to Le Mans
"We jammed super hard on the Autostrada," says Dave Bannister. "Just awesome driving. Beautiful roads, beautiful scenery, no worries about cruising at high speed. The Italians really seem to love seeing the cars whiz by."
Did We Say, Dangerous?
The Ford GT Forum's tour of European race circuits brings to life the racing history of the Ford GT back in the 1960's. What's more, venues like the Circuit de Spa-Francorchamps in Belgium, Nürburgring in Germany, even the Autodromo Nazionale Monza in Italy are all exceptionally dangerous. "We have a handful of them in the U.S, but certainly nobody builds tracks like these anymore." For the Band of Brothers, it is a breathtaking ride.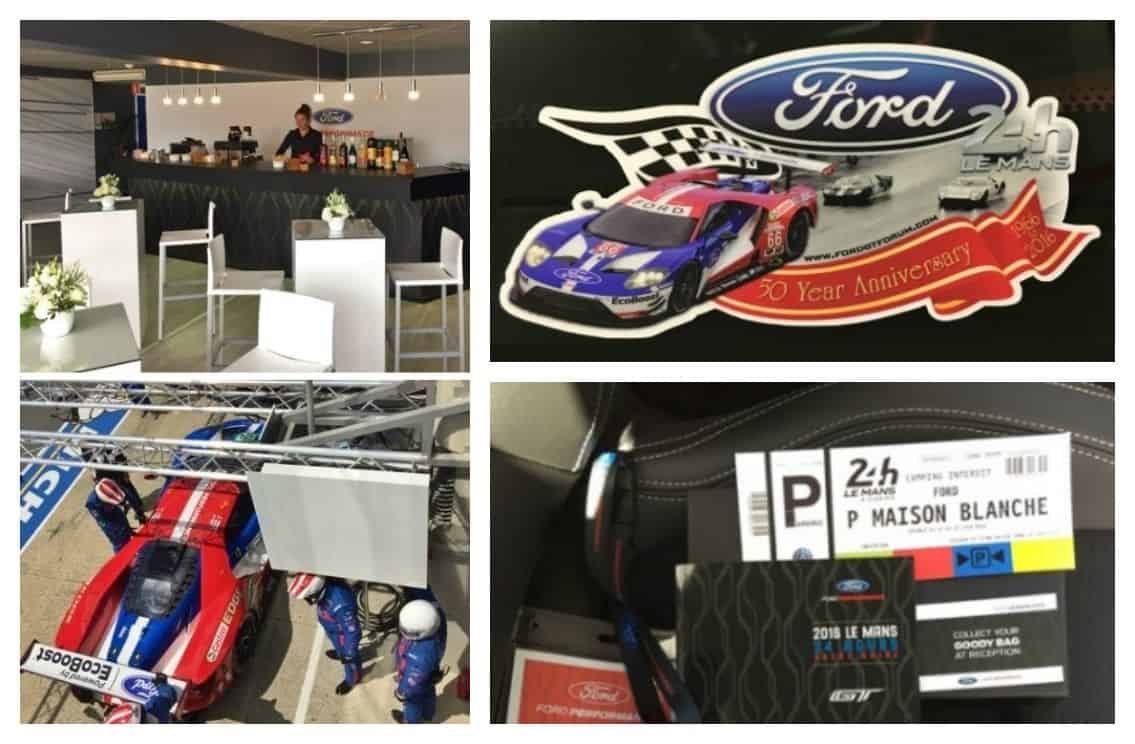 Ford GT Owner VIP Hospitality at the 24 Hours of Le Mans
Now another level of fun begins. The Ford GT Owner VIP Hospitality at the 24 Hours of Le Mans is "spectacular" and "amazing," with lots of games and entertainment upstairs. The real entertainment of this event will be on the track, of course. Dave says, "The dream is real. And I have no idea what they've done to the (new) GT, but it sounds super gnarly now. Angry beast." Let the qualifying runs begin.

Day 4 – Motoring Italy
The Ford GT Forum Historic Tour rolls into Italy, motoring through the super narrow streets around Lake Como in Milan, Italy. "This is definitely the craziest rally yet," Chip Beck says. In addition to navigating the 400-year-old Italian streets, the group learns a thing or two about Italian parking (a favorite challenge for a GT owner). After lunch, the Band of Brothers manage to extract their GT's from the parking lot to head a couple hundred miles west to the town of Saint-Vincent in the Aosta Valley region of north-western Italy, where they stop for the night.
Autostrada Awesomeness
"Our fearless leader makes some serious speed on the Autostrada," Chip reveals. "Cruising speeds of 125+ mph makes it a pretty quick trip. #34 has had a chance to stretch her legs and it's going to be tough to return to sane speeds after this. Onward!"

Paparazzi Pandemonium
Meanwhile, the Ford GT race teams arrive at Le Mans …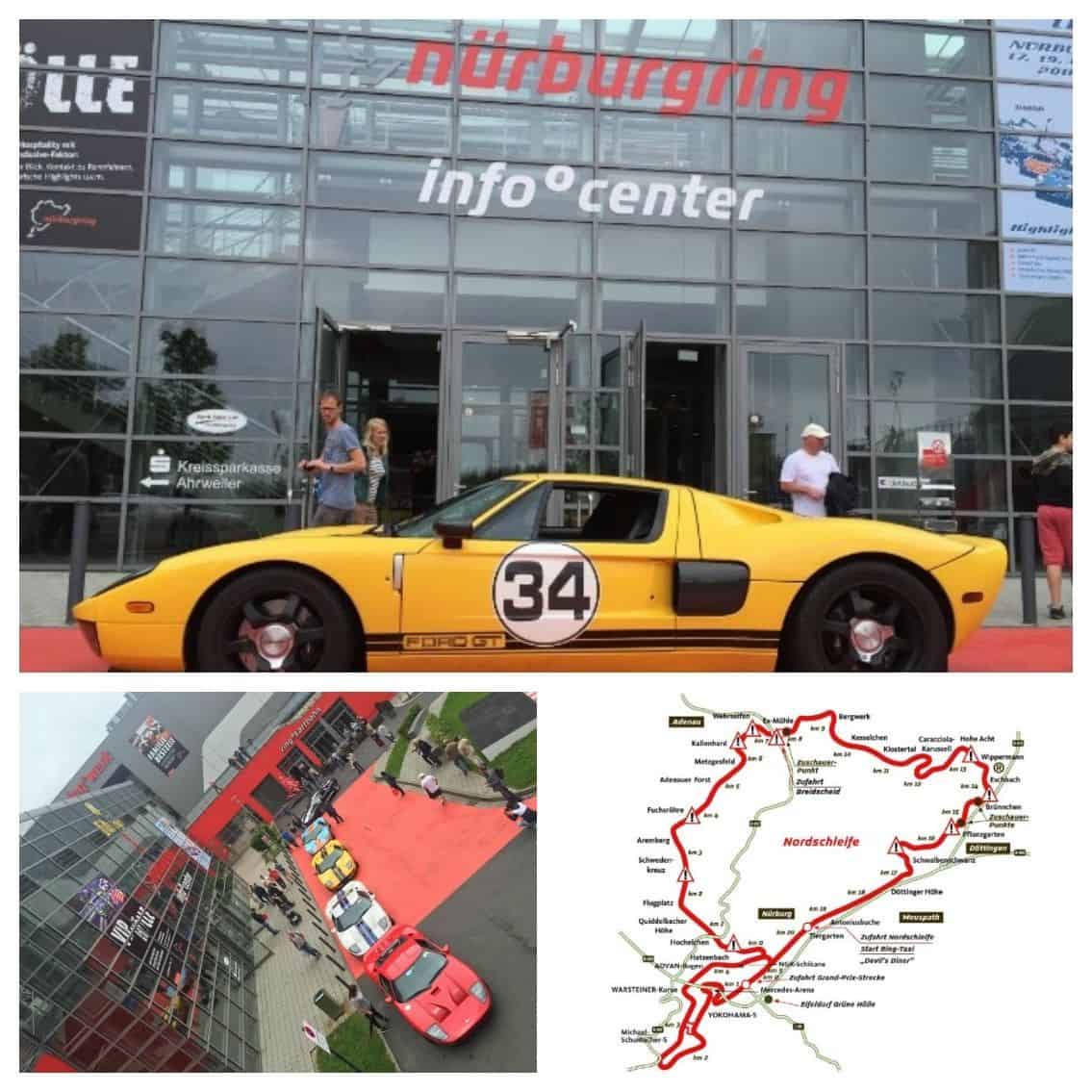 Day 3 – 320 miles
"Our Band of Brothers ran the Nürburgring in the rain and it is pretty hairy." 
Nurburgring, the 150,000-capacity motorsports complex in Germany built to seat 150,000 spectators, is where the Ford GT makes its racing début in May 1964. The original car, a GT 40 designed by ex-Aston Martin team manager John Wyer with Ford Motor Co. engineer Roy Lunn, is made at the UK's Ford Advanced Vehicles with a monocoque chassis and a 289 Ford V8 mated to a Coletti transaxle. The cars that wins Le Mans in 1966 are the American-developed MK11's fitted with the 427 cu ins FE motor and Ford-built T44 transaxle. When all is said and done, the GT 40 wins more prestigious race events than any other model road-race car in history. 
Hairy Nurburgring Lap
Today, two of the Ford GT drivers get sideways on the Nürburgring, catching it before going off. Only one of the group takes a second lap. "Now I know what living with paparazzi would be like if I were famous," Chip Beck says. "We don't go anywhere without a bunch of cameras pointed at us."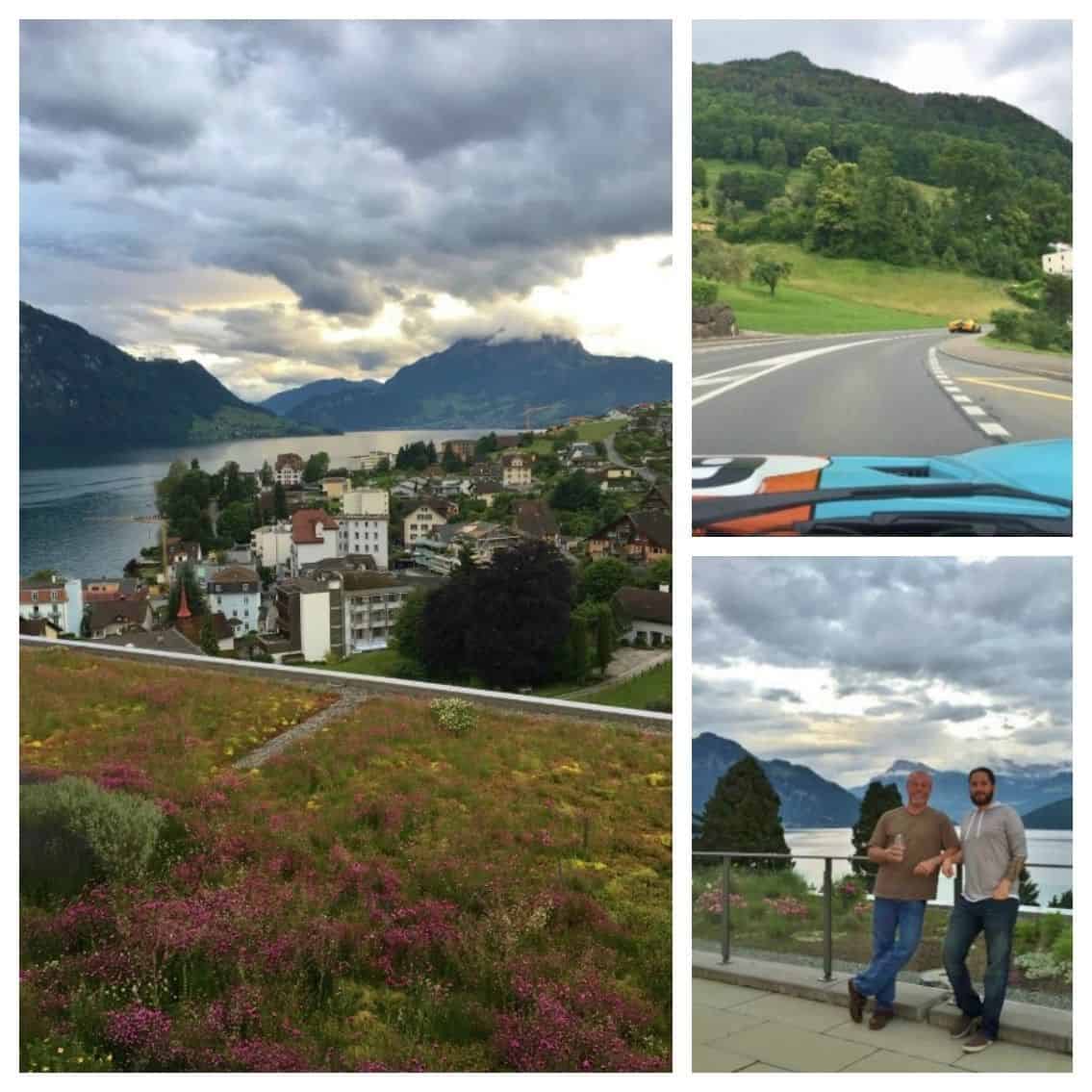 Virgin Autobahn Experience
As the group heads to Lucerne, Switzerland, some of the drivers get their first taste of the Autobahn. "We are cruising at 120mph in the center lane and get passed on our left by a guy in a brown station wagon!" Chip says. "C4 and I touch 135mph a couple times and our quicker drivers busted 150. Once we cross the border into Switzerland, we slow down to 90 to stay out of jail and cruise into Lucerne, where our hotel sits on the edge of a huge lake. The whole place is indescribably beautiful and everyone is high after today's 300+ mile cannon ball run. Cocktails and an excellent dinner cap it all off. Now, I sit out on my balcony alone with my thoughts. One very special American car has put a smile on the faces of thousands of Europeans who have greeted us warmly at every stop. I'm glad I'm alive, right here, right now. What a day."

Day 2 – 193 Miles
The GT owners dub themselves "Band of Brothers" as they drive the Circuit de Spa-Francorchamps in Belgium, a favorite home of endurance race circuits – and a dangerous one at that.
2016 Triumph
Just last month at the WEC's Six Hours of Spa, the #67 Ford GT takes second place at the checkered flag, the best result yet for the Ford Chip Ganassi Racing team – even though sister car #66 GTE Pro Ford GT crashes with just over one hour of the race remaining. It is an anxious moment for the team as they watch while driver Stefan Mücke tries to exit Eau Rouge towards Raidillon, the track's most famous and dangerous section. "Everything is okay," Stefan says after having precautionary tests at a local hospital. "I feel okay and it is good to know we have a strong car. Thank you to the team for building me a safe car."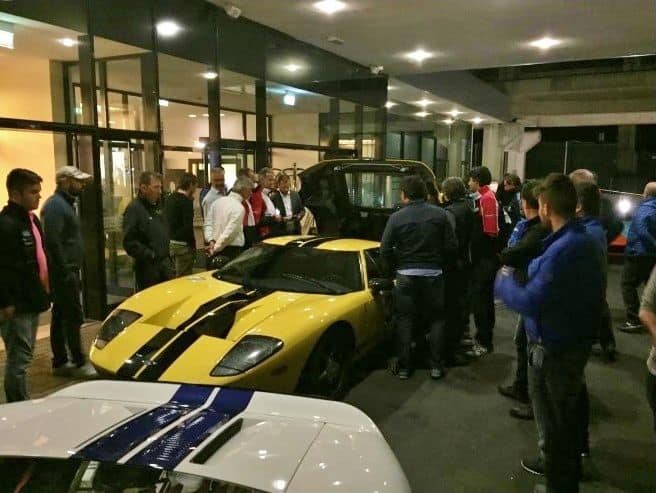 An American Band
Meanwhile, the Band of Brothers finish the day at Pension Agnesen Hof in Barweiler, Germany feeling like rock stars. "Driving our Ford GT's over here makes our crew feel like the Rolling Stones," says Chip Beck. "Everywhere we stop, the cars are mobbed day and night. A band of GT's in one place is something nobody has seen before and everyone knows exactly what they are. So cool."

Day 1 – 268 Miles
"Today was a great day."
After picking up their GT's in Southampton, UK and gassing up ("At least the fuel in the UK is cheap."), the group travels to Sint-Martens-Latem in Belgium by taking the "Chunnel" – short for Channel Tunnel, a 50.5-kilometer rail tunnel beneath the Strait of Dover that links the United Kingdom with northern France at Coquelles, Pas-de-Calais. Except for a lengthy delay, the Chunnel ride is A-OK. "Easy in, easy out, wide lanes with plenty of clearance," Dave says. Once they arrive in Belgium, though, it's all about the RIDE. "Once I opened the door, it became a line."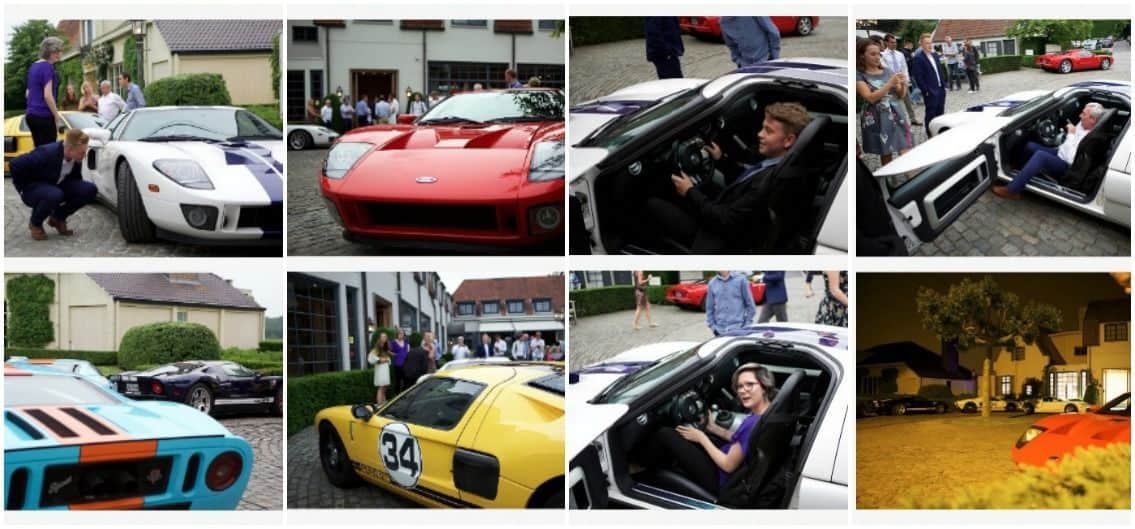 Follow Le Mans 2016
For over 10 years, the
Ford GT Forum
has been the internet home of the Ford GT global community. Designed specifically for its members, the Ford GT Forum keeps owners and enthusiasts up to date on all the latest Ford GT news and discussions. Check here for Dave's daily updates, and
check this list
for all the ways you can follow Le Mans 2016 over the air, streaming on the web, social media and more. Photos courtesy of the Ford GT Forum.
Collector and Classic Car Insurance for Less
As an active member of the Ford GT Forum, Classic Auto has a particular soft spot for this car that's celebrating its 50th Anniversary in 2016. We'd be happy to insure your Ford GT or any other classic or collector car. Our friendly experts will answer all your questions and find a customized policy for your specific needs. Visit our website today at
www.classicins.com
and see how we can help safeguard your dream car.