Since 1965, the Shelby GT500 hails as the famous high performance version of the Mustang GT, built by Shelby American until 1968 and by Ford since then. It combines classic good looks with extreme driving power, plus it has a special allure that only comes with the Shelby name. Car enthusiasts consider it a serious challenger to other muscle cars like Firebirds and Camaros. Rumors abound that the new 2020 Shelby GT500 will finally top them all. The car is already doing good works; proceeds from the first one that sells at action benefit JDRF (Juvenile Diabetes Research Foundation).
Restoring a Forgotten Shelby
For Shelby collectors, the ultimate find would be a well-kept, mid-1960's Shelby with 100% original parts. Vintage Shelby parts are very hard to find and must be painstakingly sourced from around the world at a high cost. It's not uncommon to see mismatched parts and improper installation by desperate restorers who couldn't find the perfect parts from the past. Every once in a while, a pristine vintage Shelby is unearthed in a barn or garage and put up for public auction. The bidding heats up quickly on these treasures. When they're carefully restored to perfect condition, they're a true sight to behold.
2020 Shelby: The Ultimate Mustang?
Are you hearing the buzz about the 2020 Shelby? They say it's all true. The 2020 Ford Mustang Shelby GT500 has a 5.2-liter aluminum engine that might reach more than 750 horsepower. With the help of a 7-speed dual-clutch Tremec transmission, it can do 0-60 in less than three seconds and can go gear to gear in milliseconds. Reportedly, people have already witnessed the car driving a quarter mile in 10 seconds. Some reviewers criticize Ford's update of its look and aerodynamics as too front-heavy. Yet, from head to toe, the 2020 Shelby feels like a lightweight performance predator, looking race-ready with custom vinyl and stripes. Some are already calling it "the ultimate Mustang."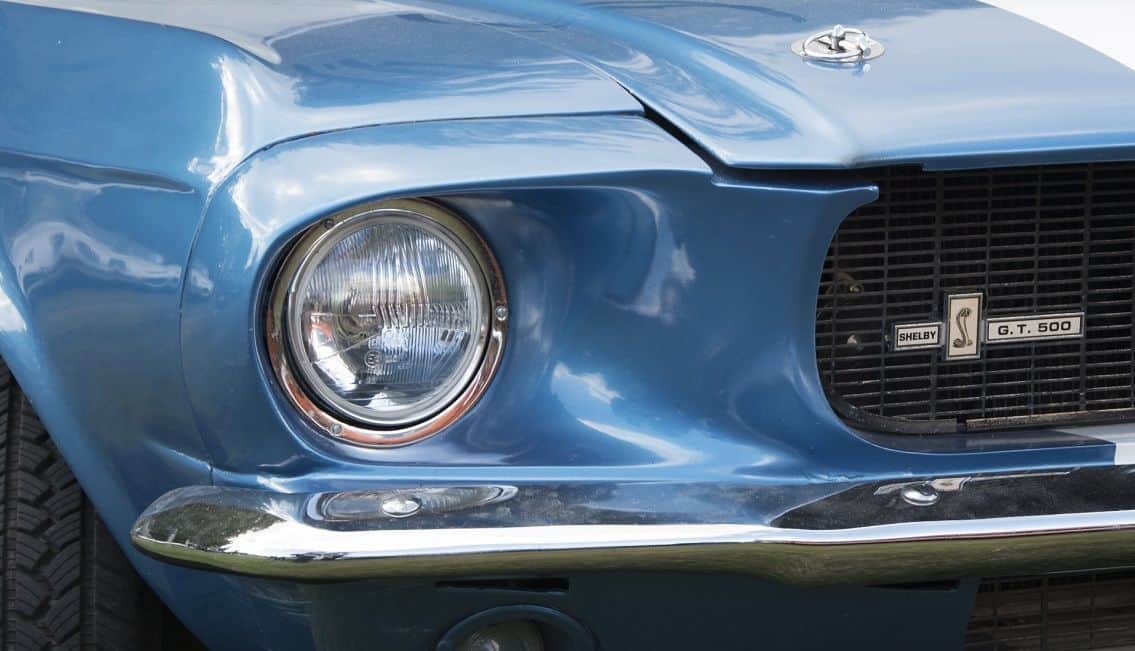 Protecting Shelby Heritage
If you ever get the chance to own a Shelby – old or new – you'll want to treat it like the treasure it is. Restoration experts caution against using non-Shelby parts, no matter how difficult it is to find the originals. A bad restoration harms the value of the car and destroys the integrity of such a special vehicle (could 3D printing help Shelby restorers?). If you buy one at auction or online, be very careful about taking delivery on a disassembled model. Inventorying the parts can be a nightmare, making it hard to prove you didn't receive every original part. This dilemma doesn't always stop a Shelby lover from snatching it up when they find one, though. Take Mike Lattin, for instance – who buys a 1967 Shelby G.T. 500 over the phone, in pieces and parts missing. He collects original '67 parts, as the owner of Mike's Mainly Muscle Cars in Granite Falls, Washington, so he's already done the heavy lifting.
Collector and Classic Car Insurance for Less
Honor your Shelby GT500 with Classic Auto Insurance, which protects your valuable investment for years to come. Let us customize a policy to fit your needs. We offer affordable, Agreed Value coverage for a variety of collector, classic and custom vehicles. Our friendly, knowledgeable staff can answer your questions and give you a quote on the spot. Call 888-901-1338 or get an instant quote online and see how we can help safeguard your dream car.