3D Technology is Rescuing Rare Classic Cars
What is the hardest part of a restoration? Locating the right car? Getting the work done? Most classic car collectors will likely say it is finding OEM parts. Restoring a car to its original condition is harder to achieve due to the limited availability of genuine parts and the fragile condition of those you find. Thankfully, 3D technology is coming to the rescue for rare and endangered vehicles. With the help of 3D printing, not-to-impossible classic car restorations are happening, and they're beautiful. Would you use a 3D printed component to replace an obsolete one in your classic car? Is it still considered original or is it modified? Share your views on 3D printing classic replacement parts in our comments. We would love to hear your opinion.
3D Printing Hard-to-Find Classic Car Parts
For hard-to-find car parts, 3D printing is a classic solution
, as evidenced by one of our recent blog posts. The world of classic car restoration has been experimenting with 3D technology for some time. The process uses a 3D scanner to focus on
targets
or markers that have been placed over large surfaces (bumpers, hoods, doors). It ensures that a detailed scan records every bump, curve and deviation. The digitized data renders a complete 3D CAD model, ready for the printer. A laser inside fuses together layers of plastic, metal or carbon fiber to form an identical rendition of the car or part, accurate down to the scanned imperfections in the sheet metal. This technology is where classic car restoration is headed.
Saving a Rare 1937 Ford Eifel
As part of a project to protect a rare
1937 Ford Eifel
,
Classic-car.tv
teams up with
Artec 3D
to scan the entire car, inside and out. The convertible, with a chassis built by German coachbuilder Gläser, is taken apart and digitized to create a duplicate CAD model. 3D measurements are also made, at the owner's request, to document the 80-year-old car's current condition and allow for future parts to be printed. Using no other manufacturer's specs, Artec uses the scans to reverse engineer the missing rag top – and save one of less than 100 of the 60,000 cars produced in Germany and Hungary between 1935-1939 that are known to exist.
Preserving Data for Future Generations
Artec is confident 3D technology can preserve other rare vehicles like the Ford Eifel before they fall victim to the ravages of time. To avoid losing any more of our automotive history, Artec has created a database filled with 3D scans of classic cars. By archiving this data, spare parts can be created to restore these beautiful automobiles for future generations.
Classic Restoration Shops Go 3D
Many skeptical classic car collectors have recently come onboard with 3D printing. The parts generated save money on restoration and eliminate the guesswork of reverse engineering. Molds get created and mock-ups tested before anything is die cast. Restoration shops are teaming up with 3D companies to attract classic collectors who need rare parts for their restorations.
Hahn Vorbach
, a high-end restorer in PA., has partnered with
Freshmade3D
to scan, reverse engineer and design hard to find parts for their clients. They are not alone. More and more classic car restorers are advertising these specialized services.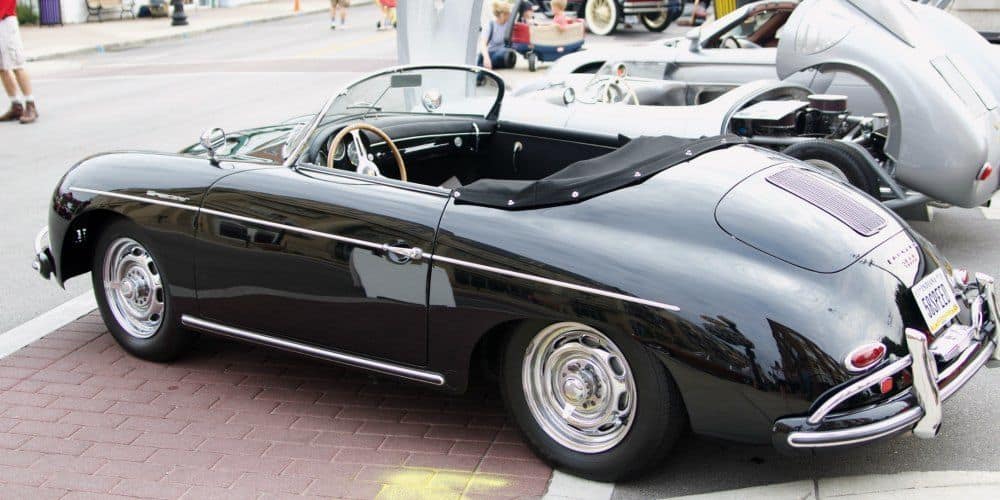 Porsche Begins 3D On-demand Printing
If you use a 3D generated part, is it still considered original? Porsche says yes. The carmaker has a stockpile of spare parts for their classics, although they are running out of individual components. They are currently 3D printing nine impossible-to-locate parts for their limited-production models, the 959, 964 and the 911 Speedster. On-demand 3D printing saves on tooling and storage. Porsche tests all the parts to assure they meet original standards. They find the 3D printed versions often exceed t. Porsche is so confident in this new technology; they are already planning to expand this service.
Get Ready for Project C-10 powered by American Modern
Classic Auto Insurance is celebrating 25 years with our very own restoration of a 1965 Chevy C-10. Classic Auto and American Modern bring our collective passion, excitement and experience together in a work crew that's heart-set on building this fabulous Restomod – and we're going to share it with you, every step of the way. Get ready!
 
The possibilities 3D technologies create for classic car restoration is phenomenal. Whether you decide to use a 3D printer or not, Classic Auto Insurance protects your treasured collector car during all phases of the renovation. We offer affordable coverage for a variety of collector cars. Let our knowledgeable staff answer all your questions and customize a policy to meet your needs. Visit our website at www.classicins.com or call 888-901-1338 and see how we can help safeguard your dream car.