James Dean Festival and Car Show September 23-25
With the start of fall, there are plenty of reasons to enjoy some great car shows before Old Man Winter returns. Looking for a memorable event? Come to where cool was born at the annual
James Dean Festival and Car Show
September 23-25 in Fairmount, Indiana. Loyal fans and incredible classic cars descend on the legendary star's hometown to pay tribute to the iconic actor.
Three Days of Food, Fun and Films
The three-day festival has something for everyone. Film buffs can view Dean's films;
Rebel Without a Cause
,
Giant
and
East of Eden
, while fans of the 50s dance to live music on Main Street. Great food, trivia contests and a James Dean look-a-like contest make for an all-around good time.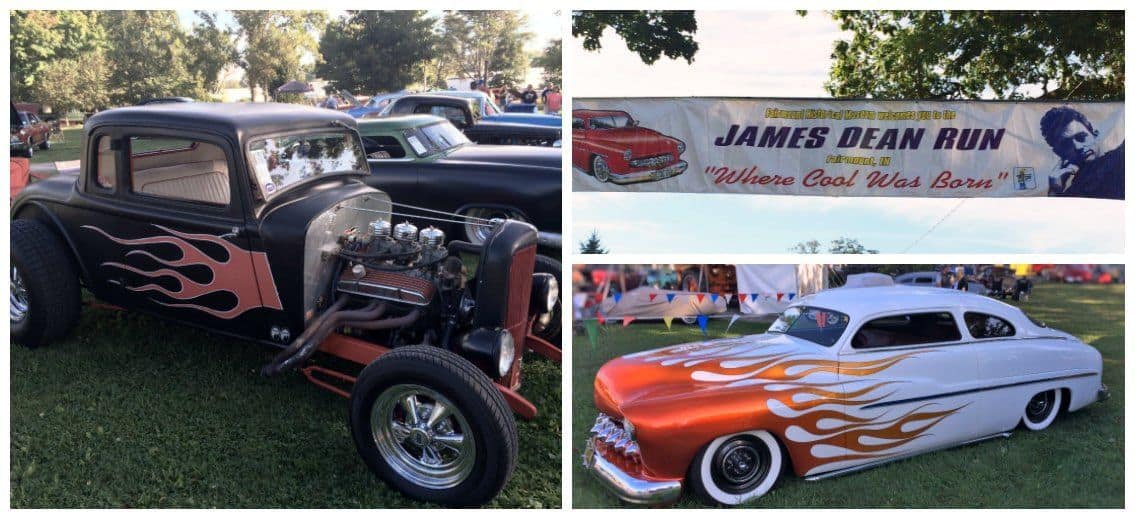 Hot Rods & Hudsons to Mustangs & Muscle Cars
For the classic car enthusiast, the James Dean Run Car Show on Saturday is the event for you. Every make and model car is decked out and ready for the judges and the spectators. A Grand Parade, featuring everything from 50s Hot Rods and Hudsons to Mustangs and Muscle cars, takes place during the day. Stick around Saturday night when the Parade of Neon really lights things up.
A Sad End to a Bright Star
September 30, 1955 is the fateful day James Dean crashed his
Porsche 550 Spyder
outside of Bakersfield, California on his way to a car race. Today, years of lipstick stains cover Dean's tombstone as it lies in Fairmount's Park Cemetery. The Rebel faithful come every year, a testament to the star's enduring appeal.

                                                                                                                                                  (www.showmegrantcounty.com)
Tribute to a Hoosier Native
With his tragic death at the age of 24, Dean is forever frozen in time as the youthful yet tormented figure we see on screen. The festival is a tribute to the Hoosier native sponsored by the
Fairmount Historical Museum
, where many of his personal items like his motorcycle, awards and clothing are housed.
Missing Porsche Still a Mystery
Surprisingly missing from all of the Dean memorabilia are the remains of his beloved sports car. After the accident, it is stripped for parts and the body is sold to Hollywood car designer
George Barris
, the King of the Kustomizers. Mysteriously, the car disappears in 1960 and its whereabouts remain a mystery. The
Volo Auto Museum
in Volo, Illinois has a standing reward for the car and currently displays a Barris-made replica of Dean's Porsche.
Don't Store That Classic Away Yet
Even though this year's car show season is coming to a close, that doesn't mean our desire to show off our cars has to stop. Come out and enjoy Fairmount's James Dean Festival and Car Show September 23-25. Before you store your classics away for the winter, get out there and live the gearhead's dream one more time by parading your car for all to see. The Rebel will be proud.
Collector and Classic Car Insurance for Less
Headed to another car show? Protect your investment with the right insurance coverage from Classic Auto Insurance. Let our friendly, knowledgeable staff help you find the perfect policy for your needs. Visit our website at
www.classicins.com
and see how we can help safeguard your dream car.