The next time you rev up your Vette, take a road trip to Kentucky and head to the National Corvette Museum in Bowling Green for an unforgettable experience. It's a treasure trove dedicated completely to the Corvette and its fans with 115,000 square feet of space that holds unique bits of Corvette automotive history. Inside the Museum's huge glass-enclosed Skydome, you find The Generations Exhibit, where one Corvette from every generation is lined up side by side. See how the car changes over time, from the tiniest engine details to the overall body design. Unique to the Museum is The Skydome Sinkhole Experience, dubbed the Corvette Cave In, an exhibit chronicling the geological disaster of 2014 that swallows eight of the museum's precious Corvettes. Learn the story of what happened that day, why it happened, what cars were affected, how they were recovered, what karst landscapes and caves are, how the building is repaired fixed, and more.
The World's Best Corvette Stories
The National Corvette Museum's biggest strength is its dedication to Corvette storytelling. It's a truly interactive experience, where you can examine the cars up close and sit behind the wheel. Gearheads will be thrilled to see engine cutaways that show the complex inner workings of these powerful vehicles. The museum also has a huge collection of racing gear and artifacts, like racing suits, collision shrapnel and design blueprints not available to the public anywhere else. Some of the biggest names in Corvette history have come together to share their stories, and they are told through interactive displays, short movies and immersive exhibits that you really have to see to believe.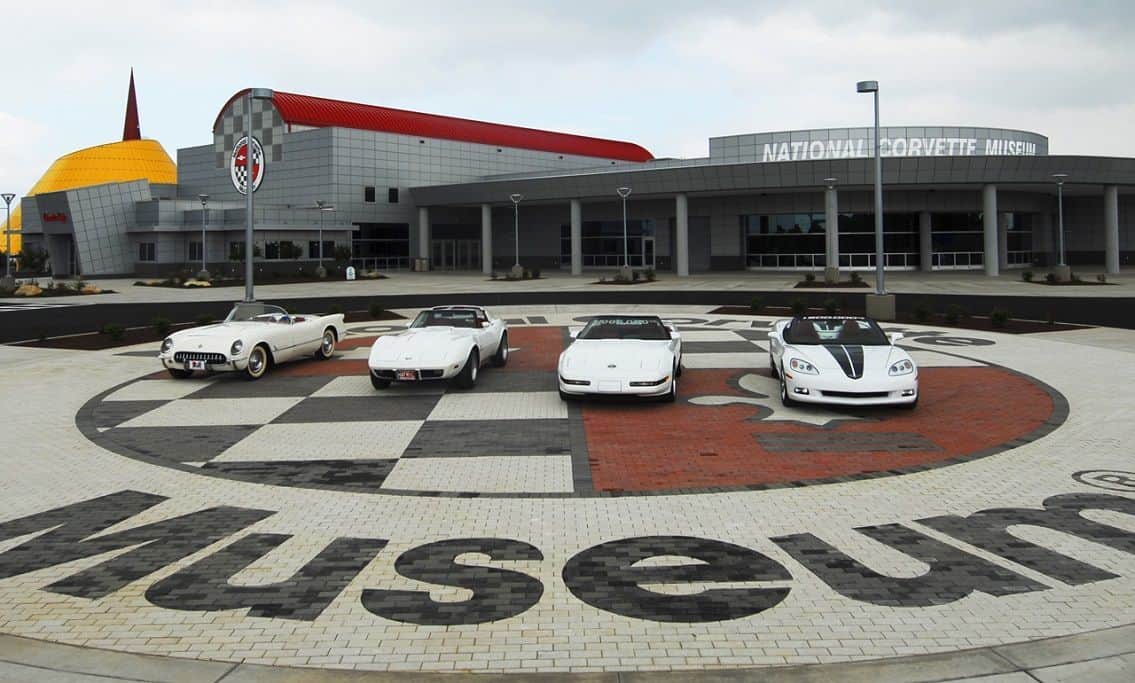 Exclusives and Rarities
One of the best reasons to visit the National Corvette Museum is to see rare cars, including concept vehicles straight from Chevrolet. Learn about models that haven't been released to the public and see hints of new Corvettes to come. Inside the Skydome, there's a nice collection of rare production colors. The Museum also has an array of old advertisements that feature early Corvettes and give a feel of the excitement for the first Corvettes that ever roll off the assembly line. If exclusive access is your thing, plan to visit the museum in 2019 for a VIP tour of the Bowling Green Assembly Plant, which are resuming after a short halt. With VIP access, you go deep inside the plant and stay for three to four hours, discussing Corvettes with the techs who work on them every day.
How to Win a Corvette
Wouldn't it be great to win a Vette? Perhaps the best thing you can discover at the National Corvette Museum is that the organization offers many opportunities to win one. There's an ongoing raffle with several levels of play from $10 to $200 per ticket. Every year, about 20 raffle winners take home brand new Corvettes of various models and colors. Coming up soon are raffles for a 2019 Elkhart Lake Blue Grand Sport Convertible, a 2019 Torch Red Corvette Coupe and a 2019 Arctic White Corvette Coupe. These raffles support the Museum and ensure it will be full of new exhibits for years to come.
Collector and Classic Car Insurance for Less
If you own a Corvette or another beloved classic or collector vehicle, keep it fully protected with the right kind of car insurance. Let us customize a policy to fit your needs. We offer affordable, Agreed Value coverage for a variety of collector, classic and custom vehicles. Our friendly, knowledgeable staff can answer your questions and give you a quote on the spot. Call 888-901-1338 or get an instant quote online and see how we can help safeguard your dream car.