7000 Applications Already!
At 4:01 am GMT on April 13, 2016 Ford's official website lit up like a Christmas tree. Applications for the 2017 Ford GT were now being accepted. With only 500 of these awesome supercars being produced, selection is going to be like winning the lottery. As of April 21st, Ford had received 7000 entries (and counting)!
Sticker Shock Not Keeping Them Away
Selection is not going to be an easy task for the executives at Ford. Since its 2015 Detroit debut, GT fever has been building and even the $450,000 price tag hasn't scared potential buyers away. The automaker says loyal Ford customers and current GT owners will be given first consideration.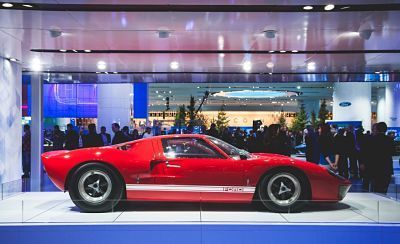 Ford vs Ferrari
Why the fervor over a car that doesn't have an Italian pedigree? To answer that question, look at the history of the car and the man who envisioned it – Henry Ford II. In 1963 Ford Motors tried to purchase Ferrari but Enzo Ferrari flatly refused. Ford got mad and decided to get even. His revenge, none other than the GT-40.
Ford GT-40 Wins Big at Le Mans
It took resources and innovation to create a race car that could blow the doors off of a Ferrari racer (and everyone else) during the 24 hours of Le Mans. After 2 years of failure, the Ford GT-40 took 1st, 2nd and 3rd place at Le Mans in 1966. A GT-40 went on to win the prestigious event the next three years ('67, '68, and '69). Ford's payback was fast and furious.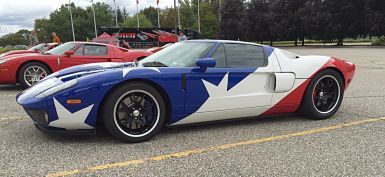 An American Supercar Returns with the Ford GT
In 2005 Ford resurrected the high performance car. Reminiscent of the original GT-40, this first generation GT has a 5.4L all aluminum modular V8 engine capable of producing 550 hp and a top speed of 205 mph. The limited production run of the GT ended in 2006 with 4038 units sold.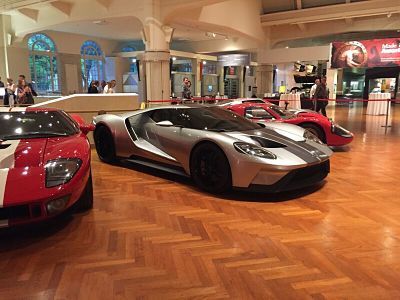 Ford Faithful Have Waited Long Enough
The Ford faithful have been anxiously awaiting the return of their favorite performance car and at the 2015 North American International Auto Show in Detroit they got their wish. Ford Motors will issue a limited number of second generation GTs (250 cars per year) during its two-year production run. Distribution takes place this summer.
The 2017 GT – Not Just Another Pretty Face
With the introduction of the Ford EcoBoost twin-turbocharged 3.5L V6 engine, this car has more in common with the IMSA Daytona Prototype than its elder sibling. Generating 600 plus horsepower and an estimated speed of 200 mph, this supercar is having no trouble living up to its predecessors (and they haven't even delivered it yet).
Super-light and Fast
Ford is confident that the 2017 GT will have the best weight to power ratio of any car. The super-light carbon fiber and aluminum construction is sculpted for aerodynamic efficiency. The sleek design channels air down and away, venting air over the brakes and engine. Every slant and groove on this car has a purpose.
Formula One Inspirations Abound
Innovations like the Gorilla Glass windshield (a thin, light, damage-resistant material) was used to reduce weight and lower the car's center of gravity. The interior cockpit is definitely F-1 inspired. Molded seats are integrated into the monocoque frame. The steering wheel slides out, adjusting to the driver's needs.
50 Years Since First Win at Le Mans
Four 2017 Ford GT cars have qualified for the 24 Hours of Le Mans June 18-19. They will be going up against their old rivals, Ferrari, Porsche and McLaren. It has been 50 years since the original GT-40 won for the first time in 1966 and Ford is hoping history repeats itself.
Application Deadline is May 12, 2016
If you decide you want one of these amazing cars, then don't delay. The application process ends May 12th at 3:59 am GMT. While submitting an entry does not guarantee you will get one, it does offer an opportunity to outfit "your GT" the way you want. So dream large folks and get those applications in, your 2017 GT could be waiting.
Collector and Classic Car Insurance for Less
Protect your brand new Ford GT with the right insurance coverage. The friendly staff at Classic Auto Insurance will answer all your questions and find the right policy for your needs. Visit our website at www.classicins.com and see how we can help safeguard your dream car.