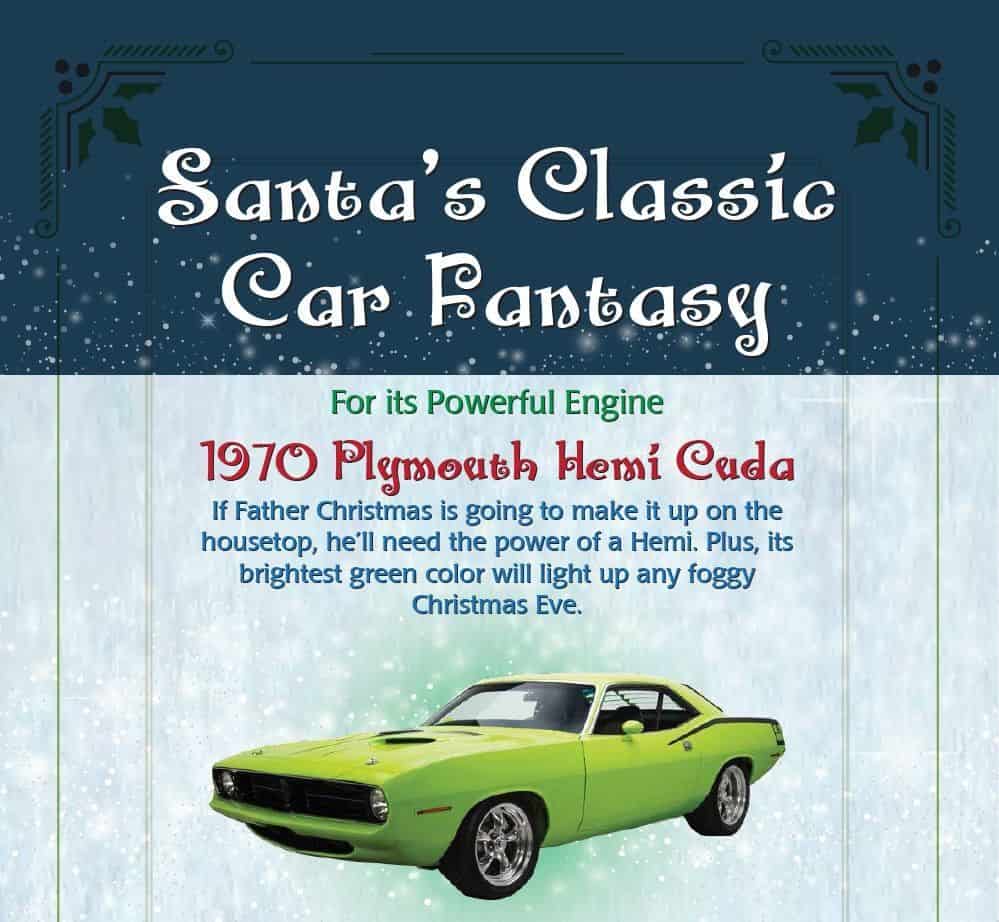 Santa's Parking the Sleigh and Going Classic All the Way
When Santa makes his epic ride on Christmas Eve, ever wonder what he'd drive if he could leave his sleigh at home? A classic car of course! We put our best minds to work to determine the criteria St. Nick might use to select his new classic holiday ride. See if you and your family agree. The reindeer dare you to share it!
'Twas the Night Before Christmas …
What Santa wants in a classic Christmas ride is what we all want – a little bit of everything. We don't have the power of eight tiny reindeer or a sled capable of hauling tons of toys for every good boy and girl, but we do know some sweet classic cars. Mr. Claus might consider one of them for his fantastic journey on the night before Christmas.
Ho, Ho, Hemi
If you are going to guide your classic car onto rooftops, you need a powerful engine. We can see the jolly old fat man behind the wheel of a 1970 Plymouth Hemi Cuda with a 426-elephant engine just waiting to muscle its way to wherever Santa wants to go. Of course, Rudolph will ride shotgun since he's a Mopar fan.
A Christmas Icon Should Drive an Icon
When your wardrobe is as recognizable as Santa's, you need a classic car that generates a few style points of its own. A 1976 Porsche 911 (maybe in new fallen snow white) wins hands down. Like Mr. Claus's red fur trimmed suit, the iconic design of the Porsche 911 stands the test of time.
Can't Stop for Gas – Christmas Day is Coming!
Even Santa worries about gas mileage -you can't power a sleigh with Christmas cookies and eggnog! Our team of experts choose the 2013 McLaren P1 hybrid supercar for its speed (200 mph) as well as its ability to run on gas, electric or both. The big man doesn't want to get stranded on his way to deliver presents.
On Dasher, on Prancer, on Ford GT!
When you must make it around the world in one night, speed is a definite must. While the reindeer have done a tremendous job, a 2017 Ford GT, with a top speed of 200 mph, makes a great choice in this category. Why leave reindeer tracks when you can have the winner of the 2016 24 Hours of LeMans leave burned rubber on the roof?
A Classic Caddy for Claus
Maybe Santa wants to bring the reindeer along for his incredible journey. What better way than in a roomy 1959 Cadillac Eldorado Biarritz convertible! With the top down and the Christmas carols blasting, jolly old St. Nick will be the coolest dude this Yule.
Santa is a Classic Car Guy, Too
Since no one can attest to what Santa actually has in his garage, we believe he is a classic car lover like us. Mr. Claus may stick with his traditional transport for this one day but we bet he's driving a classic car the other 364 days in the year. Merry Christmas!
Happy Holidays from Everyone at Classic Auto Insurance
It is an honor to be a part of the classic car collector community. Thank you for making 2016 such a great year. We wish you and your family a happy holiday season and a prosperous New Year. As always, if you have any questions about the best coverage for your classic car, visit our website at
www.classicins.com
and or contact our staff at
888-901-1338
to see how we can help safeguard your dream car.