Only 22 Left
When you hear the phrase on the brink of extinction, does it call to mind images of Mountain Gorillas, Loggerhead Sea Turtles or Snow Leopards? Let's put this in collector car terms; there are only 22 M-Code 1963 Ford Thunderbird Sports Roadster Convertibles left. In the world. That puts this beautiful classic car on the same sad path as other species on the brink of extinction. Quiz time, Gearheads! Name other classic car models that are slowly disappearing. Leave us your answer in the comments.

Rescuing Automotive History
Ron
from
Vail's Classic Cars
in Greenfield, Indiana finds the original 1963 T-Bird body collecting dust in a shed. He knows it is a rare find. "It took the parts from four cars to put this one back together," he says. "Things were living in it, and the interior was completely shot." Despite the rust, dust and critters, Ron and his team save this piece of automotive history. Seeing it brought back to life is one of the highlights of the
2017 Indianapolis World of Wheels
.
The Holy Grail of Thunderbirds
After seeing the rusted-out hull, Ron knows it is not going to be an easy restoration. "I have been in the business for 33 years, so I understand how tough getting parts for a rare model can be." With fewer original parts available from the 50's and 60's, low production numbers and special packages like Ford's M-Code High-Performance option, you can understand why parts are scarce. There is a reason this car is called the Holy Grail of Thunderbirds!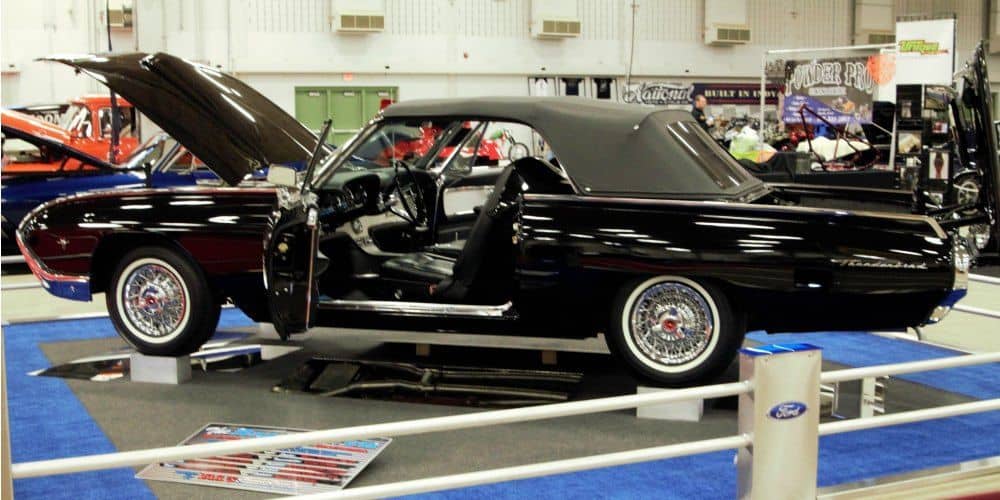 Rare M-Code Option on Thunderbirds
Only 37 Thunderbird Sports Roadster Convertibles with the M-Code options are produced in 1963. Fifty-five years later only 22 remain. The M-Code nickname comes from the letter M-designation in the chassis number. It signifies the installation of the 340hp, 390 cu.in. Tri-Power V8 engine with three Holley two-barrel carburetors. Other features include three-speed Cruise-O-Matic transmission, power driver seat, tilt steering wheel, power lift windows and a vacuum-assisted power door lock option. The unique convertible top lifts, folds up and stows away seamlessly in the trunk.
Thunderbirds Outsell Buick Riviera
From 1961-1963, the Bullet-Birds are the number one personal luxury cars available. Its closest challenger, the 1963 Buick Riviera, could not slow their popularity. Despite the competition, Ford sells over 50% more T-Birds than the Riviera. Most of those sales are hardtops. Sadly, Ford eliminates the Sports Roadster Convertible in 1963.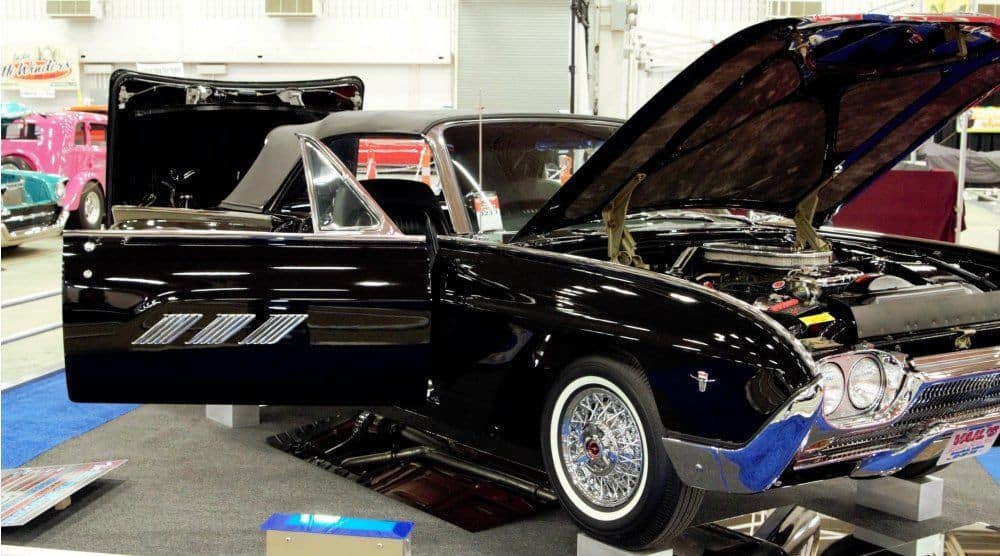 Save Our Classic Cars
Why the 1963 Ford Thunderbird Sports Roadster Convertible does not sell like hotcakes is anyone's guess. It is up to the classic car community to save rare collector cars like this T-Bird, before it is too late. So, keep looking in junkyards, barns and old garages for these treasures. Become classic car conservationists! Bring the next generation into the fold. Take your children and grandchildren out on an automotive adventure to save our classic cars from extinction. Their future is counting on you.
Collector and Classic Car Insurance for Less
Restorations on rare classic cars take a long time and involve lots of collaboration. When your collector cars are out of your garage, protect them with insurance that includes restoration coverage. Let Classic Auto Insurance put together a policy to fit your needs. We offer affordable, Agreed Value coverage for a variety of collector, classic and custom vehicles. Our friendly, knowledgeable staff can answer your questions and give you a quote on the spot. Visit our website at www.classicins.com or call 888-901-1338 and see how we can help safeguard your dream collection.