Restored Challenger Helps Us Celebrate 80 Years of MOPAR
It's hard to believe that MOPAR is turning 80 this year. From boosting performance on hot rods to becoming a global parts giant, MOPAR has a loyal following of car enthusiasts. Whether you love Chargers, Challengers, Darts or Barracudas, talking MOPAR gets your motor racing. Let us tease you with a look at a 1970 Orange Dodge Challenger R/T on display at the 2016 World of Wheels in Indianapolis.
Winner from Dragstrip to Showroom
This beautiful orange Dodge Challenger is the work of
Ken Mosier
at
Finer Details Automotive Restoration
in Danville, IN. Before becoming a showroom beauty, this MOPAR muscle car burned it up at the drag strip. The owner rescued it and asked Ken to bring it back to life.
Hemi Star is Born
The numbers-matching restored Challenger is one of 138 Hemi cars made and still has its original transmission. Ken and his crew spent about 1,600 hours blocking the car to get that show quality look. It looks so good that Chrysler ad executives wanted it in their 2013 Shaker Scat Pack Challenger commercial. Ken hastily added a shaker hood to her and a star was born.
MOPAR – Global Parts Giant for FCA
It is hard to believe the MOPAR brand has been around since 1937. Originally a line of antifreeze products for Chrysler Dodge cars, it soon evolved into the motor and parts division of Chrysler. We often think of MOPAR in terms of just boosting the performance of muscle cars. It is actually a global automotive giant, supplying over half a million parts for Fiat Chrysler Automobiles (FCA).
Gearheads Everywhere Love MOPAR
Over the years, MOPAR has created many amazing products. During WWII, they built radios and equipment for military vehicles. In the 60s and 70s, they developed the high-performance parts and engines that kick-started a drag racing phenomenon. Today the MOPAR name has worldwide recognition and commands a passionate following of muscle car enthusiasts.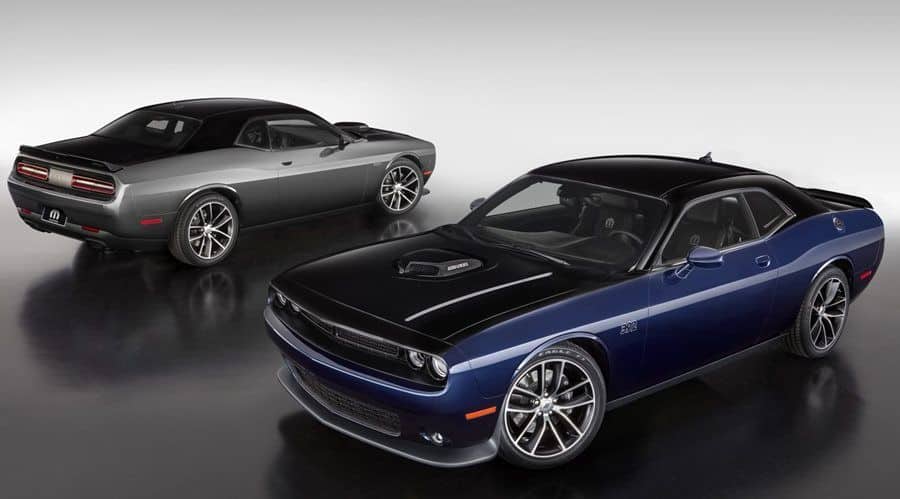 The MOPAR '17 Dodge Challenger
To mark the 80th anniversary, a limited edition MOPAR '17 Dodge Challenger was introduced at the 2017 Chicago Auto Show. Sporting two different color schemes (Pitch Black/ Contusion Blue and Pitch Black/ Billet Silver), 80 cars of each combo will be produced. Decked out with shaker hood scoops and rear spoilers, this Challenger has a 6.4L V8 engine just like in the Scat Pack and SRT models. It comes with a "birth certificate" documenting all this MOPAR baby's vital statistics for the proud parent/owner. Expect new cars to roll into showrooms this fall.
Add a New MOPAR to Your Collection
The MOPAR '17 Dodge Challenger is eighth in a series of limited edition models issued to sate muscle car fanatics' lust for these powerful road warriors. Considering one for your collection? The previous seven releases include:
MOPAR '10 Challenger
MOPAR '11 Charger
MOPAR '12 300
MOPAR '13 Dart
MOPAR '14 Challenger
MOPAR '15 Charger R/T
MOPAR '16 Ram Rebel
Dropping a Little MOPAR History
Want more history on MOPAR and how these fabulous muscle cars came about? Check out our
infographic/blog
and share it with your fellow gearheads. See why MOPAR rules!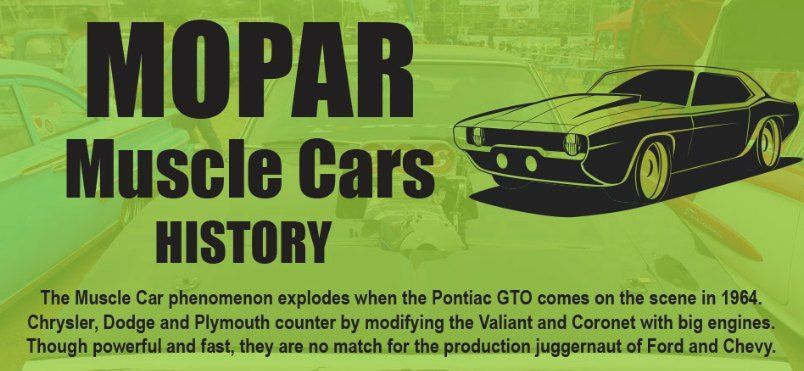 (click on the image to view blog and infographic)
Collector and Classic Car Insurance for Less
You love MOPAR cars and we understand how important your collection is to you. Protect your muscle car with one of our customized policies. Our friendly experts can show you how to get collector and classic car insurance for less. Visit our website at
www.classicins.com
and see how we can help safeguard your dream car.