MOPAR Muscle Leaves an Impression at 2017 WOW Indianapolis
With MOPAR turning 80 this year and a lot of great car shows happening now, we ask the big question – what is your favorite MOPAR muscle car? We reveal two of our favorites while interviewing the man behind these beautiful restorations at the 2017 World of Wheels in Indianapolis: a 1971 Plymouth 'Cuda and a 1970 Dodge Super Bee. What is your favorite MOPAR muscle car? Let us know in the comments below – looking forward to seeing how the MOPAR Nation votes!
Finer Details' Ken Mosier Has a Passion for MOPAR Restoration
Whenever we see a great looking MOPAR muscle car, we know Ken Mosier at Finer Details Automotive Restoration in Danville, IN is involved. About 95% of the work done at his shop is MOPAR. Ken's passion for these great cars shows in every restoration he produces.
Numbers Matching 1971 Plymouth 'Cuda
Ken has a personal connection to the 1971 Plymouth 'Cuda. He finds it languishing in the Arizona heat and brings it back to Indiana. The former factory exec car is in bad shape but still has the numbers matching engine and transmission.
Sign of a Good Restoration – Attention to Detail
Ken's opportunity to restore the 'Cuda in his copious "downtime" never happens. (Downtime is a pipe dream, Ken!) Facing reality, he reluctantly sells the car to a friend who turns around and hires Ken to work his magic on it. "On average, we spend 400 to 500 hours blocking everything out and working on the fit," he says. "It has to be perfect."
1970 Dodge Super Bee – From Wreck to Rare Gem
On the 1970 Dodge Super Bee, Ken has his work cut out for him. Where the 'Cuda sat in dry desert heat, the Super Bee struggles to survive the harsh wet weather of Alberta, Canada. The owner spends 69 hours hauling the wrecked muscle car to Indiana. He knows if anyone can fix this rare beast, it is Ken Mosier.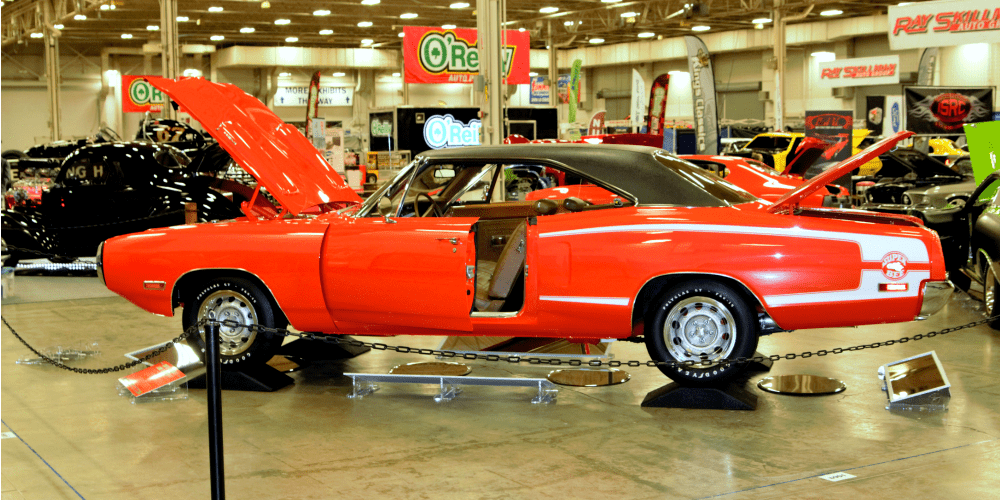 Saving a Super Bee
This '70 Super Bee is one of 34 factory Hemi cars made that year and one of only two delivered to Canada. What makes this car even rarer is the color combination – orange with white trim, black top and brown buckskin leather interior. Rare or not, the car is a mess when Ken gets it. Not only is it wrecked and badly repaired, there is SO much rust. Rust everywhere! Quarter panels for MOPARS don't grow on trees!
MOPAR Parts Hard to Come By
Ken scours the country looking for parts needed to bring this classic back to life. Not an easy task considering the 1970 Super Bee is a one-year-only body. "It's very hard to find original MOPAR parts," he says. "With a Ford or a Camaro, you can go and buy the part you need because there were thousands made. There just weren't that many of these cars made."
Long Live MOPAR
The finished restorations are amazing. Once again, the team at Finer Details rocks it. Ken's friend is happy with the 'Cuda and the owner of the Super Bee is ecstatic. At the 2016
Muscle Car and Corvette Nationals
in Chicago, the Super Bee scores a 993 out of 1000 to earn gold. These beautiful muscle cars have bright futures ahead of them and we can't wait to see them again. Long may MOPAR rule!
Dropping a Little MOPAR History
Want more history on MOPAR and how these fabulous muscle cars came about? Check out our infographic/blog and share it with your fellow gearheads. See why MOPAR rules!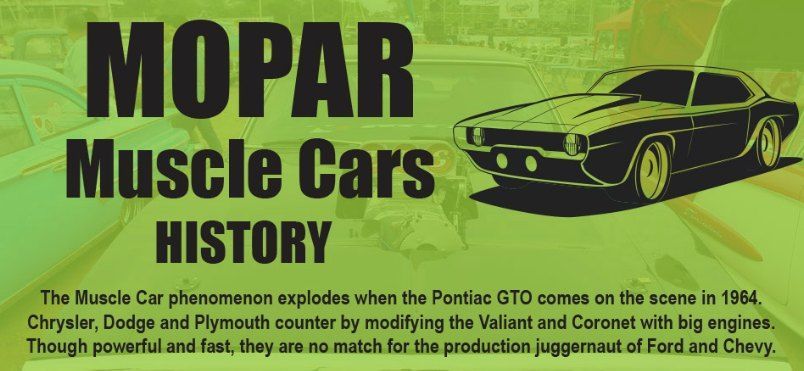 (click on the image to view blog and infographic)
Collector and Classic Car Insurance for Less
Classic Auto Insurance knows that restoring a classic MOPAR muscle car takes time and commitment. Protect your investment with one of our customized policies. Let our friendly experts show you how to get collector and classic car insurance for less. Visit our website at
www.classicins.com
and see how we can help safeguard your dream car.