America's Love Affair with the Chevy C-10
America has a passion for pickups and this enduring love affair shows no sign of letting up. One of the most popular lines ever built is the Chevy C/K series, which lasted from 1960 to 1998. Early trucks like the 1960 Chevy C-10 Apache helped drive sales skyward as consumers fell for this hardworking yet comfortable vehicle. Truck love at first sight!
Chevy Delivers a Full-Size Truck
At the time, the C/K series is Chevy's way of gaining a larger share of the full-sized truck market. By adding a V8 engine, the carmaker beefs up their design to appeal to a wider consumer base. They realize trucks are doing double duty as a work vehicle and the family car. Consumers want more from their trucks and Chevy delivers.
Truck Soul in Tact
There are two basic body styles on the 1960 C-10 Apache – the Fleetside (smooth sides) and the Stepside (fendered sides). Trim packages are either basic or custom. This C-10 is a no frills pickup with its few options being two-tone paint, extra chrome and panoramic windows. It never loses its truck soul.
C-10 Gets a Lower Cab and New Suspension
The C-10 design introduces the drop-center X-type frame, which lowers the cab by as much as seven inches. It gives the truck a lower center of gravity and greater stability. It also makes the cab easier to get in and out of. Chevy adds an independent front-end suspension to give it a more comfortable ride like a car.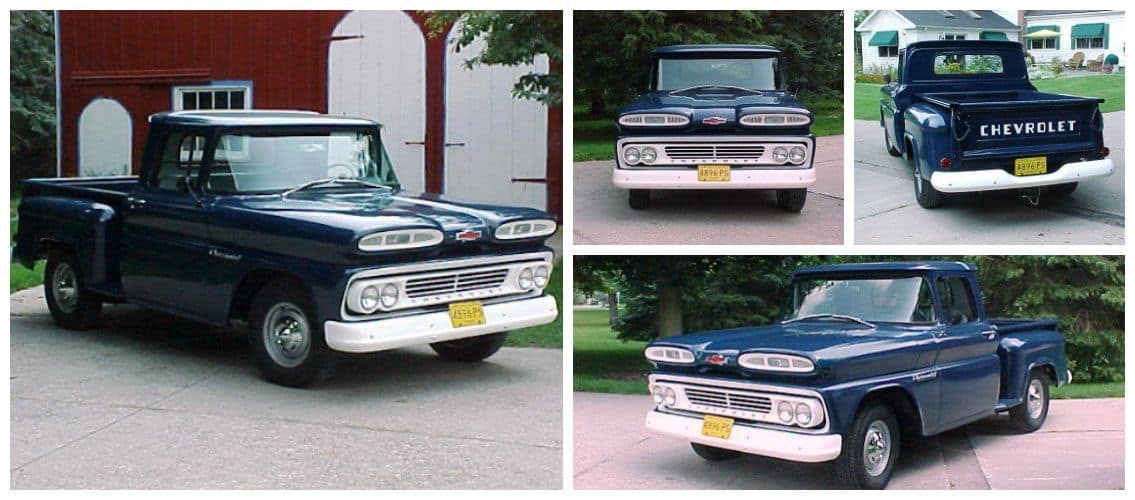 Check Out Those Nostrils
There are two hood styles for the first generation of C-10s. The 1960-61 hood sports an indent running from windshield to grille and "nostril" flares that surround the turn signals. In 1962, the "nostrils" and indention are eliminated, leaving a flatter looking hood that would remain until 1966.
Is Your Chevy C-10 Waiting to Be Restored?
You could select from one of several 6 or 8-cylinder engines on the 1960 C-10. The most popular being the large V8 327-cubic-inch version. What these trucks lack in bells and whistles, they make up for in stamina. Many early trucks are used and abused on the job – and are still out there waiting to be restored.
What's in a Name?
1960-61 C-10 trucks carry the name Apache in addition to the C-10 moniker. It is a holdover from Chevy's Advanced Design Series when the different truck weight classes have names like Apache, Viking and Spartan. By 1962, the name is dropped from the logo.
1960 Chevy C-10 Apache a Rare Find
A completely intact 1960 Chevy C-10 Apache is considered a rare find by collectors. Two years of production is all we have to yield certain parts. With minor changes between 1960-61 and some parts not interchangeable with other C-10 trucks in the series, restoring these early gems is a classic truck lover's dream.
Collector and Classic Car Insurance for Less
You love your classic truck and finding the right insurance coverage doesn't have to be a challenge.
Classic Auto Insurance
offers affordable protection for your collection. Our friendly, knowledgeable staff can answer all your questions and customize a policy to meet your needs. Visit our website at
www.classicins.com
or call and see how we can help safeguard your dream car.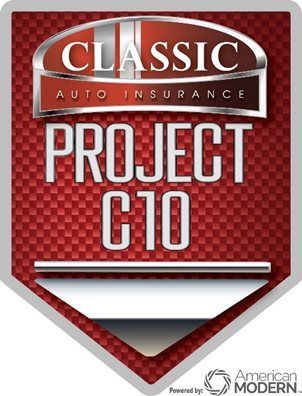 Coming Soon from Classic Auto – Project C-10
The C-10 is a perfect blend of the things we love about our trucks; strength, dependability and good looks. Which is why we are devoting the entire year to restoring a 1965 Chevy C-10 Truck. Stay tuned for video updates on Project C-10, powered by American Modern. It'll be a classic!