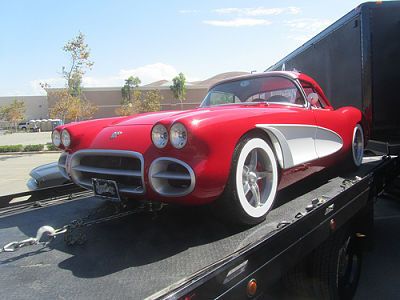 Trailer Tow or Transport Service?
With warmer weather approaching, the outdoor car show season is not far behind. If you plan to attend local shows or travel cross country, transporting your collector car is always an important decision for your pre-show planning. If driving it isn't an option, you can choose to pull a trailer yourself or hire a transport company.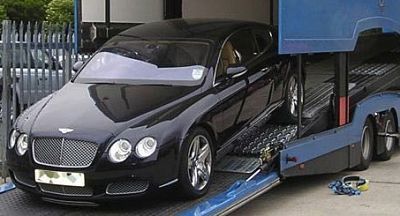 (www.firstclassautotransporters.com)
Door to Door Service
Shipping a car sounds like a costly undertaking, although it does have its advantages. Some transport companies offer door to door pickup and delivery. A licensed professional driver will take your car to its destination, freeing you to travel at your leisure. For many owners, trusting someone else with their car is really not an ideal choice.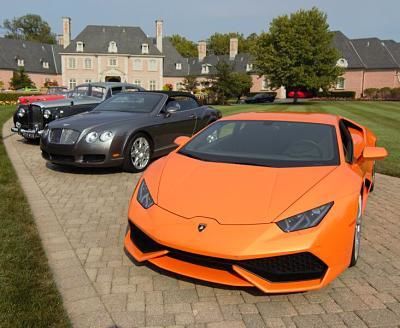 Check Transporter's Safety Record
However, if this sounds like an option for you, do your homework. Ask other collectors about the services they have used. Your insurance company may have recommendations. Deal with a service that owns its trucks and carries liability insurance. Ask for their USDOT number and check their safety record with the Federal Motor Carrier Safety Administration.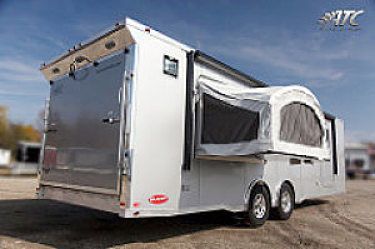 (www.aluminumtrailer.com)
Enclosed Trailers – A Sweet Ride for You & Your Car
If using a transport service is too much of an expense or a trust issue, towing a trailer may be your best option. Choose between an enclosed model or an open air trailer. Enclosed trailers can be pricey as well, although they protect your vehicle from road debris and weather damage. Amenities like pop out sleepers, kitchens, and even bathrooms mean you and your car can enjoy some quality time together.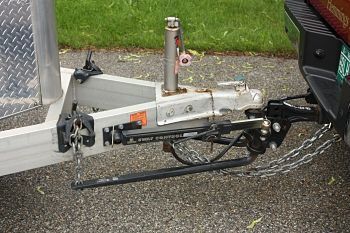 (www.hemmings.com)
11 Trailer Towing Tips
No matter what type of trailer you choose, review proper towing procedures before starting your trip. Each year, over 68,000 motorists are involved in towing related accidents. Here are 11 helpful tips to ensure you and your classic car arrive safely:
Know your weights – Make sure your tow vehicle can handle a fully loaded trailer, passengers and any additional equipment. Don't skimp on power.
Have a proper hitch and receiver – The Class III hitch and receiver is rated for a maximum trailer weight of 6,000 lbs. and is the minimum recommended setup you should go with.
Consider adding weight distributing hitch and trailer brakes.
Add an anti-sway system – Swaying can be caused by excessive speed, strong crosswinds or even passing vehicles.
Inspect your trailer before leaving and during stops – Weight can shift during the drive and you may need to tighten straps.
Check the condition and pressure of trailer tires – A trailer that sits unused for months may show signs of tire dry rot.
Check the lights and turn signals on the trailer and your tow vehicle.
Center your classic car over the trailer wheels.
Keep the trailer weight balanced – Distribute tool boxes, fuel containers, and personal items evenly on bed.
Use a minimum of four ratcheting straps – Use one on each corner to securely tie down the car.
Use wheel chocks to help stabilize the car – They serve as backup for the straps.
 Stay Safe on the Highways
Getting you and your collector car safely to the next show should always be your first choice for transport. You've spent a lot of time working on bringing this beauty to life and you don't want anything to happen to it (or to you!). Hiring a transport company or towing a trailer yourself is a personal decision. Do your research, ask lots of questions and most of all, be safe on the highways. We want to see you and your car at the next show!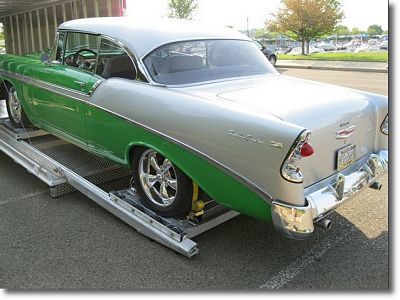 (www.trailerseast.com)
Collector and Classic Car Insurance for Less
Not sure how you want to transport your classic car to the next show? Give us a call and we'll be happy to help you weigh your options. Our friendly, knowledgeable staff can also help you find the right insurance policy for your vehicle. Visit our website at www.classicins.com and see how we can help safeguard your dream car.