Good Things Come to Those Who Renovate
All
Terry Clark
ever wanted is to build his dream truck and enjoy it. Now, here he is showing his refurbished
1964 Chevy C10
at the
2018 World of Wheels
in Indianapolis. Terry tells us participating in WOW is a celebration of good things that come to those who renovate. We can relate, because we all know classic truck builds can take on a life of their own. "Time has been the biggest struggle on this renovation," Terry says. "Every day there is something new that has to be done." Can you relate to Terry's lament? What hurdles have you faced during a classic truck build? Tell us in the comments (go ahead, you can vent).
Looks That Stand Out
No collector could miss this gleaming black C10. It practically glows on the showroom floor, something that Terry worked hard to achieve. "I love trucks and always wanted a black one," he says. "Bottom line, it has to be a dependable ride with looks that stand out." Terry finds precisely the truck body he is looking for in Tennessee, a road trip away.
"Oh, I'm upgrading this engine."
Getting the truck home turns out to be a challenge. "It would not fit on the trailer, so I had to drive it home," he laughs. "It was a 6-cylinder and after that ride, I knew I was upgrading the engine." He installs a new SBC 350 V8 engine with Edelbrock Pro Flo XT fuel injection. Terry goes with a 350-auto transmission minus the overdrive, a decision he is still questioning. "I can always add it later."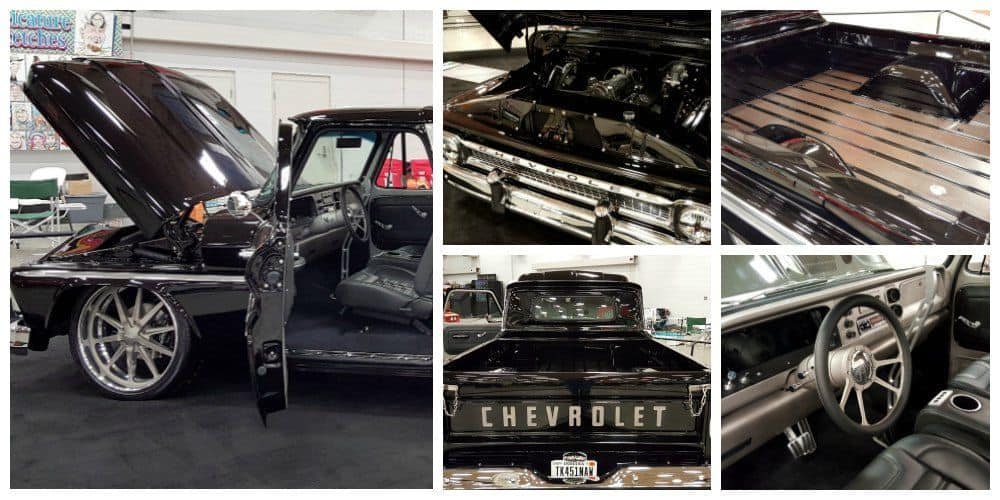 Black is Beauty. Cleaning It, Not So Much.
Terry thinks a lot about the overall look of the truck. He wants everything to flow. He envisions a paint scheme with help from
Joshua Wells
from
WickedKolor
, choosing PPG Jet Black for the exterior with matte pewter accents and interior, plus a flashy shine of chrome. Everything from the wheels and side moldings to the seats and door panels compliments each other. Terry's one concern? "If you think chrome is hard to keep clean, wait until you deal with black for a while."
"My wife really loves it."
Terry is not the only family member who is satisfied his dream truck project is complete. "Spending this kind of money takes patience from your better half. You always want them to like it, too. My wife really loves it." Even though WOW 2018 is likely the only time the public will have a chance to see it on display, Terry's alright with that. "[Entering shows] is not for me," he says. "I'm just happy it is finished and feel like celebrating."
Get Ready for Project C-10 powered by American Modern
Classic Auto Insurance is celebrating 25 years with our very own restoration of a 1965 Chevy C-10. Classic Auto and American Modern bring our collective passion, excitement and experience together in a work crew that's heart-set on building this fabulous Restomod – and we're going to share it with you, every step of the way. Get ready!
We also know accidents will happen, so leave nothing to chance. Even before you finish your masterpiece, protect it during its restoration. Classic Auto Insurance offers affordable coverage for a variety of collector cars. Let our knowledgeable staff answer all your questions and customize a policy to meet your needs. Visit our website at www.classicins.com or call 888-901-1338 and see how we can help safeguard your dream car.