Custom 1956 Chevy C3100 Truck Shines
If you observed a reddish-orange glow emanating from the floor of the
2017 Detroit Autorama
, you are not alone. Upon further investigation, we discover this custom
1956 Chevy C3100 truck
belonging to the proud owner,
Jake Bigelow
. We speak with him about the hard work that goes into it and how he feels about showing it for the first time. What is your best custom build story? Tell us in the comments.
Can't Stop Tweaking It
This beautiful pickup's build takes four long years. Builder
Jeff Thomas
and his team at
J and B Custom Classics
in Clio, MI just cannot let go. They continue to tweak things right up until the day before the show. "We are still working the bugs out," Jake grins, knowing full well it is pretty close to perfect.
 The Biggest Struggle – "Spending the Money!"
The truck is an amalgamation of a TCI frame, a Mustang front end and a Corvette LS1 drivetrain. Only the seat is original. "Getting the wrap-around back window in place was a challenge," Jake says. "The first set of tires did not fit the frame so we had to buy another." So, what is the biggest struggle of the build? "Spending the money!" (we all feel your pain!).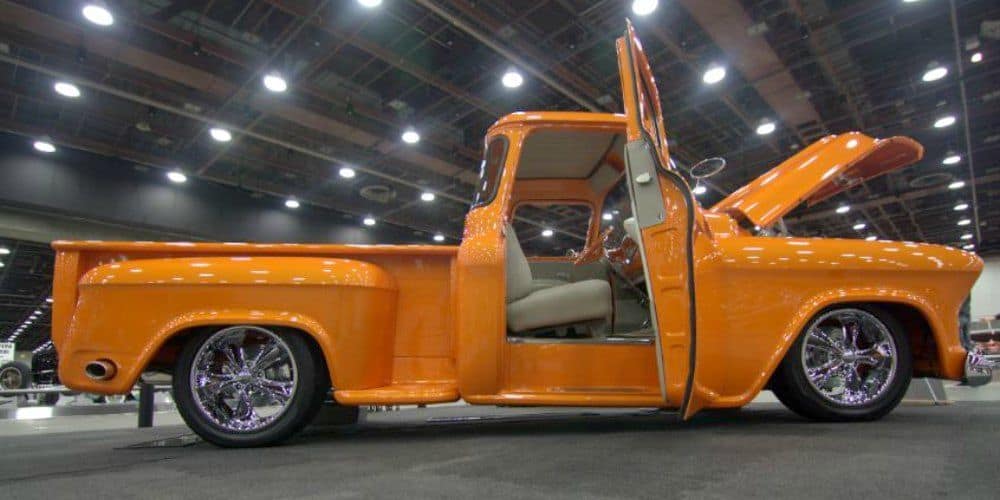 Sunset Orange Pearl – A Mesmerizing Color
What is Jake's favorite thing about this pickup? "The color. I just love it." he says. "It is Sunset Orange Pearl. It turned out great." Chevrolet offered the color on the fourth generation Camaros. This medium orange shade with a gold sparkle effect looks a burnt reddish color from one direction and a soft Creamsicle hue from another. The result is mesmerizing, much like a tropical sunset.
The Simple Pleasures
Reflecting on his first time showing at the Detroit Autorama, Jake sums it up with a modest comment. "It is pretty nice." You must admit a show this massive can be a little overwhelming, which is why Jake does not have to elaborate. Sometimes the simplest pleasures are all you need, like enjoying a beautiful sunset at the end of the day.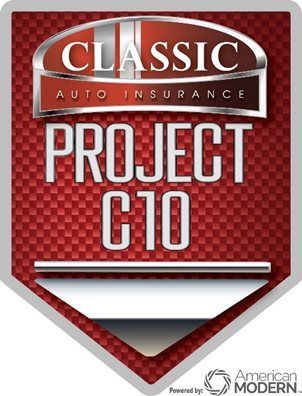 Coming Soon from Classic Auto – Project C-10
Once a truck fan, always a truck fan. At Classic Auto Insurance, we love all kinds of trucks and we are devoting the entire year to restoring a
1965 Chevy C-10
. Stay tuned for video updates on
Project C-10
, powered by American Modern. It'll be a classic! We also know accidents will happen so leave nothing to chance. Even before you finish your classic beauty, protect it during its restoration.
Classic Auto Insurance
offers affordable coverage for a variety of collector cars. Let our knowledgeable staff answer all your questions and customize a policy to meet your needs. Visit our website at
www.classicins.com
or call
888-901-1338
and see how we can help safeguard your dream car.