Outstanding Truck at 2017 Indy WOW
The Outstanding Full/Radical Hand-built Truck Award at the
2017 Indianapolis World of Wheels
, goes to this custom
1967 Chevy ZL1 C-10 truck
. Speaking with the owner,
Rod Parsons
of Ripley, WV, we learn his truck also takes home the
2017 Outstanding Individual Display
and
First Place
in the
Full Pickup
category. Check out our video and see if you agree with the judges' decision. Let us know in the comments.
A Showroom Beauty with a Race Car Soul
Rod's C-10 is used to winning on the show circuit. In 2016 the classic custom pickup takes home a variety of awards including the
Goodguys Truck of the Year Finalist
in Fort Worth, TX., the
Builder's Choice Award
in Charlotte, N.C. and the
GM Design Award
at the 2016
SEMA
. This beautiful custom is not staying on the circuit much longer. Rod and his truck plan to go after some different trophies on the racetrack!
Planned with Performance in Mind
"I always liked classic '67 Chevy trucks and wanted to customize one just for me," Rod says. As the owner of
R&R Auto Sales
, he usually works on everyone's vehicles but his own. This time he builds a truck his way. "I am a performance guy so that is what I wanted to do," he says. Teaming up with
Greg Killen
at
The Project Shop
, they start planning.
ZL1 – Small Engine with Big Power
Rod heads to
No-Limit Engineering
for an Autocross chassis set up with
NASCAR
adjustable sway bars. A track-ready Chevy Performance LSA 6.2L supercharged crate engine is installed. The 5th generation
Camaro ZL1
is considered by many to be the most powerful Camaro ever. With 580 bhp and 556 lb.-ft. of torque, the 2012 Camaro logs the quarter mile in 11.94 seconds at 116 mph. The folks at the track will soon realize, Rod's truck has another kind of hauling in mind.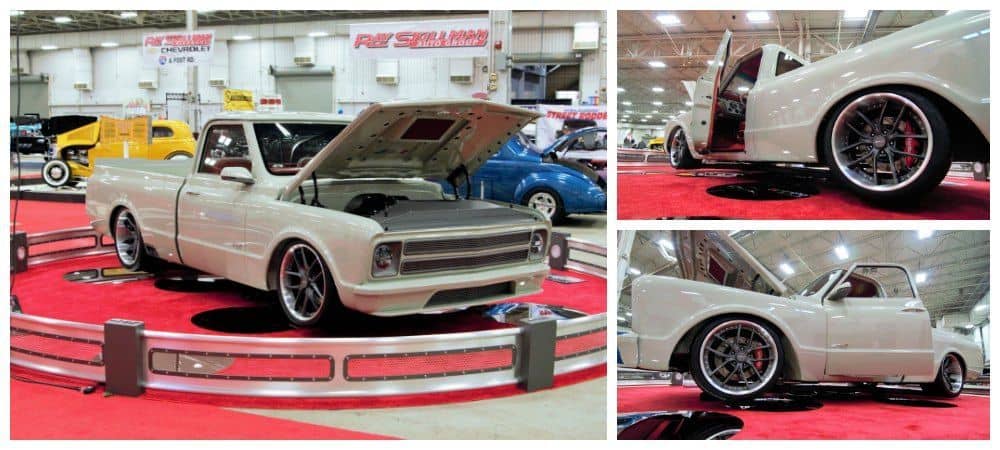 "It Came Together Just Right"
Lest we forget, this classic Chevy C-10 is a showroom beauty. The brilliant red interior (crafted by
Steve Holcomb
of
Pro-Custom Interiors
) perfectly complements the warm Desert Khaki exterior. "I started out wanting to keep the build low-key, but one thing led to another," says Rod (we have all been there!). "It came together just right." Soon, he will be heading for the track to put his classic truck to the test. "There are no rock chips or rubber marks on it yet, but it is getting ready to happen," he laughs. C-10 collectors are cringing just thinking about it. The great thing about our hobby is you re-build these classics, so you can do whatever you want with them. Take the checkered flag, Rod!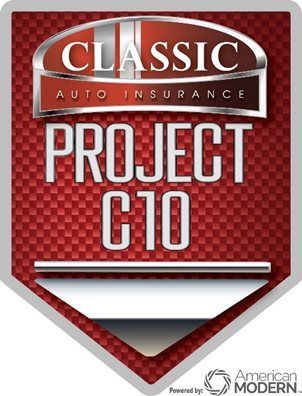 Coming Soon from Classic Auto – Project C-10
Once a truck fan, always a truck fan. At Classic Auto Insurance, we love all kinds of trucks and we are devoting the entire year to restoring a 1965 Chevy C-10. Stay tuned for video updates on Project C-10, powered by American Modern. It will be a classic! We also know accidents will happen so leave nothing to chance. Even before you finish your masterpiece, protect it during its restoration. Classic Auto Insurance offers affordable coverage for a variety of collector cars. Let our knowledgeable staff answer all your questions and customize a policy to meet your needs. Visit our website at www.classicins.com or call 888-901-1338 and see how we can help safeguard your dream car.