Purple Passion and Then Some
For owner
Bob Chiusano
, building a custom split window
1963 Chevy Corvette
is not only a passion, it's the fulfillment of a childhood dream. He explains his unique design ideas in our video interview from the
2017 Detroit Autorama
. How would you customize your dream car? Share your ideas in the comments.
A Purple Puzzle Car
"I call it my puzzle car," Bob says. "The frame is from a 1965, the 327 motor is from a 1966 and the body is from a 1963 Corvette." He does not limit his design ideas just to American made cars. Audi models inspire the flush windows and bucket seats while the upholstery stitching pays homage to Ferrari sports cars. Even the selection of the amazing purple paint is from a European car Bob sees in California. (Does anyone else have a craving for a grape Nehi?)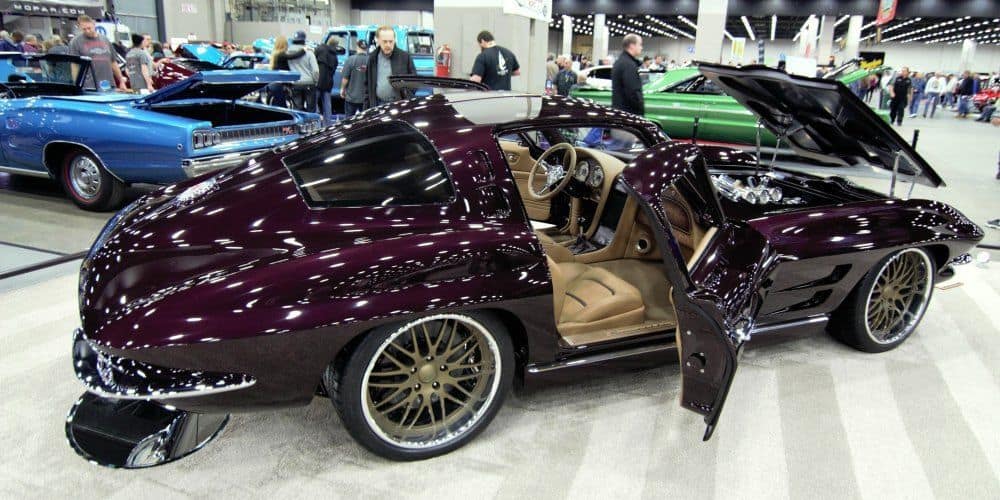 Design Decisions Take Time and Trust
This Vette may be called
Split Second
, yet every design decision takes time to plan. "I wanted everything to look seamless and flow together on the car," Bob recalls. Putting a great team together is key to producing a killer custom car. The folks from
Eddie's Rod & Custom
in Cedar Rapids, IA gets the nod to make Bob's ideas happen. "I love these guys! I trust them completely and they didn't disappoint."
Just in Time
Bob and his team cut it close getting this beautiful Corvette ready to show. "We got here just in time to queue to enter the building," he laughs. He is not alone. Hundreds of competitors work until the last minute getting their cars award ready. "A lot of people here are proud of their cars and rightly so," Bob says. "We are just happy to be a part of this great show."
Collector and Classic Car Insurance for Less
Building a custom car starts with the passion and the commitment to see it through. The right team can also help you realize your vision and achieve your goal. Let the team at
Classic Auto Insurance
protect your dream car during its renovation and beyond. We offer affordable coverage for a variety of collector and classic cars. Our knowledgeable staff can answer all your questions and customize a policy to meet your needs. Visit our website at
www.classicins.com
or call
888-901-1338
and see how we can help safeguard your dream custom car.