1955 Ford F-100 Truck – What This Boy Wants
It is not every day you meet someone who starts out in the restoration business at age 10. For
Dustin Foust
of Floyds Knobs, IN, working on classic cars is a lifelong obsession. At the
2017 Indianapolis World of Wheels
, we get the opportunity to interview him and get a closer look at his amazing custom
1955 Ford F-100 truck
. Dustin Foust is a name to remember. Watch our video and see if you agree. Have classic and custom cars always been a part of your life? At what age do you -or your child- realize you want to work on and collect classic cars? Share your answers in our comments.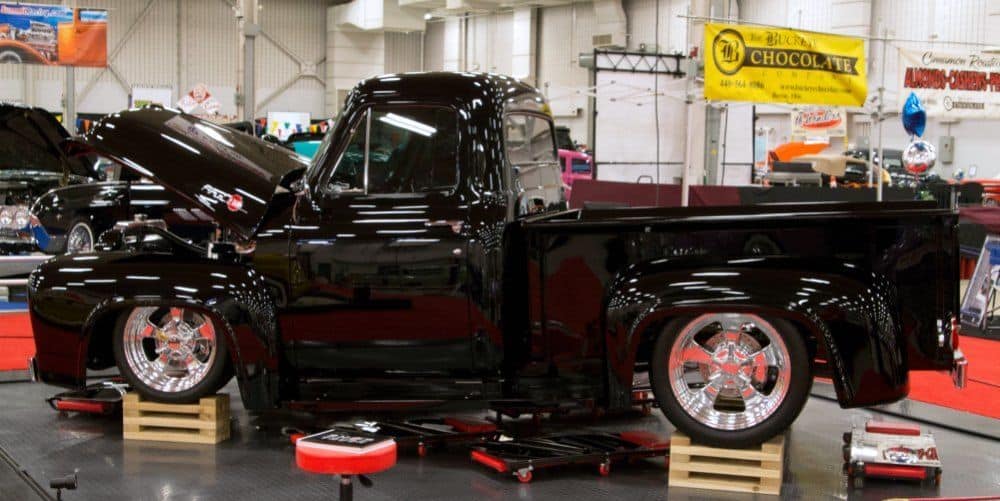 "Life Just Got in the Way"
What do you get a 13-year-old gearhead for his birthday? A classic truck to restore, of course. Young Dustin's enthusiastic plan is to re-build the pick-up and finish it before he turns 16. Like many builds, Dustin's takes longer than expected, 16 years to be exact. "Life just got in the way," he says. "I was busy going to school and working on other people's classic cars." When he finally finishes, he débuts his beauty restoration at the Detroit Autorama.
"Far from Stock"
The body and paintwork on the midnight black F-100 are all Dustin. It looks like a restored 1955 F-100, but this builder does it his way. "It is far from stock," he says. "I modified every single body panel." This includes reshaping, boxing and tucking the bumpers. "Fords should have Ford engines," he says (this classic truck owner/builder has definite opinions). He installs a 545-cubic inch big block Ford engine, which will leave traffic in the dust. The red-hot leather interior comes custom from Cutter's Hot Rod Interiors and compliments the exterior perfectly. Dustin and his team do an awesome job.
"Everything from Mild to Wild"
Since 1991, Dustin is working on cars when his father,
Pat Foust
, opens his first shop. He works part-time there while squeezing in hours on his own projects. In 2011, the father-son team makes it official, becoming partners in
Classic Restoration of Southern Indiana
. They make a formidable duo in the garage. Services range from oil changes to full custom restorations. "We do everything from mild to wild," Dustin says. "Our specialty is American-made pre-1972 classics."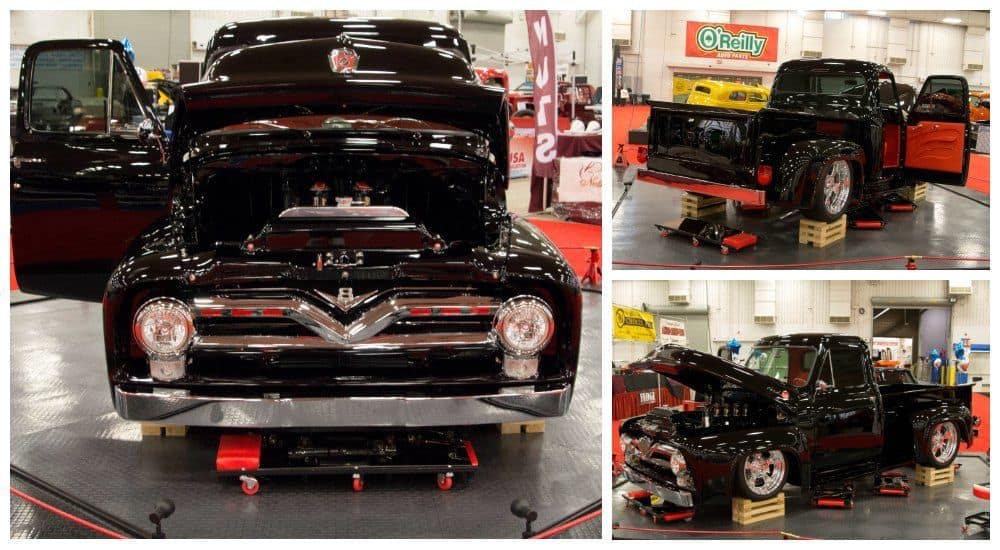 I'm Keeping the Classic Truck
Dustin is showing his truck on the circuit now. We ask him if he would ever part with it, and we get a quick no. We understand. It is his first truck. Even his wife knows how special it is. "She already knows the pick-up comes before her and she is good with that," (another thing to always have in your classic garage is an understanding spouse). Dustin, you are wise beyond your years.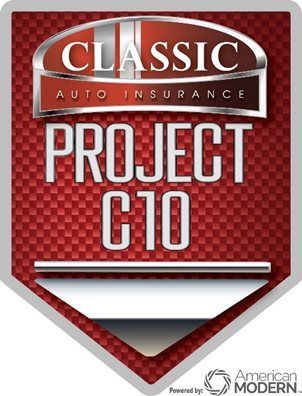 It's Almost Here! Project C-10
Once a truck fan, always a truck fan. At Classic Auto Insurance, we love all kinds of trucks, and we are getting ready to reveal our very own restoration of a
1965 Chevy C-10
. Stay tuned for the premiere of
Project C-10
, powered by American Modern. It will be a classic! We also know accidents will happen so leave nothing to chance. Even before you finish your masterpiece, protect it during its restoration.
Classic Auto Insurance
offers affordable coverage for a variety of collector cars. Let our knowledgeable staff answer all your questions and customize a policy to meet your needs. Visit our website at
www.classicins.com
or call
888-901-1338
and see how we can help safeguard your dream car.