Do You Know Your Chevy C-10 Facts?
Are you an expert on all things pertaining to the Chevy C-10 truck series? Can you spot the differences in each generation? If these pickups are your favorite classic trucks, we have a fun quiz that will test your eye for details. See how many questions you get right and challenge your friends to beat your score.
Popular Chevy C/K Series is Tops in U.S
In 1960, Chevy rolls out one of America's most popular truck lines, the Chevy C/K series. Already the frontrunner in U.S. truck sales, Chevy wants an even larger share of the market. To do this, they need to address consumer demands by improving the comfort and hauling capacity of their trucks. The Chevy C/K Series is the result.
Drivers Love the C-10 Improvements
The first-generation C-10 introduces a drop-center X-frame assembly, which reduces the cab's height by a full seven inches. It lowers the truck's center of gravity and offers easier access. Throw in a wider wheel base, independent front-end suspension and a re-designed body, and the C-10 gains better weight distribution and improved stability that makes for an all-around smoother ride.
What's in a Name?
With all these creature comforts, Chevy makes a change to the C/K Series name. The model designations become a combination of letters and numbers denoting the differences in weight class ("1" for half-ton), bed length ("4" for a 6 ½ ft. body) and body style ("04" for Stepside and "34" for Fleetside). The "C" stands for conventional cab and the "K" stands for 4-wheel drive. For example, a C1404 is a half-ton Stepside convention cab truck with a 6 ½ ft. body.
The Name Game Continues
The 1960/61 C/K trucks have some additional names that are holdovers from the previous series. The lightweight trucks are called Apaches, the medium-weight trucks are called Vikings and the heavy-duty trucks are called Spartans. They are applied to both the C and K models of trucks and are phased out in 1962. You will also see earlier C/K trucks referred to as Stepside (fendered version) or Fleetside (smooth sided version) but these too faded from use.
Chevy Listens to Truck Owners
When Chevrolet introduces the OHV V8 engine into their 1955 Advanced Design series (the predecessor of the C/K series), the full-size truck market opens for them. Chevy realizes that trucks are no longer just service vehicles. They have the potential to be much more. The car maker surveys truck owners (primarily business owners at that time) and finds customers want larger, more comfortable cabs with greater visibility. These details carry over into the design of the C/K series and start the evolution to the modern-day pickup.
Chevy Silverado Replaces C/K Series in 1999
What starts out as a trim option on C-10 trucks, Suburbans and Tahoes, the Chevy Silverado eventually replaces the long running C/K series as a stand-alone model in 1999. For many, the C-10 and other models in the C/K series still evoke fond memories of their family trucks. America's love for the pickup solidifies during the C/K era. Thanks to truck enthusiasts, it continues today.
Collector and Classic Car Insurance for Less
Classic trucks have a cherished place in our hearts. Protecting these rolling time capsules is why finding the perfect coverage for your special pickup is so important. Classic Auto Insurance understands this and offers affordable protection for your collection. Our friendly, knowledgeable staff can answer all your questions and customize a policy to meet your needs. Visit our website at www.classicins.com and or contact our staff at 888-901-1338 to see how we can help safeguard your one-of-a-kind truck.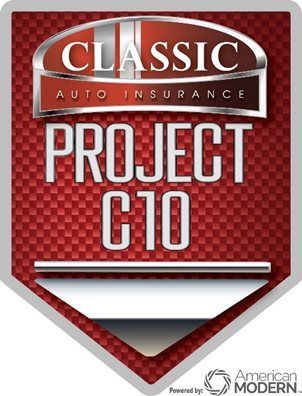 Coming Soon from Classic Auto – Project C-10
The C-10 is a perfect blend of the things we love about our trucks; strength, dependability and good looks. Which is why we are devoting the entire year to restoring a
1965 Chevy C-10 Truck
. Stay tuned for video updates on Project C-10, powered by American Modern. It'll be a classic. To help whet your appetite until then, enjoy this
blog
on the first-generation C-10 trucks and why our passion for them hasn't waned.