The 1967 Austin-Healey MKIII – What a Sports Car to Be
Who doesn't love British sports cars? These low slung, stylish speed demons are what most of us think of when we envision sports cars. Whether you prefer James Bond's
Aston Martin DB-5
or the classic
Jaguar E-Type
, the throaty rumble of these cars is more "British" to you than tea and crumpets. For us, the sports car that evokes images of European race tracks and the Queen Mum is the
Austin-Healey 3000
. Our friends at
Dream Makers Automotive
in Fort Wayne, Indiana are giving us the chance to drool over this
1967 Austin Healey MKIII
convertible.
Bring on Those "Big Healeys"
When the British Motor Company (BMC) partners with the Don Healey Motor Company in 1952, good things start coming in small packages. Their original goal is to make a reasonably priced sports car. They achieve much more. When the Austin-Healey 100 rolls off the line in 1953 followed quickly by the 100-6 and the 3000, the "Big Healeys" soon set the car world buzzing.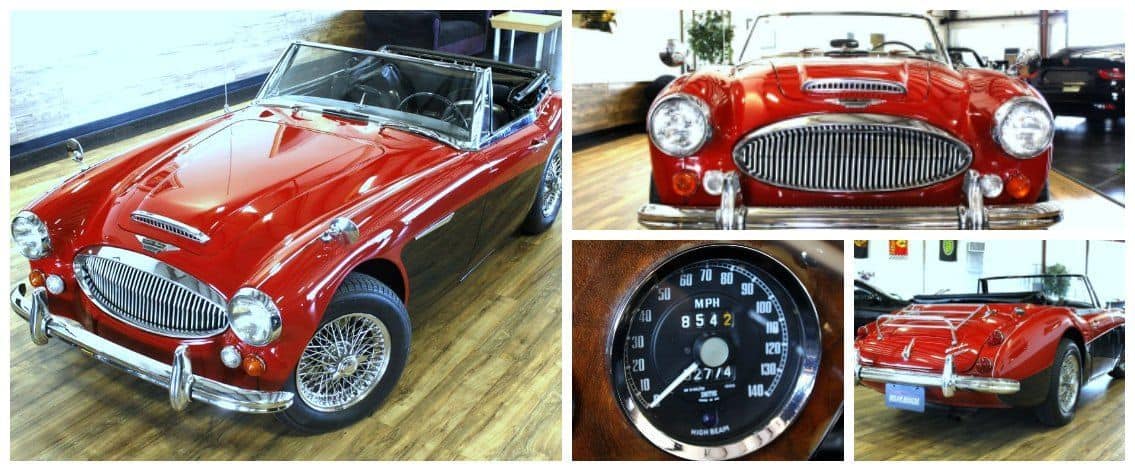 Beauty and Speed
The 3000 series is the most powerful and luxurious of the line with a six-cylinder engine that produces 150hp and can propel the lightweight body down the track at 122 mph. The interior features a flat walnut accented dash with a center console. There are three different versions (MKI, MKII and MKIII) and close to 43,000 are produced before Austin-Healey stops production in 1967.
Austin-Healey Sets Land Speed Records
The "Big Healeys" have what it takes to win, making their mark in the racing world at
Le Mans
,
Sebring
and a number of European rallies. A special streamlined prototype Austin-Healey sets several land speed records on the
Salt Flats
in Bonneville, Utah.
"Big Healeys" Head to the U.S. in a Big Way
The 3000 series are the most popular Austin-Healey models produced. In 1964, 80% of all MKIII models produced head to the U.S., with California accounting for a large portion of them. A total of 65,951 "Big Healey" sports cars are produced during the 18-year partnership between BMC and Don Healey Motor Company.
The Epitome of British Sports Cars
With their long hoods, distinct styling and powerful engines, the "Big Healeys" sports cars leave their mark on how we define this class of cars. Seeing this beautiful red model at Dream Makers Automotive only makes us long for a ride with the top down, so we can experience what a true British sports car should be.
Collector and Classic Car Insurance for Less
When you finally get that special sports car, protect your it with the right insurance coverage from Classic Auto Insurance. Let our friendly, knowledgeable staff help you find the perfect policy for your investment. Visit our website at
www.classicins.com
and see how we can help safeguard your dream car.