The 1973 455 Super Duty was the last big cube production muscle car engine
Much has been written about the demise of the muscle car market in the early years of the 1970s. Insurance companies placed crushing surcharges onto muscle car insurance premiums that made the cost of owning a big cube streetcar prohibitive for young owners. Sales contracted so severely after 1970 that most muscle cars were cut within the following three years. To compound the problem, automakers were struggling to comply with new federal safety and emissions standards. Something had to go, and that something was the American muscle car.
Not all manufacturers, however, were ready to give up the ghost. One of them was Pontiac, which had started the whole muscle car movement 10 years earlier with the GTO. A small group of Pontiac engineers were determined that the division was going to go out with a bang. They had seen the Hemi and the LS1 go out with whimpers. That wasn't going to happen to the Wide Track guys. They had one more round left in the chamber, and the caliber was marked "455 Super Duty."
DeLorean Maverick Marketing
Unfortunately, Pontiac management wasn't as enlightened. DeLorean's maverick marketing days were over. Replaced by Martin Caserio, who was more interested in selling bread and butter models. In Caserio's mind, continuing the Pontiac tradition of high performance wouldn't add to the bottom line. Sadly, it took the internal pressure put on by Engineering and Marketing to get Caserio to agree to release the 455 Super Duty reluctantly.
The 455 Super Duty was the evolution of a line of high-performance Ram Air and HO engines that had come before it. The 1968 Ram Air II, the 1969-70 Ram Air IV, and the 455 HO of 1971-72 all laid the groundwork for the 455 Super Duty, and little parts were swapped between the 455 SD and the other 455 engines in the Pontiac lineup.
366 Pontiac Engine Recall
The 455 SD block was specially cast, with additional webbing in the lifter valley, four-bolt mains, and more beefing in the crank area. Recalling the 366 Pontiac NASCAR engine, it had provisions for a gear-driven dry oil sump. The forged steel crank featured rolled fillets and drilled and radiused oil holes for more efficient oil distribution. The special 5140 forged steel connecting rods were shot peened and magnafluxed. It was the first time in 11 years that Pontiac had used forged steel rods. Attached to these unique rods were notched flat-top forged TRW aluminum pistons with 8.4:1 compression.
The cast iron heads were a variation on the Ram Air IV, designed by Air Flow Research, which had earned Pontiac's respect during the stillborn 303 Trans Am engine project. The 1.77-inch exhaust and 2.11-inch intake valves featured cupped heads, shorter stems, and swirl polishing. The heads breathed deeply through tall intake ports and large round exhaust ports that used press-fit pushrod tubes with a .030-inch wall thickness, allowing engineers to hog out an additional 10 percent port volume.
The combustion chamber measured 111cc's with 45-degree valve seats, and a dimension shared only with the Ram Air IV. The 1.5:1  lifters featured screw-in studs, and special guide plates were outfitted for the oversize pushrods, activated by a 303/313 hydraulic camshaft with .421 lift. Topside was a dual plane, cast iron intake manifold with tall ports and a massive 800 cfm Rochester Quadra-Jet. Unlike the Ram Air IV and 455 HO, the Super Duty required a cast iron intake for a more efficient cold temperature operation. Special free-flowing cast iron exhaust manifolds were connected to 2.25-inch exhaust pipes with a low-restriction transverse muffler branching out to dual outlets with chrome-tipped extensions. In EPA-legal trim, the 1973 455 Super Duty produced 290 net horsepower @ 4,000rpm and 390 lb.ft. torque @ 3,600rpm.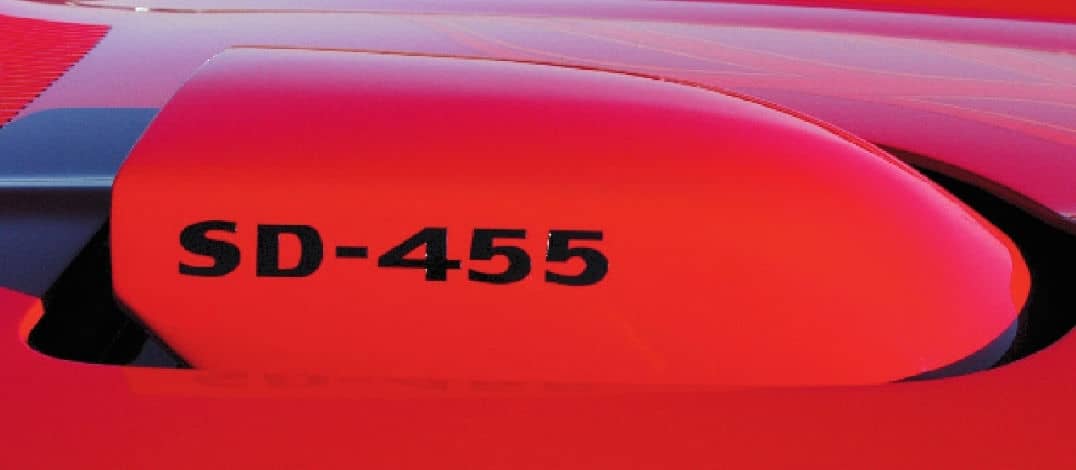 The Trans Am was an impressive package in base form. The computer-tuned suspension featured independent upper and lower control arms up front with coil springs, tubular shocks, and a hefty 1.250-inch stabilizer bar. At the rear was a Hotchkiss solid rear axle with multi-leaf elliptical springs, tubular shocks, and .875-inch stabilizer bar. Power-assisted brakes were standard, with discs up front and drums in the rear. The 15×17-inch Rally II five-spoke wheels rode on Goodyear Polyglas F60x15 tires. Variable ratio power steering was also part of the package.
Muscle Car Insurance You Can Count On
Whether you have a lightning-fast Trans Am or another classic or collectors vehicle, you need the best insurance for your muscle car available to protect your unique piece of automotive history. For robust and affordable insurance, contact Classic Auto Insurance. We offer competitive rates and great perks like inflation guard, nationwide flatbed towing, agreed-upon value, and more. Call our car experts at 888-901-1338, or click here for an instant quote.