The Endless Pursuit of Perfection
Call it determination, obsession or even madness – what happens when we begin restoring a classic car drives us to reach for that next level of glory, no matter what. For Mishawaka resident Jack Stone, the "endless pursuit of perfection" on his 1969 Chevy Chevelle SS, has garnered him the 2016 Hoosier Award at the O'Reilly Auto Parts World of Wheels Custom Auto Show.
TLC for Childhood Dream Car
As a teenager, Jack falls in love with a Chevelle SS owned by a friend's father. In 1997, he is finally able to make it his. Jack says, "It was a great driving car" for tooling around town and taking his future wife, Kimber, out on dates. When it comes time for a little TLC, Jack doesn't think twice.
One Thing Leads to Another
Jack owns First Choice Auto Body Shop in Elkhart, IN, so painting his classic muscle car isn't a problem. One thing leads to another and soon (with prodding from friends) he is restoring a race car, fit to burn up the track at Chicagoland Speedway.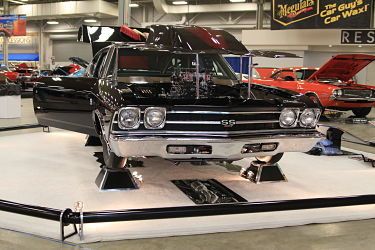 Showroom Quality Race Car
It's not every day you see a showroom quality car created for the grueling conditions of the race track. One look at its amazing glossy black exterior, polished chrome trim or pristine interior and you'd swear it must be a joke. No one would race a car this beautifully restored … except Jack, who is completely serious.
Pretty & Built for Speed, Too
Don't let the pretty face fool you, this car means business on the track. The 638 cubic inch Ultra Tech Racing big block engine rests on a 25.1-style full tube 4130 chrome moly chassis with a Bickel 4-link wishbone suspension and sway bar, courtesy of Performance Concepts of Mokena, IL. From the roll cage to the custom recessed firewall, this car also has the latest racing safety requirements (We told you he was serious!).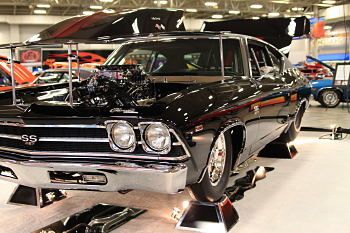 Retaining That Great Muscle Car Look
Meanwhile, Jack doesn't just want to make a great looking race car, he wants to retain the overall character of this classic muscle car, the one he falls in love with all those years ago. Attention is paid to every detail, from the chrome bumpers to specially formed trim around the expanded wheel wells. Hundreds of man hours go into getting everything just right.
Hard Work & Sacrifice Pay Off for Indiana Native
Winning the 2016 Hoosier Award at WOW in Indianapolis is an honor that this Mishawaka resident humbly accepts. He knows that it took a lot of hard work from a dedicated group of craftsmen and a great deal of sacrifice by his family in order to win it.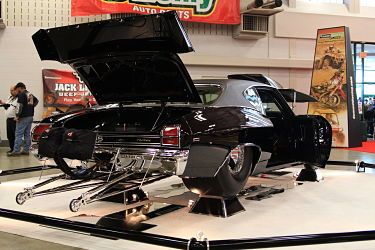 "Just a Paint Job"
Everyone at this year's show was either talking about or staring at this beautiful race car. What starts out as "just a paint job" soon pushes the envelope of what a race car could look like on and off the track. Bottom line: this '69 Chevelle will be the best looking race car to blast down the track. Let's hope we're there to witness it.
Collector and Classic Car Insurance for Less
For Classic Auto, meeting so many fellow classic car lovers and seeing tons of incredible cars (like this 1969 Chevelle race car) is such a blast. If you didn't have the opportunity to visit our booth at this year's World of Wheels in Indianapolis, give us a call! Let our friendly experts help you find the perfect policy for your collector or classic car. With instant quotes, we can help you insure your vehicle for less. Visit our website at www.classicins.com and see how we can help safeguard your dream car.