2016 Carmel Artomobilia August 26-27
In anticipation of this year's
2016 Carmel Artomobilia
happening on August 26-27 in the Arts & Design District of downtown Carmel, Indiana, Artomobilia's
Jon Pitz
speaks with the owner of a rare
1969 Boss 429 Mustang
about his childhood obsession with this legendary muscle car and his relentless search to locate it.
Childhood Thrill the Ultimate Motivator
For owner Jeremy, his 1969 "Boss 9" is family. Growing up, he remembers riding in his stepfather's car and how much fun it is. After the family sells the car, Jeremy never forgets the thrill that Mustang gave him. His obsession is what motivates him in his search to find it.
Relentless Search Finally Pays Off
As in all good stories, a hero tirelessly searches for an allusive treasure until one day, fate steps in to help him find it. That is the case for Jeremy. Years of searching online and attending every car show around finally pays off when he locates the car in Florida.
Owning His Dream Car
Jeremy couldn't get there fast enough. "It was incredible. I probably spent an hour just looking at it in his garage." Persistence pays off and one year ago, his quest happily came to an end and he is now the owner of his childhood dream car.
Thanks to NASCAR Rules, The Boss 429 is Born
Back in 1969, Ford wants to compete with Chrysler's 426 Hemi engine and so the Boss 429 Mustang is born. NASCAR requires that 500 production model cars be built with the engine and sold to the public before it can race. The car giant has one problem, though: the 429 engine is too big for the Mustang body.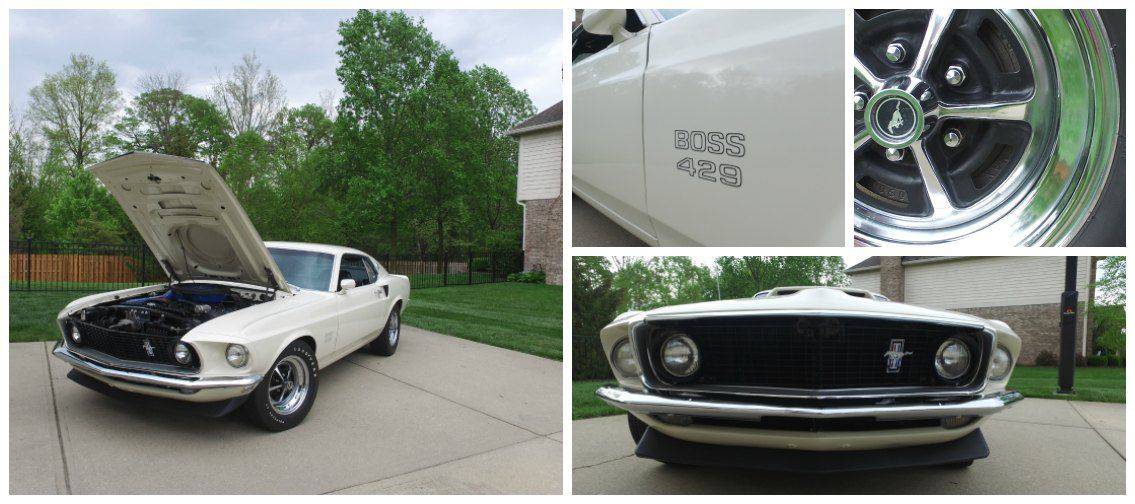 Make It Fit!
Ford engages Kar Kraft of Brighton, MI to modify the cars and accommodate the big block engine. It takes extensive manipulation just to wedge this monster into the car – including widening the shock towers, extending the inner fenders outward and moving the battery to the trunk.
More Power Than Ford Will Admit
Due to the extra weight on the front end, a stiff sway bar is added to the rear end to improve handling, making it one very capable car on the track. Rated at 375 hp (to keep it off the insurance company's radar), the Boss 9's actual output is closer to 500 hp. Unrestricted, this car is said to exceed speeds of 175 mph (but no one is going to risk this valuable muscle car to prove it). It is raw, unadulterated power!
Look for the NASCAR Numbers
Only 859 of these special muscle cars are built in 1969 and to keep track of them, Ford assigns NASCAR numbers (beginning with the letters "KK" for Kar Kraft). The numbers begin at 1201 and end at 2558. Jeremy's Boss 9 is lucky number 1710.
Parts Almost Extinct
Finding parts for a '69 Boss 9 is like finding a snow leopard in the middle of Indianapolis: extremely rare. Parts for these cars are specific to the model year and are not used on other Fords. Fortunately, Jeremy has the presence of mind to hold onto parts he ran across just in case he needed to bring his "Boss" back to its original condition.
Boss 429 Always a Fan Favorite
The Boss 429 Mustang is always a crowd favorite at shows and we are hoping this one roars down the streets of Carmel for us to witness. Passing our love of collecting to the next generation is what it is all about. It is something Jeremy experiences firsthand and is passing down to his kids. His Boss 9 is back in the family and staying there.
Art Lovers and Car Enthusiasts Celebrate
Artomobilia is a two-day celebration of automotive art and design and the unending passion we have for our classic and collector cars. The weekend festivities kick off Friday night with
Fuelicious: A Celebration of Wheels + Wishes
, an exclusive event on the grounds of the Lucas Estate featuring 50 distinct collector cars, all in support of the
Indiana Children's Wish Fund
. Saturday, the streets of Carmel's Arts and Design District come alive with music, food, shopping and some spectacular cars on display. We hope to see you there!
Proud Sponsor of Carmel Artomobilia
Classic Auto Insurance
is proud to support the 2016 Carmel Artomobilia and classic car collectors everywhere. Let us help you customize the perfect insurance policy for your one of a kind car. Our friendly, expert staff will answer all your questions and help you find the right coverage for your needs. Visit our website at
www.classicins.com
and see how we can help safeguard your dream car collection.