2016 Carmel Artomobilia August 26-27
Speedy yet enduring, two words that describe the 52-year love affair between Ron and his 1964 Shelby AC Cobra. Artomobilia's Jon Pitz speaks with the proud owner about his incredible car and his upcoming participation in the 2016 Carmel Artomobilia, happening August 26-27, 2016 in the Arts & Design District of downtown Carmel, Indiana.
A Passion for the Shelby Cobra
Ron is first smitten with the Cobra in 1962 when he sees them race at the Riverside (CA) International Raceway. Watching Dan Gurney and Carroll Shelby race their King Cobra racers instills a passion for the car that follows him back to Indiana. A few years later, Fate steps in and brings the two together.
Honey, I'm Buying a Cobra
Upon seeing the silver mist and red Cobra in the window of Alderman Ford in Indianapolis (one of the first to arrive in Indiana) Ron makes an abrupt U-turn to check it out. He doesn't drool long over the sports car before taking it for a spin. "I drove straight to our apartment and broke the news to my (new) wife, we were buying a sports car," Ron says. She takes the news well.
The Family Sports Car
His wife doesn't seem to mind since she gets to drive the sports car about as much as he does. Everyone gets to take a spin in the family Shelby; his youngest rides home from the hospital in it. Years later during restoration, his son has the honor of painting the beloved roadster (yes, he knows what he is doing!).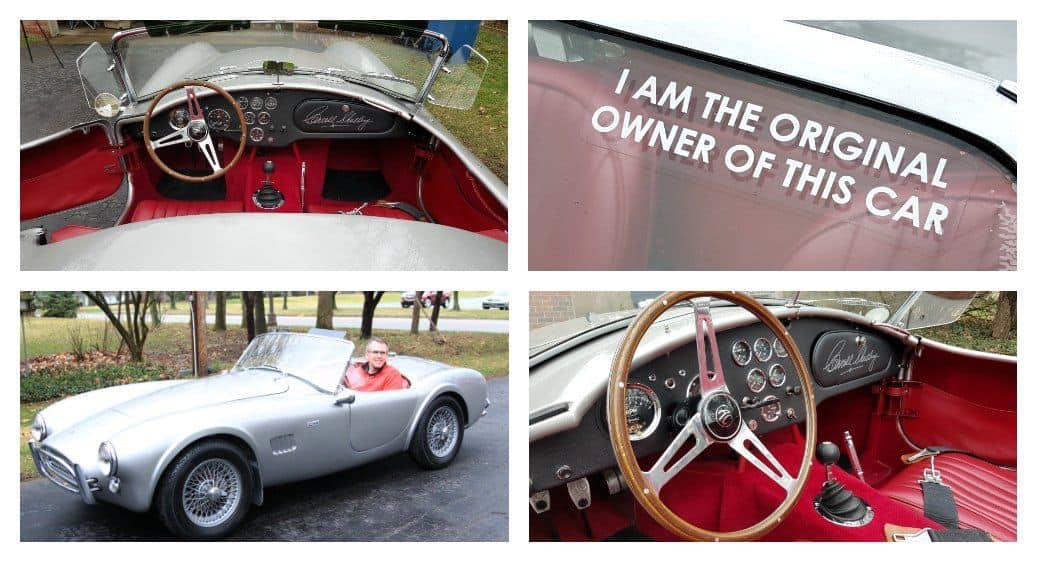 Only 998 Shelby Cobras Produced
In 1962 British sports car maker AC Cars Ltd. approaches Carroll Shelby and his company Shelby American Inc. to help them put a small block Ford V8 engine into their all aluminum sports car. Shelby is looking for a racer that could beat the Chevrolet Corvette on the track and soon the Shelby AC Cobra is born. One of the most sought after sports cars out there, only 998 cars are assembled between 1961-68; of those, only 655 are leaf spring 289's. Ron's chassis number is 2159.
Sweet Life
This Cobra leads a sweet life; one where the owner takes amazing care of it and proudly shows it off along with the Carrol Shelby autograph scrolled across the glove box. There are a few upgrades, including a rubber liner added to the bumper to prevent stone damage, but for the most part it is exactly as it rolled off the showroom floor 52 years ago. It now rests in a garage filled with fond memories and well-deserved awards, happy to wait on its family to take it out for a spin. Ah, the good life.
Art Lovers and Car Enthusiasts Celebrate
Artomobilia is a two-day celebration of automotive art and design and the unending passion we have for our classic and collector cars. The weekend festivities kick off Friday night with Fuelicious: A Celebration of Wheels + Wishes, an exclusive event on the grounds of the Lucas Estate, featuring 50 distinct collector cars, all in support of the Indiana Children's Wish Fund. Saturday the streets of Carmel's Arts and Design District come alive with music, food, shopping and some spectacular cars on display. We hope to see you there!
Proud Sponsor of Carmel Artomobilia
Classic Auto Insurance is proud to support the 2016 Carmel Artomobilia and classic car collectors everywhere. Let us help you customize the perfect insurance policy for your one of a kind car. Our friendly, expert staff will answer all your questions and help you find the right coverage for your needs. Visit our website at www.classicins.com and see how we can help safeguard your dream car collection.