1959 Ford Thunderbird at the 2016 Indianapolis World of Wheels
Have you ever seen a car you couldn't forget? That is the way it is for us with this fabulous snow white
1959 Ford Thunderbird
from the
2016 World of Wheels
in Indianapolis. Long, low and oh so beautiful, owner
Randy Erickson
tells us her story. Watch our video and share it with friends. We'd love to know what you think about this great looking T-bird. Leave us a comment!
Nana's Ride is One of the Family
For Randy, this car is more family member than transportation. "It's one week younger than I am," he laughs. "My grandmother brought it home about the same time I came home." Randy and his family call her Nana's Ride. She's a one-family car and her restoration is a labor of love.
Bringing the Thunderbird Back to Its Original Glory
After Randy inherits the T-Bird, it sits in the garage for almost 20 years. "Kids, work, life – everything got in the way of fixing it up," he says. When it is time to set the wheels in motion, he enlists the help of Vail's Classic Cars, Inc. in Greenfield, IN. Randy wants it back to its original glory, just the way it was when Nana drove it off the lot. He wants to make it more drivable for him and his wife. Vail's had their work cut out for them.
Some Upgrades Included
Returning the car to original factory specs includes installing a 390-cubic inch engine and a Cruise-O-Matic transmission. Randy wasn't opposed to upgrades, though. Air conditioning, better brakes and modern electronics are added. Vail's even installs a CD player behind the old AM radio front to keep the integrity of the interior.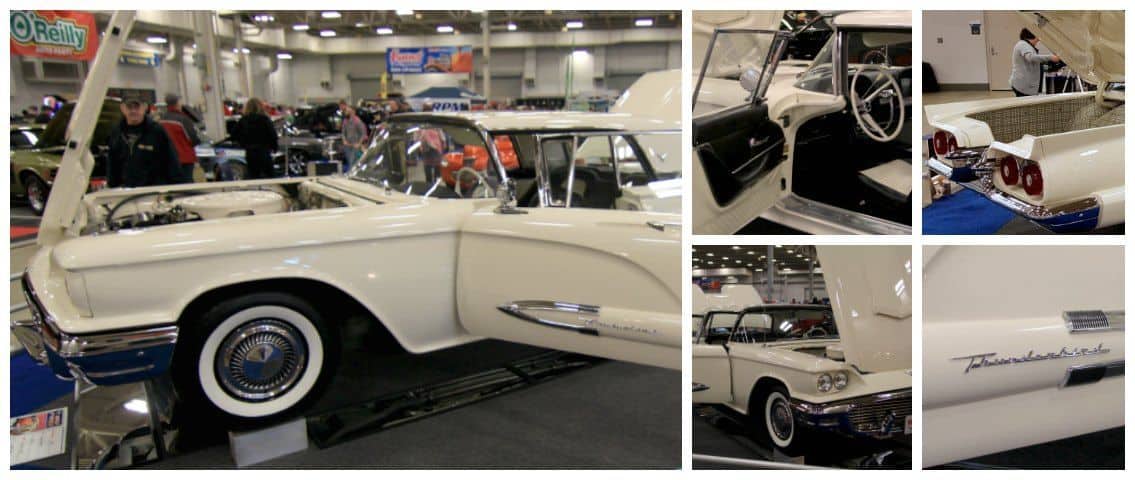 The T-Bird Outsells Early Corvettes
Introduced in 1955, the original two-seater Thunderbird garners solid sales. Outselling the Chevy Corvette during the first three years in production isn't enough for the Ford executives. They order a re-design for the second-generation T-Birds to make it a true four-seater sports car. Ford's plan to market to women and families works because sales of the new model go through the roof. Even Nana buys one!
1959 Thunderbird Ford's Luxury Sports Car
To accommodate a full-size backseat, Ford adds an extra two feet of length. The car is now lower and longer, which forces Ford designers to introduce a full-length interior console (complete with ashtrays and instruments), which hides a higher drivetrain tunnel. Stylish and sophisticated, the 1959 Thunderbird is Ford's most expensive luxury model at the time.
Restore It and Enjoy It
Randy plans to show Nana's Ride over the next few years, and then he plans to hit the road. "We wanted to restore the car in a way we could do both. My wife and I want to take it out and enjoy it." Something tells us his grandmother is very proud of her family and her beautifully restored snow white T-Bird. It's one hard-to-forget car!
Collector and Classic Car Insurance for Less
Inheriting a car is how many owners get into collecting. If you are new to owning a classic car, realize that specialty car insurance is different from regular car insurance. Classic Auto Insurance is a leader in collector and classic car insurance and can help you customize a policy that is right for your needs. Let our knowledgeable staff show you how to protect your classic for less. Visit our website at
www.classicins.com
and see how we can help safeguard your new dream car.