A 1954 Corvair Shines at Carmel Artomobilia
We've been reminiscing about the great cars we've seen recently at the
Carmel Artomobilia
. Being Corvette lovers, we were totally floored to see a replica of a
1954 Motorama Chevy Corvair
gleaming in the sunlight. AMIG's
Rick Drewry
talks with
Mike
, this beautiful car's lucky owner and what it took to re-create this allusive sports car.
GM Destroys Corvair Prototypes
In 1954, Chevy introduces the Corvair, a concept car based on the 1953 Corvette, at the GM Motorama in New York City. This traveling exhibition featured current and potential models from the carmaker. Slumping Corvette sales would scuttle this version of the Corvair, which never makes it into production. GM orders all prototypes to be destroyed.
Few Clues Left to Help with Corvair Builds
No blueprints exist. No spare parts are available. Classic car buffs have had to satisfy themselves with building replicas, following photographs to get the look accurate. That's exactly what Mike and his friend, Brett, do when they set out to build the '54 Corvair. Three and half years later, the results are stunning. "It is the car of my dreams," Mike says while keeping a watchful eye over the car. "It only has 3.4 miles on it!"
Aircraft Design Inspires Corvair Look
Mike's car started out with a Corvette frame. The two rebuilt much of the body using plasma and water jets to cut the exterior pieces they needed. They stayed true to the original and captured the Corvair signature look with its fastback roof, wraparound windshield and an aircraft-inspired rear end. Mike did replace the engine with a 265 V8 and decided to re-do the one-color interior with a two-toned red and beige colorway, keeping the stitching and pattern the same as original.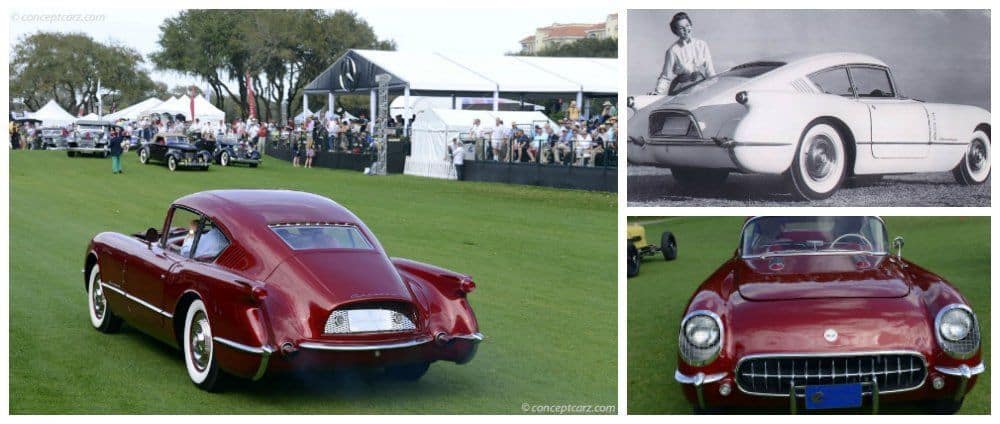 (www.conceptcarz.com)
1954 Corvair Wows at Amelia Island
Mike and Brett completed the car just in time for the 2015 Amelia Island Concours d'Elegance. Organizers asked them to keep it under wraps until the unveiling because they knew it was going to create a lot of buzz. The Corvair took home the Corporate Award for being among the top 10 out of the 300 cars invited. It also garnered the Best New Coachwork Award.

Lifetime of Reward
Mike's Corvair is the realization of a dream. It is the car he always said he wanted, and building it with his friend Brett took it to another level. "Working on the car yourself makes all the difference. The car means more to you." As many gearheads will attest, restoration isn't just a project, it's a passion, one that brings a lifetime of reward.
Collector and Classic Car Insurance for Less
Year after year, Classic Auto Insurance has been intimately involved in the Carmel Artomobilia, sponsoring the two-day celebration of automotive art and design and the unending passion we have for our classic and collector cars. Let us help you customize the perfect insurance policy for your one-of-a-kind collector car or collection. Our friendly, expert staff will answer all your questions and help you find the right coverage for your needs. Visit our website at
www.classicins.com
and see how we can help safeguard your dream classics.