The Italian luxury car maker Alfa Romeo has produced many innovative and stunning cars through the years. Although every Alfa Romeo model deserves attention, one especially notable iteration is the 1951 Alfa Romeo 1900 Sprint.
This stunning and powerful vehicle made a name for itself because of its speed and utility, and Alfa Romeo gave one of its powerful Superleggera Touring 1900 Sprint prototypes to acclaimed Argentinian race car driver Juan Manual Fangio.
Here's what you need to know about this historic and breathtaking vehicle.
History of the Alfa Romeo 1900 Series
Alfa Romeo produced its 1900 series from 1950 to 1959, and the series marked an important turning point for the Italian luxury car manufacturer. The Alfa Romeo 1900 was the first car the company made entirely on a production line. Additionally, it was the first Alfa Romeo production car that didn't have a separate chassis.
Famed Italian automobile designer, Orazio Satta Puliga, designed the Alfa Romeo 1900 in 1950, and the marque introduced the stunning car at the 1950 Paris Motor Show. Alfa Romeo offered both two-door and four-door versions of the 1900.
The company emphasized the car's speed as well as its utility. They used the slogan, "The family car that wins races," to emphasize that the vehicle was fast but also practical for the average driver — it was both sporty and spacious.
Alfa Romeo 1900 Specifications
The 1950 version of the Alfa Romeo 1900 came with an 1884 cc 4-cylinder twin cam engine. Later in 1950, Alfa Romeo introduced the 1900 TI, which came with even more impressive specifications. The marque equipped the 1900 TI with a higher compression ratio, larger valves, and a double carburetor.
Later, the company introduced the impressive 1900 Sprint, which came with a 1975 cc engine with two double carburetors and 115 bhp. The Sprint version also came with a 5-speed manual transmission, drum brakes, live rear axle, and independent front suspension.
Although the 1900 Sprint was relatively simple, it had much to offer its occupants in terms of style. The interior was made up of just steel and leather, but its simplicity gives the vehicle more life and appeal.
Fangio's Alfa Romeo 1900 Sprint
Leading up to his time driving for Alfa Romeo, Juan Manual Fangio had many impressive racing wins. Although he was much older than his racer contemporaries, Fangio dominated the racing circuits in the late 1940s. In fact, he didn't win his first World Drivers' Championship until he was 40, while most drivers were in their 20s.
With his many incredible racing performances, he became known as "The Maestro," meaning "The Teacher" and "The Master." Although many race car drivers looked up to Fangio, he didn't consider himself an expert in the sport. According to author Denise McCluggage, Fangio once stated, "A master in racing does not exist," and he didn't strive to be a teacher to other racers.
Fangio won his first Formula One World Championship by driving for Alfa Romeo S.p.A, Alfa Romeo's factory racing team. He competed with the Alfa Romeo 159 Alfetta, which sported a front-mounted 1479 cc straight-8 engine with a roots-type supercharger.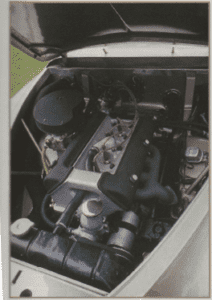 Although Alfa Romeo created race cars with impressive specifications, it takes more than a good car to win the Formula One World Championship — it takes a one-of-a-kind driver like Fangio.
In response to his 1951 championship win, Alfa Romeo presented Fangio with one of two of their prototypes of the Superleggera coupe 1900 Sprint. The Italian automobile coachbuilder Carrozzeria Touring Superleggera produced these prototypes that were constructed on the new 1900 chassis.
Sadly for both Fangio and Alfa Romeo, the race car driver was unable to compete with his breathtaking 1951 Alfa Romeo 1900 Sprint. The 1952 World Championship used Formula Two specifications, and Alfa Romeo didn't have a vehicle that met the Formula Two rules.
Fangio's Racing Career After Alfa Romeo
Because Alfa Romeo didn't have a vehicle available for Fangio, he joined the Maserati team. The manufacturer had recently developed a Formula Two car for the 1952 racing year, and with Fangio now available, the president of Maserati, Omer Orsi, invited him to lead their racing team.
In addition to leading the Maserati team, Fangio spread himself thin by also driving the ACA Ferrari 166 America Monoposto in South America. He also raced a VI6 in British Racing Motors.
Unfortunately, Fangio's busy schedule led to a significant setback. He was scheduled to drive Maserati's A6GCM at Autodromo Nazionale Monza in Italy just one day after competing in Dunrod, Northern Ireland for British Racing Motors. One of his connecting flights was canceled due to bad weather, so he was forced to drive from Paris to Milan.
Because Fangio was so tired from his travels, he wrecked his Maserati during the second lap of the Monza. He crashed into hay bales, and the impact threw him from the vehicle, causing a serious neck injury and a broken thumb.
Despite being in a plaster cast from the neck to the waist for 12 weeks, Fangio made a speedy recovery. He remained in his home country of Argentina during the 1952 racing season. '
In 1953, he returned to racing and competed for Alfa Romeo, British Racing Motors, and Maserati. The next year, he won his second Formula One World Championship driving for Mercedes-Benz. His luck continued over the next three years. He ultimately won the Formula One World Championship four years in a row before retiring in 1958. He completed his final championship win at age 47, an age far greater than his competitors.
The 1951 Alfa Romeo 1900's Current Owner
Although Fangio never had the chance to race his Touring Superleggera 1900 Sprint, the vehicle is still an impressive sight to behold. The specific model was purchased by car collector Skeets Dunn, and Alfa Romeo's factory confirmed the vehicle's legitimacy.
When Dunn purchased the 1900 Sprint, the vehicle was still almost entirely complete. The only detail missing was a single Superleggera script badge that was supposed to be on its body. With the vehicle being almost perfect, Dunn and his car technician, Antonio Covelli, decided not to complete a full restoration. Instead, they refurbished the car to its original condition, which is far more challenging than doing a restoration.
As Antonio Covelli refurbished the car, he had to make sure not to scratch up any of its details and components. Additionally, they had to conduct extensive research to ensure that the car was equipped with all of its original parts. This proved especially challenging because they couldn't track down photos that would corroborate the authenticity of its parts. One detail that they struggled with was the car's bumpers. Eventually, they determined that the bumpers were authentic through inspecting their construction and how they were attached.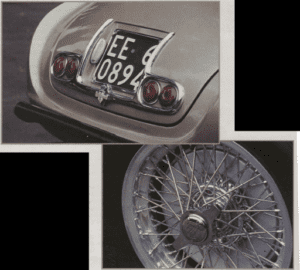 Fortunately, Skeets Dunn was able to get proof that he and his technician had refurbished the car correctly. In 1991, Juan Manual Fangio himself visited San Diego for the opening of Ted Gildred's sports car facility. Dunn showed Fangio his original car, and the acclaimed racer immediately remembered it and confirmed its authenticity. He stated that every element of the car was faithful to Alfa Romeo's original construction. Fangio was even nice enough to sign the vehicle's firewall.
Sadly, Fangio died four years later in Argentina at the age of 84. His remarkable achievements in racing are still celebrated to this day.
Today, Fangio's original Touring Superleggera is the rarest 1900 Alfa Romeo Sprint. In 1990, the car was awarded top honors at the Alfa Romeo national meet for its perfect refurbishment.
Get the Best Classic Car Insurance on Your Alfa Romeo
There's almost no greater feeling than driving a beautiful classic car, like the 1900 Alfa Romeo Sprint, but you need more than power and style for your stunning ride — you also need great insurance that will keep your car on the road for years to come.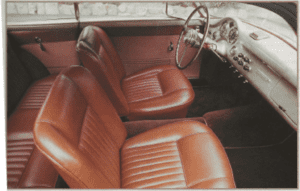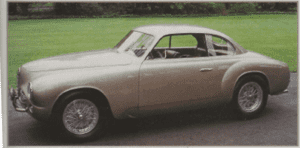 Fortunately, Classic Auto Insurance offers exceptional coverage that's also customizable, so you can get the best insurance for your unique needs. Whether you need insurance on an Alfa Romeo or another luxury sports car, you can rest easy with your premium protection.
Our policies also include unique benefits, including agreed-upon value. Rather than telling you what your car is worth, we'll work with you to determine your classic car's real value. If the worst happens and you total your car, you'll receive the entire agreed-upon amount minus your deductible.
Classic Auto's policies also include unique benefits. Our policies come with Inflation Guard, which automatically increases your car's coverage every quarter to reflect the rate of inflation, meaning you never need to worry about your car being underinsured. We also offer different mileage plans as well as rollover miles. That way, if you don't use all of the miles within your policy, they'll roll over to next year automatically. Finally, we offer nationwide flatbed towing, so you don't need to stress about your Alfa Romeo classic cars breaking down on the side of the road while on your way to a car show.
If you're ready to get the best insurance for your 1900 Alfa Romeo Sprint or another classic car, call us today at 888-901-1338, or you can click here to get an instant quote.