Too Ahead of Its Time
Looking at a
1935 Chrysler Airflow C-1
, we can't help but wonder why this innovative automobile is not a bigger hit with the public at the time. We can fathom only one answer: it is too ahead of its time. This incredibly progressive classic car belongs to
Russell
, a long-time
Carmel Artomobilia
attendee, who discuss his rare Art Deco-inspired vehicle with Artomobilia's
John Pitz
. Many of the Airflow's features go on to influence future automobiles. So, pop quiz – can you name other classic cars with early lackluster sales that change future car designs? It should be easy for a classic car buff like you; let us know in the comments.
Chrysler's Pioneering Car Stuns Buyers
Can an automobile be too innovative for buyers? When
Walter P. Chrysler
wants to build a car that stops people in their tracks, he gets the Chrysler Airflow. The car is the brainchild of three of Chrysler's best engineers;
Carl Breer
,
Fred Zeder
and
Owen Skelton
. These
Three Musketeers
design a new vehicle based on the principle of
form follows function
. Their research methods, state-of-the-art components and willingness to push the envelope creates a revolutionary car for 1934. Mr. Chrysler decides the Airflow line should sell under the Chrysler and
DeSoto
marquises. Hedging his bets, he orders a more conventional design, the
Airstream
, produced and priced below the Airflow.
Envisioning the Aerodynamics Advantage
The Chrysler engineers begin testing the avant gardé shape of the Airflow in Chrysler's new wind tunnel. If this forward-thinking approach wasn't bold enough, they hire Orville Wright (yes, of the Wright brothers) to consult on their aerodynamic experiments. They discover the typical two-box design of most cars at that time is aerodynamically insufficient. Sadly, the results improve when they drive the cube-shaped vehicles backward. The data they collect helps them build a lighter, stronger and faster automobile. Their innovative air flow research (common today) is evident in the construction of the elongated grille, split windshield and teardrop body shape.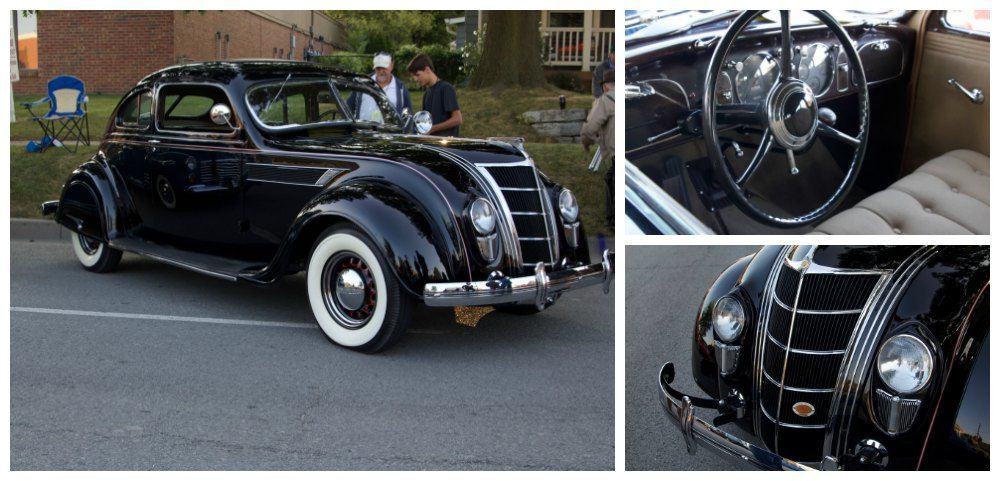 The Streamline Shape of Things to Come
The Chrysler Airflow is one of the first cars to use a sleek, streamline design. The backward slanted grille cascades down off the front and the two-pane windshield splits into a "v". It also tilts slightly back to direct air over the hood and across the roof. The Airflow is the first car to use curved sheet metal and integrated headlights for less drag. Even the wheels get covered by fender skirts, reducing resistance.
Radical New Body and Chassis
Based on aircraft construction techniques, the unique cage-like body gets built with steel supports over a wooden truss-bridge chassis. Passengers sit inside this unit instead of the typical wooden ladder frame. The Chrysler engineers move the inline 8-cylinder 323.5 cubic inch engine up over the front axle, providing better weight distribution. Longer, softer springs are installed to support it, giving the Airflow a superior ride compared to the stiff, jerky motion of other cars of the 1930s.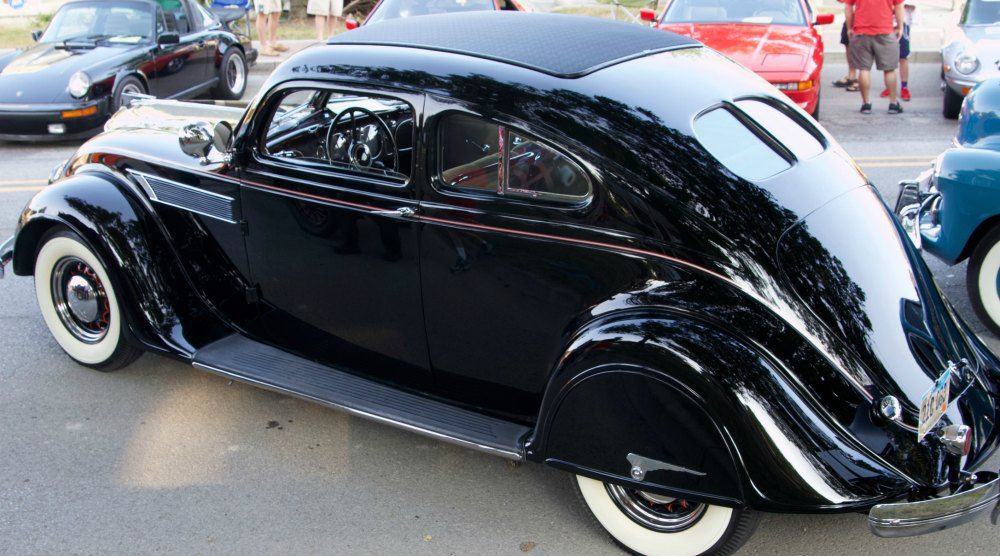 The 300
With as few as 300 two-door coupes built in 1935, Russell has a rare find on his hands. Despite a beautifully sculpted body and advanced engineering, sales for the Chrysler Airflow never materialize. Early production problems, delivery delays and rumors of safety issues weigh down the Airflow's chances for success. Chrysler produces only 55,000 of these classic cars from 1934-1937.
At Least One Airflow Still Clocks 80 mph
For devoted owners, Airflows are undeserving of the bad rap history gives them. They know their collector car is responsible for many of the design and engineering advances of the last 80 years. The
Flowhead Faithful
are waving their flags high at the
55th Airflow Club of America Annual Meet
in Chico, California June 19-24. If you are in the neighborhood, cruise in. Don't be surprised if one of these classic cars pass you on the highway. Russell says, "My Airflow can easily keep up with traffic. I've had it up to 80 mph, no problem." That is what Airflow lovers call classic aerodynamics.
Collector and Classic Car Insurance for Less
Rare classic cars like this 1935 Chrysler Airflow C-1 are a rolling history lesson in automotive engineering. Before you head to your next car show, protect your investment by having the right kind of insurance coverage. Let Classic Auto Insurance customize a policy to fit your needs. We offer affordable, Agreed Value coverage for a variety of collector, classic and custom vehicles. Our friendly, knowledgeable staff can answer your questions and give you a quote on the spot. Visit our website at www.classicins.com or call 888-901-1338 and see how we can help safeguard your dream car.