The 1960s was a landmark decade that welcomed many innovations and inventions, such as ZIP codes, the 9-1-1 emergency hotline, Sharpies, and so much more. The decade was also known for its powerful muscle cars that came with big block, large cubic inch engines equipped with impressive accelerators.
Although there are many breathtaking cars from the 1960s worth writing home about, including the Ford GT40, Shelby Cobra, Ford Mustang, Chevrolet Corvette, and seemingly countless others, there's something truly special about Chevrolet's first generation Camaro. Although Chevrolet unveiled this sporty beast to compete with the Ford Mustang, it quickly established its own unique legacy.
Today, the first generation Camaro stands as the reigning champion of traditional pony cars. It's no mystery why auto enthusiasts and collectors adore this stylish and powerful vehicle. Let's take a look back at this historic car and its impressive legacy.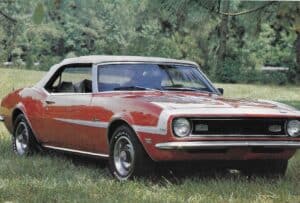 History of the First Generation Camaro
One could argue that the beginning of the Chevy Camaro first gen started with Ford unveiling their Mustang in 1964. The muscle car quickly made a splash in the automotive industry with its unforgettable style and desirable engine options, including the 170 cu in Thriftpower I6 and 289 cu in small block HiPo V8. In fact, the 1964 ½ Mustang was such a success that Ford sold 22,000 units on the first day it came to market. The car inspired competing models such as the AMC Javelin and Dodge Challenger.
General Motors responded to Ford's immense success by developing two competing cars: the Chevrolet Camaro and the Pontiac Firebird.
In 1965, before General Motors released an official announcement promoting their new Chevrolet pony car, reports began circulating about GM developing a Mustang competitor. The codename for the Camaro at the time was the Panther.
General Motors continued playing up the mystique of the Camaro in 1966 by inviting automotive journalists to the car's unveiling. Chevrolet's John L. Cutter sent a telegram to about 200 journalists that stated that they were invited to an important "SEPAW" meeting. The next day, GM sent out another telegram detailing the definition of SEPAW: Society for the Eradication of Panthers from the Automotive World, a clear reference to the Camaro's codename.
GM held their "SEPAW" press conference in the Statler-Hilton Hotel in Detroit, where Chevrolet's general manager, Pete Estes, announced the XP-836 project. In keeping with past Chevrolet cars starting with the letter C, such as the Corvair, Chevy II, and Corvette, Estes released the car's new name: the Camaro.
If any journalists were in doubt about whether the first generation Camaro was intended to compete with the Ford Mustang, Chevy made it abundantly clear. When journalists began asking what Camaro means, Chevrolet project managers stated that it's "a small, vicious animal that eats Mustangs." In reality, Camaro derived its name from a French word meaning "friend."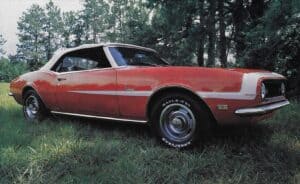 Specifications of the First Generation Camaro
The first iteration of the Camaro became available to the public in September 1966. Chevrolet built this stunning car on a rear-wheel drive GM F-body, and it came in both convertible and two-door coupe models.
The base first generation Camaro came with impressive specifications and several options. In 1967 alone, auto enthusiasts had eight different engine options, but the standard drive train came with either the 230 cu in straight-6 engine with 140 hp at 4400 rpm or the 327 cu in LF7/L30 V8.
The offerings on the first generation Chevrolet Camaro were extensive, to say the least, with 81 factory options as well as 41 dealer accessories. Chevrolet offered customers three desirable trim packages: the RS, SS, and Z/28.
The Chevrolet Camaro's RS appearance package came with stunning additions like its exterior bright trim, backup tail lights under the rear bumper, and hidden headlights, adding a more sleek finish to the final product.
Unlike the RS, the SS and Z/28 were both performance packages. The SS came with either a 350 cu in L48 V8 or a 396 cu in L34/L78/L89 V8. Chevrolet also equipped the SS iteration of the Camaro with a chassis upgrade that improved the vehicle's handling.
Chevrolet released the Z/28 first gen Camaro to compete in the SCCA Trans-Am Series of racing. They equipped it with a solid-lifter 302 cu in V8 engine. The powerhouse Camaro also came with a 4-speed transmission and disc brakes.
Collecting First Generation Camaros
Although the first gen Camaro made a name for itself, it took a long time for car collectors to begin recognizing its worth. One of the primary reasons why this was the case is likely because different generations of the Camaro have always been readily available. Chevrolet only halted Camaro production from 2003-2008, and today, the company produces the sixth generation.
Because of the Camaro's persistent availability, the car never disappeared from the market only to be rediscovered later by collectors. Additionally, many collectors have historically disregarded the importance of the Camaro and instead labeled it "the poor man's Corvette."
Despite this, the first gen Camaro is now a hot collector's item. Fortunately, many collectible Camaros, including different iterations of the first gen, are available for motor enthusiasts. If you're thinking of investing in one of these beauties, you'll likely have options, so stay clear of defects. Invest in a first gen Camaro that doesn't have rust damage, and try to find one with high-quality upholstery and chrome trim.
One obvious advantage in collecting Camaros is the availability of replacement parts. Around 90% of Camaro replacement parts are readily accessible to collectors. That being said, make sure to find reliable part dealers and shops who guarantee the quality of their replacement Camaro parts.
Premium Car Insurance on the Chevy Camaro First Generation
If you're able to track down a quality first gen Camaro, you need to obtain robust collector car insurance to protect your investment. Fortunately, you're in the right place. Here at Classic Auto, we provide our clients with customizable and affordable insurance policies on classic pony and muscle cars.
Rather than tell you what your car is worth, we'll work with you to establish its real value, and if you total your car, you'll receive the full amount of this agreed-upon value minus your deductible.
Our policies also include valuable benefits, including inflation guard, rollover miles, and nationwide roadside assistance with flatbed towing. To learn more, call our motor experts today at 888-901-1338, or you can click here for an instant quote.