Detroit Autorama Leaves Hot Rod Lovers in Awe
"America's greatest hot rod show," the 64th Annual Meguiar's Detroit Autorama, thrills enthusiastic crowds during the three-day event at the Cobo Center, and Classic Auto is among the awestruck who drooled over scores of fabulous hot rods and cool customs.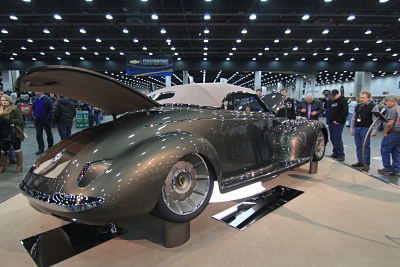 The 2016 Ridler Award Goes To…
Named for early Autorama promoter Don Ridler, the prestigious Ridler Award is presented to the car design that best displays creativity, engineering and quality workmanship. The 2016 winner, a 1939 Oldsmobile Model 60 Convertible nicknamed "Olds Cool", exemplifies all of these qualities in spades.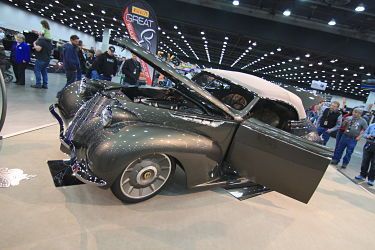 Olds Model 60 is a Rare Beauty
Car owner Billy Thomas of Georgetown, Texas and the crew from Customs and Hot Rods of Andice display superb attention to detail and a mastery of sheet metal alterations in this build. Everything on the car is one-of-a-kind, just like the car itself. Thomas says this is the last Oldsmobile Model 60 known to exist. It is definitely a rare beauty.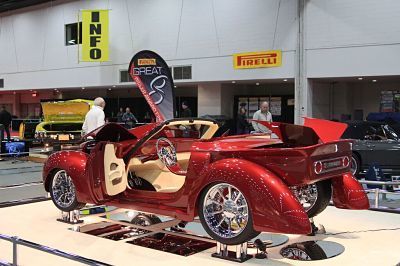 Pirelli "Great 8" Ridler Award Finalists
Offering some stiff competition for the Ridler Award is the remaining seven Pirelli "Great 8" finalists. They display their own innovative designs and superior craftsmanship. The group consists of a 1937 Ford Deluxe Coupe; a 1938 Graham 97 "Shark"; a 1940 Willys Coupe "Full Throttle"; a 1941 Ford Pickup "Mirage"; a 1952 Mercedes-Benz 170S; a 1961 Chevrolet Impala "Double Bubble"; and a 1976 Ford XB Falcon "XBoss".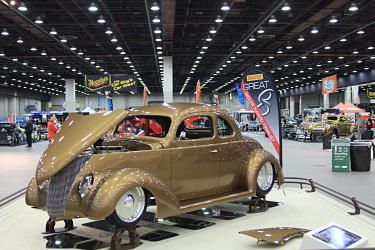 1938 Graham 97 – New Take on Old Style
Seeing these amazing cars, you are so impressed by the talent that goes into their creation. The crew of the Graham 97 totally rework the rear end of the car to match the art deco lines of the nose. The results compliment the original style so well you can't picture the car any other way.
 1961 Chevy Impala – One Hot Family Car
The Impala "Double Bubble" station wagon combines two bubble top coupes together into a seamless marriage of styles. It is almost as if GM designed it. The low profile roofline and covered wheel wells make this one hot family car.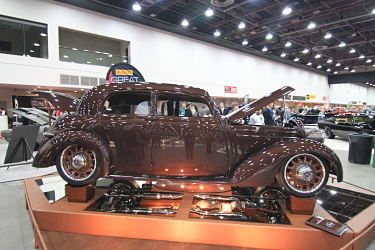 Chocolate Elegance
The owner of the 1952 Mercedes-Benz 170S built his car as an homage to his father who once owned one. The exterior looks like molten milk chocolate while the interior is wrapped in buttery leather. Every aspect of this car speaks to the elegance Mercedes is known for. You don't know whether to drive it or break off a delectable piece to sample.
America's Greatest Indoor Hot Rod Show
Detroit Autorama continues to prove it is one of the nation's most important indoor hot rod shows. From stunning customs to faithfully preserved rat rods, the creativity and hard work that goes into these cars is inspiring. Many leave the Cobo Center and head straight back to their garages filled with ideas and ready to begin work on their own masterpieces. We can't wait to see what you come up with.
Classic Auto's Next Stop: Minnesota State Fairgrounds!
With an estimated 8,000 street rods on display, the Back to the 50's Weekend, June 17-19 in Minneapolis, MN, is going to be a blast. If you plan to attend, stop by the Classic Auto Insurance booth at the Minnesota State Fairgrounds and let our friendly staff help you find the right policy for your collector car or classic street rod. With onsite quotes, we can instantly help you insure your vehicle for less. Visit our website at www.classicins.com and see how we can help safeguard your dream car.