Here at Classic Auto Insurance, we pride ourselves on keeping up-to-date with recent vehicle innovations as well as notable events that celebrate both contemporary and classic vehicles. One such event celebrating vintage and modern cars is the Luftgekühlt car show. Luftgekühlt is a German word meaning "air-cooled," and it refers to all air-cooled vehicles in Porsche's history. Porsche showcased many breathtaking vehicles at Luftgekühlt 7, which was held on September 10, 2021 in the Bottleworks District in Indianapolis.
Luftgekühlt 7 featured notable classics as well as contemporary custom Porsches that emulated vintage Porsche models. Unfortunately, we can't cover every Porsche that was featured at the event, but you can read about Rod Emory's Speed Yellow 356 Outlaw and Hans Niederer's Vintage 911 in our first Luftgekühlt Porsche Show recap, and you can learn about Gunther Werks 400R and 1969 Porsche 908 in our second Luftgekühlt Porsche Show recap.
In this blog, you'll discover or become more familiar with two iconic classics: the 1959 Porsche 718 RSK and the Porsche 914-6 GT Racer. Both offered powerful performances that made them excellent race cars, and their legacies made significant contributions to Porsche's history.
1959 Porsche 718 RSK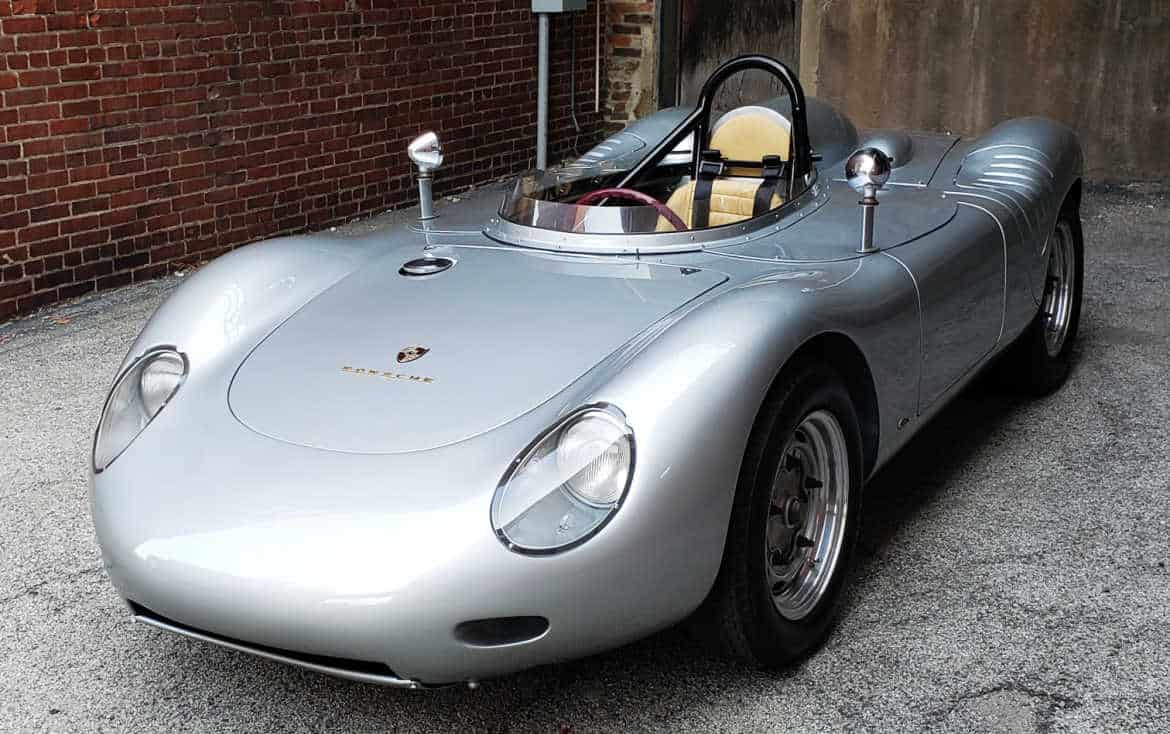 The 1959 Porsche 718 is a display car that bears similarities to the contemporary 718 Boxster. Both are convertibles with mid-mounted four-cylinder engines. Porsche only created 35 718s, and six were converted to use center steering. The Porsche 718 model that was featured at Luftgekühlt 7 was one of the six with center steering. Porsche converted these six models in order to be eligible for Formula II racing.
The 718 RSK's success in the Formula II circuit led to Porsche developing the 804 designed for racing in Formula I. In addition to Formula II, the 718 RSK participated in numerous notable races with several iconic drivers, like Wolfgang von Trips, Jo Bonnier, Edgar Barth, Umberto Maglioli, and Paul Frère. The first race it participated in was the 1959 Leopoldville Grand Prix, where it won. The vehicle won the race again in 1960. Throughout 1959, the 718 participated in several additional races, including the Spa, Nürburgring, Le Mans, the Targa Florio, the Rheims Formula II race, the Gaisberg Hillclimb, Goodwood, and Lance Anvers Hillclimb. It went on to race the Lance Anvers Hillclimb again in 1960 as well as Montlhéry Coupe de Paris and the 1960 Angola GP.
The 1959 Porsche 718 RSK comes equipped with a flat-four air-cooled engine, mounted midship, and twin overhead camshafts. Its engine has 150 horsepower at 7200 revolutions per minute, and it has an engine displacement of 1498 cubic centimeters. Its 1.6-liter engine runs through a five-speed manual gearbox transmission. It features a drum-style brake unit with independent suspensions for its four wheels. Finally, it has a weight of 1240  pounds and a wheelbase of 82 inches.
Today, the 1959 Porsche 718 RSK is valued between an eye-opening three to five million dollars.
Porsche 914-6 GT Racer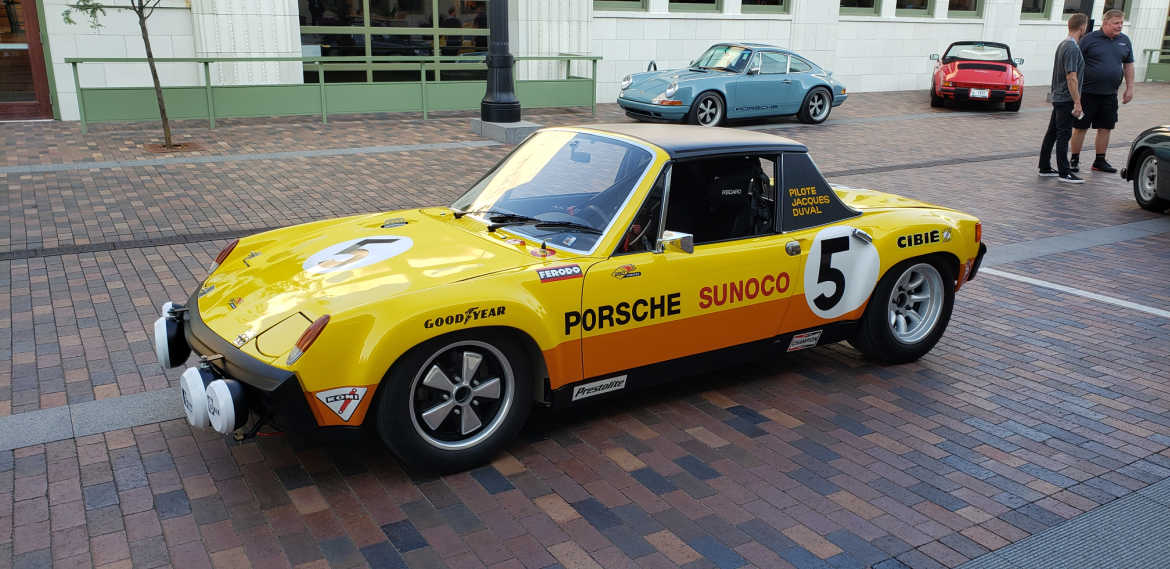 Porsche constructed the 914-6 GT from 1970 to 1972, and they modeled the vehicle after the Porsche 914, which included a six-cylinder engine. Porsche originally introduced the 914 in 1969. The GT option offered racers with long-distance capabilities while functioning at significant speeds. In fact, GT stands for Grand Tourer, and it's a type of sports car that boasts great speeds for long distances.
Porsche created the 914-6 GT in collaboration with Volkswagen, and it came with notable steel fender flares. Like the 1959 Porsche 718 RSK, the 914-6 GT participated in iconic races. In 1970, Porsche entered the vehicle in the 24 Hour of Le Mans, where it was driven by Claude Ballot-Léna and Guy Chasseuil. The 914-6 GT finished in sixth place.
The 914-6 GT also participated in several subsequent races, such as the Targa Florio, Monte Carlo Rally, and the Daytona International Speedway.
The breathtaking vehicle features a Targa Coupe body style and sits low with 914-6's suspension with 911-type torsion bar front suspension and rear coil spring suspension. It features a ram-tuned Weber carbureted 2.0 liter flat-six air-cooled Porsche engine. It was mounted midship and has a single overhead camshaft. The 914-6 boasts 110 horsepower at 8000 revolutions per minute, and it has an engine displacement of 1991 cubic centimeters. Its engine is run through a five-speed manual gearbox. It weighs around 1980 pounds and features a wheelbase of 96 inches.
Currently, the 914-6 GT sells for around one million dollars.
Luftgekühlt 7 from Indianapolis.
Revisit some of the most amazing and rare Porsche vehicles in the world
Protect Your Porsche or Other Luxury Vehicle with Premium Insurance
Although the 1959 Porsche 718 RSK and the Porsche 914-6 GT Racer may be outside of your price range, you can protect your current luxury vehicles with robust and affordable insurance. Classic Auto Insurance specializes in protecting classic Porsche cars, vintage, collectors, and luxury vehicles so that vehicle enthusiasts have the peace of mind that they can keep their engines running for years to come. We offer great benefits in addition to premium insurance like inflation guard, nationwide roadside assistance, and agreed-upon value. If you want to learn about how Classic Auto Insurance can protect your slice of luxury, call our car experts at 888-901-1338 or click here for an instant quote.