Since the Italian luxury car manufacturer opened its doors in 1910, Alfa Romeo has proved time and time again that its breathtaking sporty and practical vehicles are a force to be reckoned with. Although they had production setbacks caused by the Great Depression and World War II in the first half of the 20th century, the automaker survived monumental challenges to deliver some of the most impressive cars ever created.
One such beautiful and powerful car is the 1947 Alfa Romeo 6C 2500 Sport. Alfa Romeo began production on its line of 6C 2500 vehicles in 1938 and continued manufacturing these vehicles until 1952, albeit with production delays during the war years. 
Here's what you need to know about this magnificent luxury car and its impressive legacy.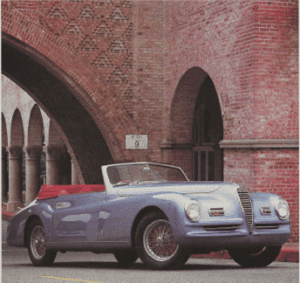 Alfa Romeo Before World War II
Before World War II, Alfa Romeo didn't produce a large number of vehicles. In fact, from 1910 to 1950, they only produced 12,200 cars, meaning they averaged only 305 units per year. Many of those units were created shortly after the war. 
Although the Italian automaker now produces somewhat accessible vehicles, their business model before World War II was to cater specifically to affluent motor enthusiasts, somewhat resembling Ferrari and Lamborghini's current marketing strategy. 
Speaking of Ferrari, the founder of the luxury auto manufacturer, Enzo Ferrari, actually got his start with Alfa Romeo. He served as a race car driver for Nicolo Romeo's factory team during the 1920s. In the 1930s, he began managing his own Alfa Romeo team and eventually became Alfa Romeo's racing director. 
Alfa Romeo dominated the race track in the first half of the 20th century. They won almost every Mille Miglia race, the 1,000-mile open-road race in Italy that spans from Brescia to Rome, between 1928 and 1947. From 1928 to 1930, racers used different versions of the Alfa Romeo 6C, including the 6C 1500 Super Sport Spider Zagato, 6C 1750 Super Sport Spider Zagato, and the 6C 1750 Gran Sport Spider Zagato. 
The historic racing event didn't take place every year because of a deadly racing accident that happened in 1938, and Italian racing stopped during World War II. Additionally, Mercedes-Benz came out on top at the Mille Miglia in 1931. Rudolf Caracciola won the race while using the heavy Mercedes-Benz SSKL.
In addition to the Mille Miglia, Alfa Romeo won the Targa Florio every year from 1930 to 1935, and they won Le Mans from 1931 to 1934.  
Unfortunately, Alfa Romeo's luck began to change with the onset of the Great Depression. Through the late 1920s and 1930s, the European economy struggled, forcing many European automakers to close their doors permanently. 
Alfa Romeo survived the depression thanks to the Italian fascist government, which purchased a controlling interest in Alfa Romeo's stock. Benito Mussolini's government emphasized national pride through race car production and racing, so Alfa Romeo continued creating landmark vehicles until they had to pivot their production efforts in order to support the Italian war effort in World War II. 
Early Iterations of the Alfa Romeo 6C
Toward the beginning of the Great Depression, Alfa Romeo created its first 6C car: the 1927 Alfa Romeo 6C 1500. The car replaced the Alfa Romeo RL, the first sports car the Italian automaker produced after World War I. The 1927 Alfa Romeo 6C 1500 came with a 4-speed manual transmission and could come with a 1.5 L (1487 cc) I6 or a 1.5 L (1487 cc) supercharged I6. 
Alfa Romeo continued producing different 6C vehicles, including the 6C 1750, 6C 1900, and 6C 2300. The Alfa Romeo 6C 2300 made a name for itself in Europe because it was one of the first cars to include a four-wheel independent suspension. The vehicle sported an advanced front wheel geometry and included wheels on paired trailing arms controlled by coil springs and hydraulic shock absorbers. 
Additionally, the 6C 2300 utilized a swing axle rear designed by Dr. Ferdinand Porsche, and Alfa Romeo continued using this suspension system until 1950. 
Alfa Romeo replaced the 6C 2300 with the 6C 2500 in 1938, just two years before Italy joined the Axis powers by declaring war on France and Great Brain. Alfa Romeo only produced a few hundred units of the 6C 2500 before halting production, and they produced many of these cars for the Italian army. The car manufacturer equipped these units with a Coloniale 121-inch wheelbase military chassis. 
Specifications of the 1947 Alfa Romeo 6C 2500
Alfa Romeo improved upon its successful 6C 2300 to craft the stunning 6C 2500. It came with a chassis made from one-piece sheet steel that was electric welded. This one-piece chassis used a box form structure, and this strong, rigid platform was ideal for both racing and touring. 
The Alfa Romeo 6C 2500 surpassed its six-cylinder predecessors by improving upon their output and gearing. The car boasted a race-centric DOHC 2.5 L (2443 cc) with seven primary bearings and hemispheric combustion chambers. 
The Italian car manufacturer crafted various versions of the 6C 2500, including the Coloniale, standard, Turismo, Sport, Super Sport, Super Sport Spider Corsa, Sport Pinin Farina, Freccia d'Oro, Villa d'Este, Gran Turismo, and Competizione. 
The automaker produced the Alfa Romeo 6C 2500 Sport from 1939-1940 and 1946-1950. Alfa Romeo equipped this powerhouse sports vehicle with a single two-barrel carburetor and a 118-inch wheelbase. It featured a 7.0:1 compression ratio and could produce 90 bhp at 4600 rpm. Additionally, the car's engine featured a built-in synchromesh gearbox, which was operated by a column-mounted shift lever, allowing up to three passengers in the front seat.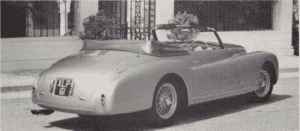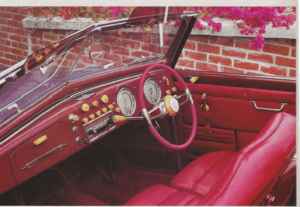 Breathtaking Coachwork on the 1947 Alfa Romeo 6C 2500
Although Alfa Romeo's production on the 6C 2500 series was somewhat limited, coachbuilders produced many different beautiful bodies for these vehicles. The 6C 2500 was the last Alfa vehicle to feature a separate frame, making them ideal for coachbuilders to practice their work. Leading Italian coachbuilders, including Allemano, Balbo, Bertone, Boneschi, Ghia, and Stabilimenti Farina, bodied different units within Alfa Romeo's 6C 2500 series. The majority of Alfa's vehicles featured bodies crafted by acclaimed coachbuilders Carrozzeria Touring and Carrozzeria Pininfarina. 
The Pininfarina-bodied 6C 2500s boasted simple yet stunning lines and a wide, low stance, which emphasized the wheels and fenders. The coachbuilder primarily created cabriolets on the Sport and Super Sport iterations of the 6C 2500. 
Carrozzeria Touring primarily created coupe and berlinetta bodies. The company provided the coachwork for almost a quarter of all Alfa Romeo 6C 2500s. 
In addition to boasting impressive bodywork from notable Italian coachbuilders, the Alfa Romeo 6C 2500s also featured lavish interiors with hand-sewn leather upholstery, decorative Bakelite controls, embellished instrumentation, and soft carpeting. 
Although these magnificent vehicles could hold their own on the race track, they were also very practical. They could seat five passengers comfortably, with three in the front and two in the back seat. 
The Alfa Romeo 6C 2500 Racing Performance
Alfa Romeo's 6C 2500 series wasn't intended for racing when the company resumed production in 1946, but these powerhouse cars still dominated the race track in the late 1940s and early 1950s. The series quickly made a name for itself by winning numerous rallies and road races, and it became a favorite amongst privileged European auto enthusiasts. 
Racing may have not been the company's plan per se, but the 6C 2500 series demonstrated Alfa Romeo's guiding principle of creating cars that excelled in both racing and standard driving. 
In 1949, famed Italian racer Franco Rol drove a 6C 2500 Competizione at the Mille Miglia. Impressively, he completed the race in third place. One year later, Argentine driver Juan Manuel Fangio completed the same feat, placing third at the Mille Miglia. 
Additionally, the car had much success during the Targa Florio of 1949 and 1950. In 1949, Franco Rol placed second, and in 1950, the Bornigia brothers placed first. 
Finally, two 6C 2500 Sport units competed in the first-ever Carrera Panamericana de Mexico in 1950. One of the vehicles placed fourth while the other finished eighth. 
Get Premium Insurance on Your Classic Alfa Romeo 6C 2500
If you have the privilege of driving an Alfa Romeo 1947 6C 2500 or another classic luxury car, you need robust and affordable insurance to keep your beauty on the road for years to come. 
Fortunately, you're in the right place. Here at Classic Auto Insurance, we create customizable policies for Alfa Romeos and numerous other classic vehicles. We even offer agreed-upon value rather than stated value, meaning we'll work with you to determine your vehicle's true value. In the event that the worst-case scenario happens and you total your classic car, you'll receive your vehicle's agreed-upon value minus your deductible.
Additionally, we provide our customers with unique, invaluable benefits, like inflation guard, flexible mileage plans with rollover miles, and nationwide roadside assistance with flatbed towing.
If you're ready to learn about what sets Classic Auto Insurance apart from other insurance companies, call our car experts at 888-901-1338, or you can click here for an instant quote.