Be a Classic Truck Community Mentor
A successful classic restoration relies on good garage basics. Many who join collector truck and car communities have yet to attempt a build and are eager to learn proper garage techniques. We set garage ground rules early during our Project C10 restoration of a classic 1965 Chevy C10 truck. These methods are new to some in our crew, which gets us thinking. Garage practices are commonly passed down from one generation to the next. Your probably run your workshop the same way your Dad runs his, since he taught you everything you know, right? If you do not have the advantage of personal instruction, how do you learn? Our collector truck and car communities must reach out to the newest members of our tribe as mentors. It is a pretty great way to pass on fundamental restoration methods.
Project C10 Tech Tips – Labeling
Why do classic restoration practices matter? Anyone involved with collector truck and car restorations will tell you; when it comes to getting the work done, the little things are what can get you. Overlooking a tiny bit of rust, forgetting to add new door panel fabrication to the budget or rushing preparations for a paint job are examples of things that can cause delays or become budget busters. American Modern's Rick Drewry explains how taking the time to bag-n-tag your parts can save you time and money in our Project C10 Tech Tips about labeling. Can you remember who taught you classic garage etiquette? Share your stories and favorite work tips in our comments.
Always Learn from Your Mistakes
What are good restoration practices? They are the basic mechanical and organizational skills needed to tackle a big-time top-to-bottom classic renovation. Without them, you can get lost in the weeds pretty quickly. Most experienced classic collectors agree; the mistakes you make on your first build -and the solutions- are what you learn from most. These missteps inspire you to up your restoration game, so you never make them again.
Keep Your Classic Garage Running Smoothly
Everyone has their own way of approaching a classic restoration. Most gearheads adhere to a few common ground rules to keep their workspaces running smoothly. Proper garage etiquette prevents you from misplacing parts, causing tempers to flare and work to stall. It is not just about being organized or neat; a well-run work area keeps you focused on the project.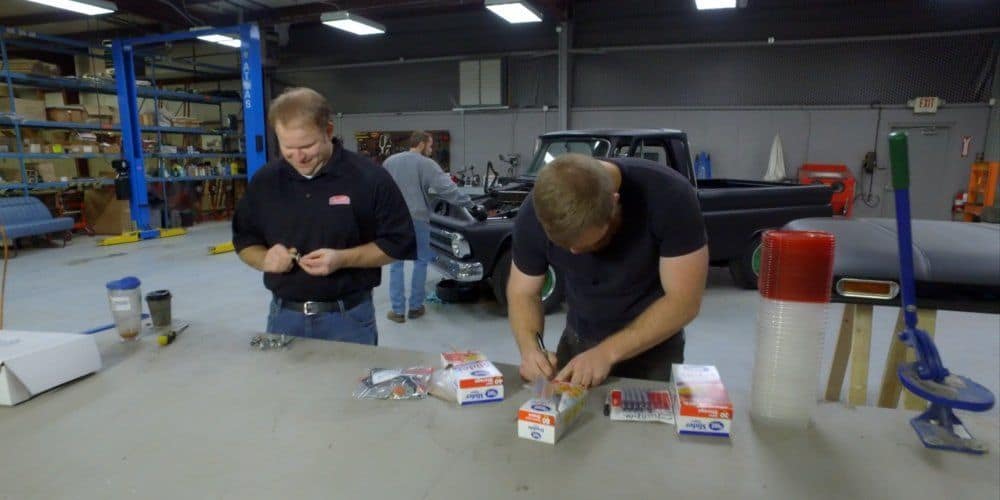 6 Fundamental Garage Practices
1) Create a Checklist – Before one bolt, screw or nut is removed, have a game plan. Map out what you intend to achieve. Give your truck a thorough inspection. List everything you need to fix or improve. Match this to your budget to see where you stand.
2) Post a Progress Board – Use your checklist to set up a progress board. Go old school with a chalk or whiteboard displayed on the garage wall, or build it in a computer program and print it. Assign jobs and deadlines. As work gets done, cross it off. It will help keep you on track and prevent projects from being overlooked.
3) Label, Label, Label – Once you start taking your truck apart, tag and bag everything. It will save you time when you reassemble. Do the same for items you are removing and want to keep. Label parts you buy, especially if you plan to use them later on down the road.
4) Keep Your Workspace Clean – Before, during and after working, tidy up. Create a safe work environment for everyone by cleaning up trash, tools and oil spills. Unplug and store power tools in their proper place.
5) Document Your Progress – Taking photos of your work captures each stage of your build. It also helps document the restoration work for insurance purposes.
6) Have Fun – If you and your team are not enjoying what you are doing, consider another hobby. Even if your project encounters problems, remember you are still working on an incredible classic truck (or car), and it does not get much better than that.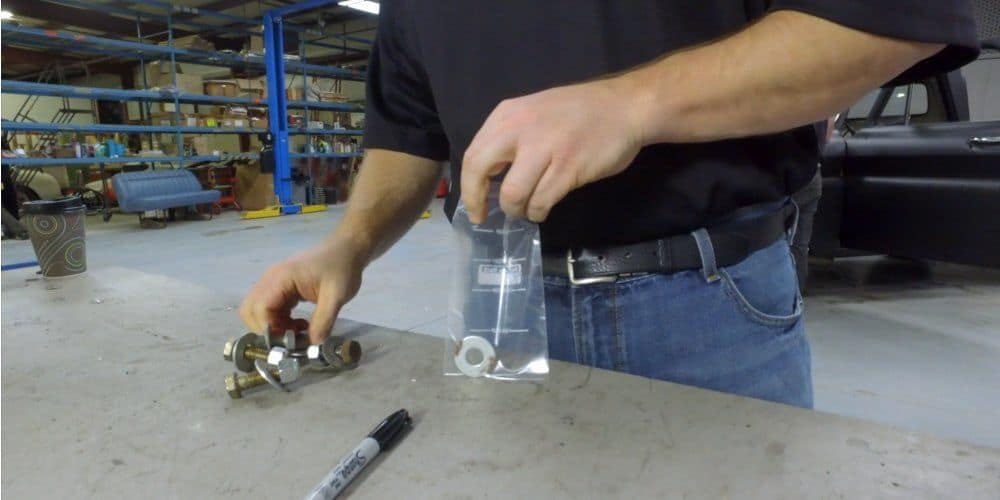 Pass on What You Have Learned
Mentoring a new enthusiast in classic restoration is a good way to pass on what we have all learned through trial and error. Good practice in the garage is not only a solid concept to know, it sets the stage for all the work a team hopes to achieve there. The next time you catch a newbie looking over your shoulder, consider sharing your know-how and help them improve their skills. Remember, we were all green in the garage once.
Join the Project C10 Truck Community
Classic Auto Insurance introduces Project C10, powered by American Modern, an original video series that chronicles the restoration of a 1965 Chevy C10 truck to a beautiful restomod worthy of car show display. Stay up-to-date with Project C10 by subscribing to Classic Auto's YouTube Channel, following us on Instagram and visiting our C10 Restoration page on ClassicIns.com, where you'll enjoy step-by-step episodes, project-specific Tech Tips and behind-the-scenes articles that give you an inside look into what it takes to restore a classic collectible like a Chevy C10 truck.