Alfa Romeo is known for its stunning and powerful luxury cars. And although people debate the manufacturer's status in the luxury car world, everyone can agree that Alfa Romeo collector cars are fun to drive. 
When it comes to ranking luxury automakers, people often categorize Alfa Romeos somewhere in between the status of Fiats and Ferraris. But regardless of status, these luxury vehicles have left an important mark on motor history.
Alfa Romeo has produced numerous groundbreaking racing and luxury vehicles, but they also manufactured cars that were more accessible to the public. Three of these more accessible cars include the Giulietta, Giulia, and the Alfa Romeo Spider "Duetto." Alfa Romeo released these impressive mass-produced cars in the 1950s and 1960s. 
History of Alfa Romeo
Before diving into details regarding the Giulietta, Giulia, and Duetto, it's helpful to know about Alfa Romeo collector cars' unique history. 
Alfa Romeo's manufacturing building was initially owned by Società Anonima Italiana Darracq. The firm was originally located in Naples, but they built a new factory in Milan in 1906. 
After poor sales led to the company's dissolution, Ugo Stella and other investors bought up assets from Società Anonima Italiana Darracq and started their own company called Anonima Lombarda Fabbrica Automobili (ALFA). 
The first car the company produced was a 1910 24 HP designed by Giuseppe Merosi, who continued designing cars for Alfa Romeo until his departure in 1923. One of his especially notable creations was the ALFA 40/60 HP. Merosi began his design in 1913, but World War I halted the car's creation. 
ALFA equipped the racing car with a 6082 cc straight-four engine with overhead valves. The racing version of the vehicle could reach a top speed of up to 85 miles per hour. Giuseppe Campari won the 1920 and 1921 Mugello Circuits with the powerful car, and the 1920 Mugello Circuit was Alfa Romeo's first significant racing success.  
Neapolitan entrepreneur Nicolo Romeo gained control of Alfa Romeo in 1915, and Alfa's factory began focusing on creating military hardware for Allied and Italian forces. The company didn't resume car manufacturing until 1919. 
The company acquired the Alfa Romeo name in 1920, and the first car they produced with their new name was the Torpedo 20-30 HP.  
In 1923, Vittorio Jano replaced Giuseppe Merosi as Alfa Romeo's chief engineer. Jano's first car with Alfa Romeo was the P2 Grand Prix Car, which the company used to win the world championship for Grand Prix cars in its inaugural race in 1925.  
From the 1920s onwards, Alfa Romeo became known for its high-performing race cars. They continued producing top-notch racing cars until World War II. During World War II, Alfa Romeo primarily produced Macchi C.202 Folgore engines rather than cars.  
Toward the end of the 1940s, people regarded Alfa Romeo vehicles on the same level as Mercedes-Benz, Bugatti, and Rolls-Royce, but the company faced financial hardship after World War II. Up until that time, Alfa Romeo had focused on creating smaller batches of luxury cars, but the company shifted its model to create more affordable, mass-produced cars. 
Alfa Romeo Giulietta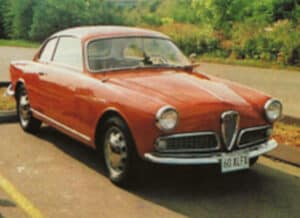 Alfa Romeo's first entry into more affordable, mass-produced cars was the 1954 Giulietta. Some of the body options on the Giulietta included the 4-door Saloon Roadster, the 2+2 coupé, and the 2-seater coupé. Alfa Romeo equipped the vehicle with a 1.3 L Twin Cam I4 engine. It had a 1290 cc displacement and featured chain-driven twin overhead camshafts and hemispherical combustion chambers. Alfa Romeo produced this one-of-a-kind classic until 1965.
Alfa Romeo Giulia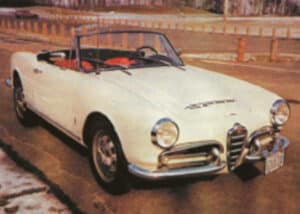 Alfa Romeo manufactured this breathtaking car in 1962 to improve upon the Giuliettas. Like its predecessor, the Alfa Romeo Giulias came with Twin Cam I4 engines, but had 1570 cc.
Although the Giulias may refer to the Alfa Romeo that replaced the Giulietta, the name may also refer to compact executive cars Alfa Romeo produced from 1962 to 1978. 
Alfa Romeo "Duetto"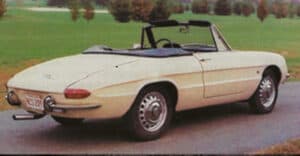 Alfa Romeo produced the Alfa Romeo Spider "Duetto" from 1966 to 1993. The company debuted the vehicle at the 36th Geneva Motor Show in 1966. 
The company encouraged people to choose the name of the vehicle through a ballot. Over 100,000 cast votes, and the name "Duetto" — meaning dual — won the vote. Due to trademark reasons, Alfa Romeo couldn't officially name the car "Duetto," so they named it the Alfa Romeo Duetto Spider 1600. 
Alfa Romeo equipped their Spider 1600 with a 1570 cc twin cam engine with dual Weber two-barrel side-draft carburetors. 
Enjoy Your Classic Vehicle on the Road for Years to Come
Whether you're riding around in a luxurious Alfa Romeo collector car or another classic car, you need great protection on your vehicle to keep it on the road for years to come. 
Classic Auto offers customizable policies so our clients can get the best insurance on their one-of-a-kind cars. Our policies also include valuable benefits like inflation guard, nationwide flatbed towing, rollover miles, and more. Learn more by calling us today at 888-901-1338, or you can get an instant quote.