Would you believe that the most popular car color in the world is gray? That's right – about 70% of all new car buyers want cars in the grayscale category: silvers, grays, blacks and whites. If you look at historic and collectible cars though, the stats shift. Sure, collectors have always been in love with white cars. For instance, back in the day Ford introduces Wimbledon White on its classic GT350 as a way of putting its stamp on the iconic "white." Yet, collectors also have a passion for color. A wide spectrum of reds, blues, greens, purples and oranges have seen enduring popularity. Many factory color names are quirky and memorable. Some are even controversial, like the color of the General Lee from television's Dukes of Hazzard – varying accounts pin down the color as AMC Hemi Orange, AMC Big Bad Orange, Corvette Flame Red, or a custom blend, perhaps called Vitamin C.
The Best Color Names In History
It's fun just to hear history's quirkiest and most famous color names. For green fans, there's Ivy Green, Sassy Grass Green, British Racing Green, Sonoma Green, Apple Green, Kermit, Sublime and Gotta Have It Green. Ford introduces Medium Peppermint and paires with its sassier sister, Anti-Establish Mint. Grabber Blue might be the most famous blue, first used on the Shelby Mustang in 1969. Other classic blues include Monte Carlo Blue, Lombard Blue and Opulent Blue. With yellows and oranges, there's Partridge Cream, Canary Yellow, Liquid Yellow, Lotus Solar Yellow, Viper Yellow, Norfolk Mustard, Orbit Orange, Volcano Orange, Tangerine Scream and Hugger Orange. Purples range from the lightest Evening Orchid to deep Plum Crazy. AMC names all their colors "Big Bads" – Big Bad Orange, Big Bad Blue, Big Bad Green. There's the famous Pink Cadillac color, sometimes known as Mary Kay Pink or Elvis Rose for its most famous owners. And who can forget the reds, which include two of the most desirable factory car colors of all time: Cherry Red and Candy Apple Red? It's a little like hearing a list of characters' names portrayed by John Wayne … Rooster Cogburn, Ringo Kid, George Washington McClintock … the stuff of legends, we tell you!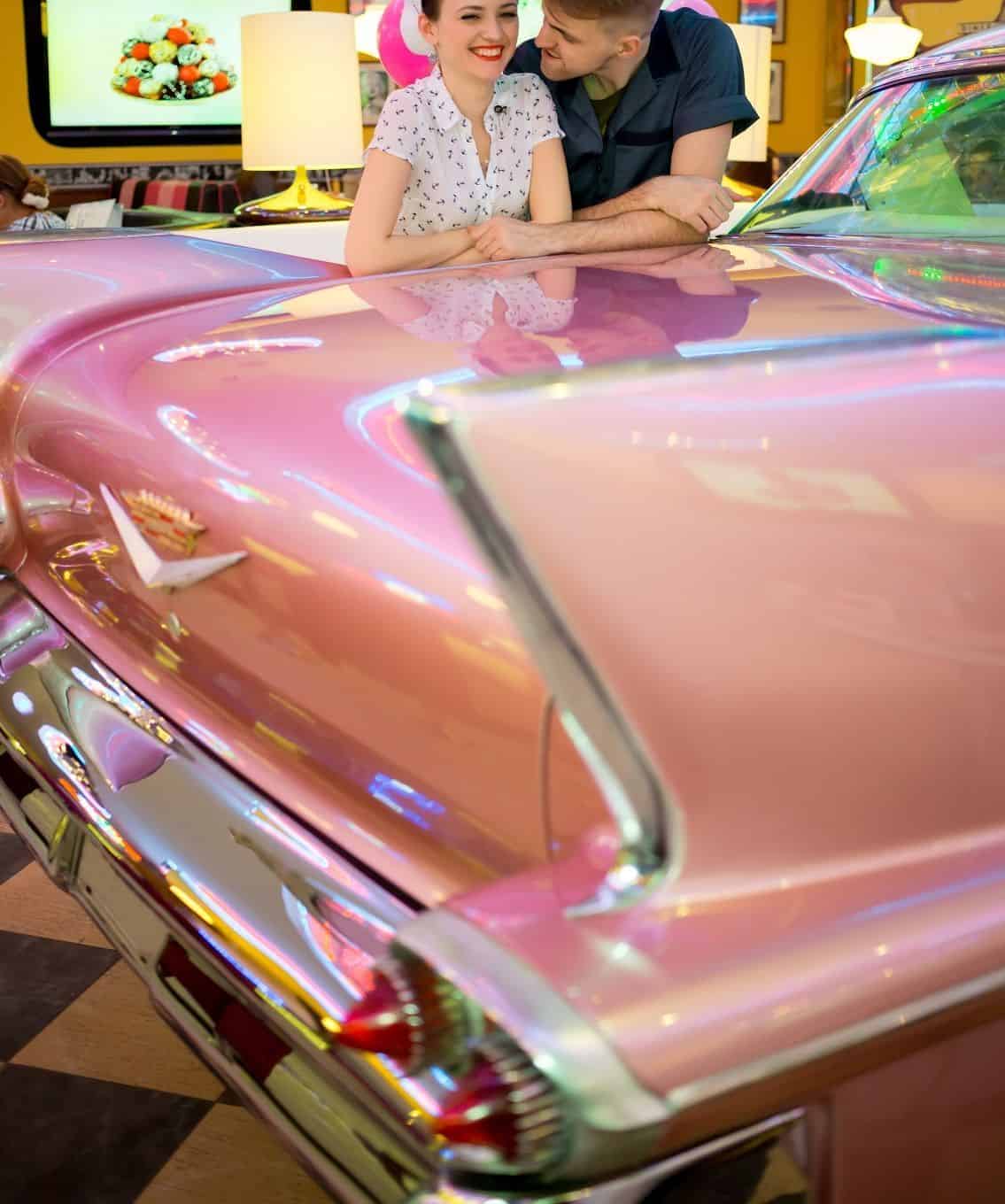 New Favorite Factory Colors
When you sift out all the grays, blacks and whites, a few brand new factory colors seem destined to become instant classics. The new Chevy Corvette Stingray comes in glistening Corvette Racing Yellow, just like the company's factory race cars. If you buy a new Dodge Challenger, you can get it in Green Go, a bold grass green that resonates with a new generation of earth-loving consumers. For Fiat fans, there's Latte Menta, a minty pastel pistachio. The new Porsche 911 Carrera 4S comes in Miami Blue and looks like it's straight out of Miami Vice. If you have a thing for Jeeps, consider Xtreme Purple Pearl Coat, which is a captivating iridescent purple. And then there's the new BMW M4 Coupe with a color that's designed to be hard to describe. It's called Austin Yellow Metallic and BMW formulates it specially as a "wicked" color that varies in the sunlight between yellow, yellow-green and yellow-orange. Color us impressed!
Choosing a New Color
Trying to decide on a new color for your vehicle? Maybe you're repainting a collectible convertible or exploring brand new supercar releases. One thing is for sure: If you're changing a classic vehicle's color, choose carefully. For an antique or vintage car, changing the color may affect its value and even disqualify it for certain auto events. On the other hand, sometimes the original color is no longer easily sourced, or is so strange you simply wouldn't enjoy the car. When car writer Thomas A. DeMauro asks his fans whether they would repaint a Pink Mist 1968 GTO, responses are mixed. Some think it is one hundred percent wrong to change the rare pastel pink color. Others think it is acceptable to repaint it, as long as the color is period-accurate. Then there's a few who think it's an owner's right to go wild and choose any color they desire. What do you think? We welcome your colorful comments. Feel free to share your thoughts in the comments section below.
Collector and Classic Car Insurance for Less
Your car's color can be part of its high value. At Classic Auto Insurance, we understand that the details matter. Let us customize a policy to fit your needs. We offer affordable, Agreed Value coverage for a variety of collector, classic and custom vehicles. Our friendly, knowledgeable staff can answer your questions and give you a quote on the spot. Call 888-901-1338 or get an instant quote online and see how we can help safeguard your dream car.