Since first debuting its remarkable muscle car in 1967, Chevrolet has released six stunning generations of the breathtaking Camaro. The General Motors subsidiary initially developed the Camaro in order to compete with the immensely popular Ford Mustang, but the vehicle quickly developed a legacy of its own. 
One of Chevrolet's most impressive iterations of their Camaro is the 1994 Z/28, which was part of their fourth-generation Camaro series. 
In this blog, you'll learn about the history of the 1994 Z/28 and how it compares with the original 1967 SS/RS Camaro Convertible.  
The 1967 SS/RS Camaro Convertible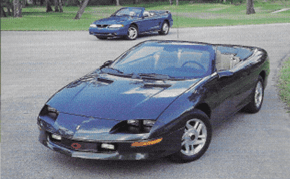 Ford released their groundbreaking Mustang in 1964, and other American car companies quickly got to work creating competing vehicles. Chevrolet developed the most successful and iconic competitor with the 1967 Camaro, which came in 2-door convertible and 2-door hardtop options.
The first-generation Camaro offered the RS and SS packages. The RS was an appearance package that sported hidden headlights, RS badging, an exterior bright trim, and taillights that sat underneath the car's rear bumper. Those purchasing the RS's standard drivetrain had three options: the 230 cu in (3.8 L) standard-6 engine with 140 horsepower (hp) at 4400 revolutions per minute (rpm) and 222 foot-pounds (lb-ft) of torque at 1600 rpm, a 327 cu in (5.4 L) V8, or a 307 cu in (5.0) V8. 
Those upgrading to the SS performance package enjoyed chassis upgrades as well as more power and better handling. Drivetrain options on the SS included a 350 cu in (5.7 L) V8 or a 396 cu in (6.5 L) V8. 
This first-generation Camaro sold over 220,000 units in its first year and became a fierce competitor to the Ford Mustang. 
The Decline of the Muscle Car
The Chevrolet Camaro and Ford Mustang inspired numerous other muscle cars throughout the late 1960s and early 1970s, but that all changed with the 1973 oil crisis. The United States Congress unveiled new fuel efficiency standards in order to respond to the crisis, resulting in the decline of the muscle car. Automakers were obligated to develop more fuel-efficient cars with decreased emissions or else they would face substantial penalties. 
Chevrolet and Ford adapted to these new restrictions and continued producing their signature Camaros and Mustangs with varying degrees of success through the years. Fortunately, the pony and muscle car market experienced a resurgence in the early 1980s, and the Camaro and Mustang became hot-selling items. During that time, Camaros were slightly more expensive than Mustangs and didn't offer as good speed performance, resulting in more impressive sales for Ford. 
The Development of the 1994 Camaro Z/28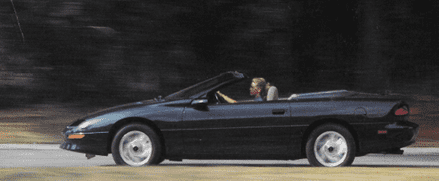 Both Ford and Chevrolet redesigned their pony cars many times, but one iteration of the Chevrolet Camaro solidified its place in motor history: the 1994 Camaro Z/28. 
How this remarkable car came into being was through General Motors' development of the second-generation LT1 small block V8 engine, which they first introduced with the 1992 Chevrolet Corvette. GM introduced the original LT1 in the early 1970s, and like the original, the second generation came with 350 cu in (5.7) displacement. GM improved upon its original powerhouse LT1 engine with sequential fuel injection and a hydraulic roller cam.  
Chevrolet equipped the 1994 Camaro Z/28 with this remarkable engine, enabling the car to produce 300 real hp and 275 hp with its induction and exhaust ends as well as other limiters. The Camaro Z/28 uses two-bolt caps for its five mains while the Corvette uses four-bolt main bearing caps for its three center bearings. 
1994 Camaro Z/28 Specifications
The 1994 Camaro Z/28 utilizes the Corvette's fiberglass hood and offers a similarly stunning performance as its Corvette counterpart. It features a sharp wedge shape, A.B.S vented discs, and 16×8 aluminum wheels. The car also came with a solid rear axle and yeoman suspension. 
Unfortunately, the vehicle's speed was further reduced with its P235/55R Goodyear Eagle GA radials that came with an electronic speed limiter, which restricted the car to a top speed of up to 108 miles per hour. Drivers could bypass this limitation by adding the speed-rated 245/S0ZR Goodyear GS-Cs. Without the limiter, the vehicle could drive up to just under 160 mph.  
The car boasted an impressive 0-60 mph speed in 5.7 seconds and could drive a quarter mile in just over 14 seconds. These impressive performance details trounced the Ford Mustang GT from the same period.
This car was truly a force to be reckoned with, and today, you can find it in used and collector car markets at an affordable price. 
Get Great Insurance on Your 1994 Camaro Z/28
If you invest in a 1994 Camaro Z/28 or another breathtaking classic Camaro, you need top-of-line car insurance to keep it on the road for years to come. Here at Classic Auto Insurance, we offer protective and affordable insurance policies specifically catered to our clients' unique needs.
Our customizable policies also include valuable benefits such as agreed-upon value, inflation guard, rollover miles, and even nationwide roadside assistance with flatbed towing. 
For the best insurance on a 1994 Camaro Z/28, call our car experts at 888-901-1338, or you can get an instant quote here.