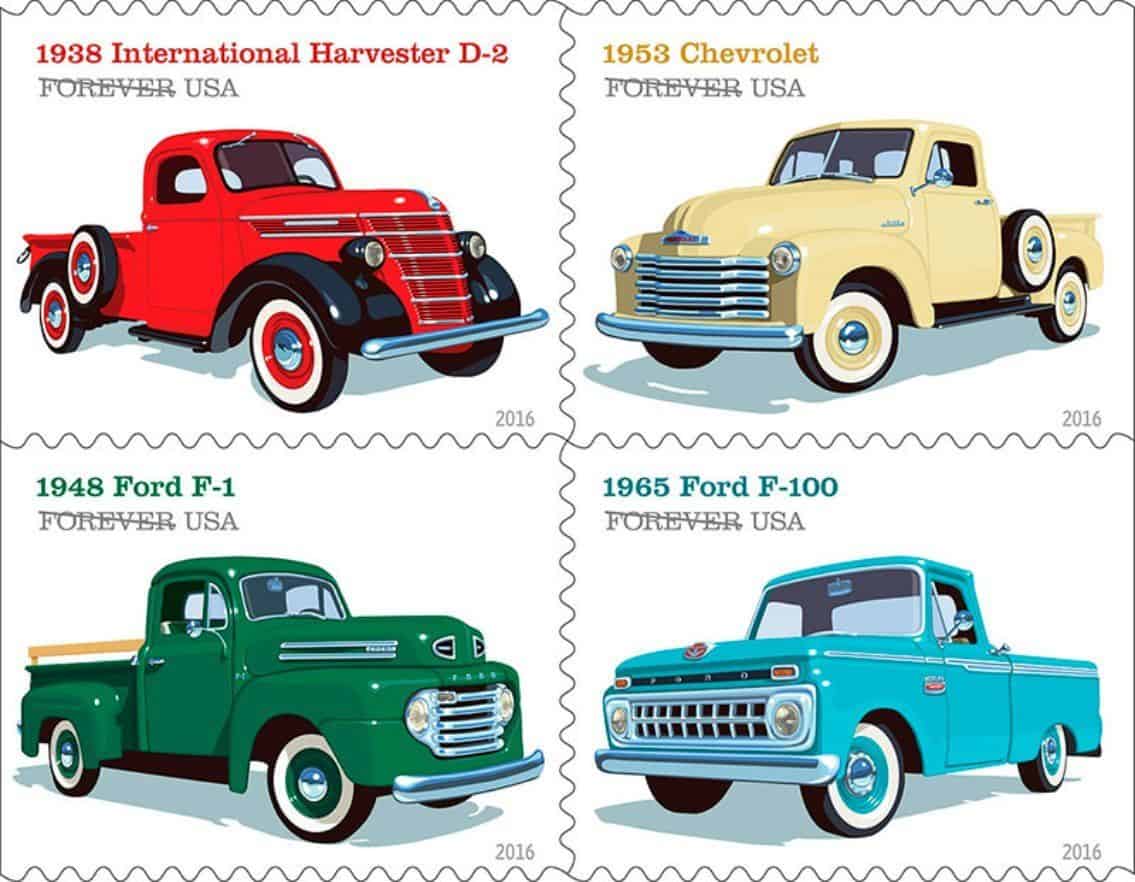 (about.usps.com)
4 Classic Truck Stamps Available in 2016
Americans love their pickup trucks. It is a love affair that has been going on since 1925 when the Ford Model T Runabout, the first fully factory assembled pickup, rolled off the line. The U.S. Postal Service (USPS) is issuing four 2016 Forever postage stamps to celebrate these rugged, hardworking American vehicles and we can't wait to get ours.
The Evolution of the American Pickup
Created by illustrator Chris Lyons under the direction of Antonio Alcalá, four classic trucks are featured: the 1938 International Harvester D-2, the 1948 Ford F-1, the 1953 Chevrolet 3100 and the 1965 Ford F-100. All of these iconic vehicles have made their mark on the evolution of the American pickup.
Big Truck, Big on Style
The 1938 International Harvester D-2 possesses Art Deco styling that is similar to many luxury sedan models of that era. With its slanted hood, stand-alone headlights, oversized wheel wells and stainless steel trim, this two-ton beauty is almost too pretty to put to work.
 "Built Strong to Last Long"
The 1948 F-1 is the first truck produced by Ford after WWII and the first to be built on a true truck chassis. This half-ton pickup has a V6 engine, short bed and integrated headlights built into the grille. It proves Ford's "Built strong to last long" advertising campaign isn't just hype.
Chevy Takes the Top Sales Spot 1947-1955
Though it is the last year for the split windshield in its "Advanced Design" series, the 1953 Chevy 3100 pickup offers excellent visibility, a V6 engine and a curvy front grille. Car lovers must have liked what they saw because Chevy trucks held onto the top sales spot from 1947 to 1955.
Ford's Innovative Suspension Makes for Smoother Ride
With the 1965 Ford F100 the "Twin I-Beam" suspension is introduced, which greatly improves the overall quality of the truck's ride. This feature helps move Ford ahead in truck sales and is offered in various models until 1979. The F100 came with either a 300 cubic inch "BixSix" or a 352 cubic inch V8, two of Ford's most powerful engines.

(about.usps.com)
'50s Era Sports Cars Stamps
Celebrating classic cars is nothing new for the USPS. In 2005 (back when stamps are 37 cents!) they launch the America on the Move series with five stamps dedicated to '50s classic sports cars – the '53 Chevy Corvette, the '54 Kaiser Darrin, the '52 Nash-Healey, the '53 Studebaker Starliner and the '55 Ford Thunderbird.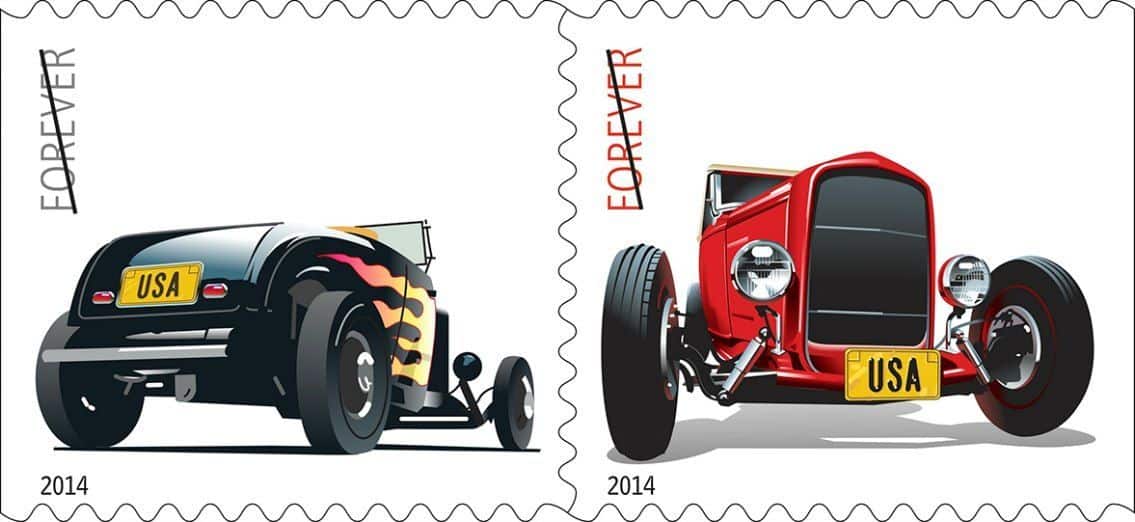 (about.usps.com)
Classic Cars – Classic Stamps
Following that successful series in 2013 are five Muscle Cars ('66 Pontiac GTO, '67 Shelby GT-500, '69 Dodge Charger Daytona, '70 Plymouth Hemi Cuda and '70 Chevelle SS). In 2014 the USPS celebrates the American fascination with fast cars and customizing by featuring two 1932 Ford Deuce roadsters on stamps, complete with hot rod orange flames painted on the sides.
Time to Buy a Classic Truck?
Not content with a classic truck on a stamp? Maybe it's time to go out and find one of your own. Trucks are one of the hottest segments of today's collector car market. Whether you want a 1967-72 Chevy C-10 for a daily driver or a 1978-79 Dodge Li'l Red Express (with a police package 360 V8 that could blow the doors off anything at the stoplight), now is the time to jump in.
Collector and Classic Car Insurance for Less
Whether your classic truck is a garage queen or a daily driver, it deserves all the protection you can give it. We customize our policies specifically for your needs. No one size fits all coverage here! Let the friendly staff at Classic Auto Insurance answer your questions and find the right policy for your classic pickup. Visit our website at www.classicins.com and see how we can help safeguard your dream car.