We attended the 2020 World of Wheels at the Indiana State Fairgrounds to interview some of the car owners and builders.  Right in the front row when you walk into the show we met car owner and builder John. John is the proud owner of a Camaro Pro Street Rod.  This beast has some major horse power and a great name, The Hitman.  
Watch our interview with John as he tells us a little about his beautiful purple car and the history behind it.
Interview Transcription:
Drew: Hi, this is Drew with Classic Auto Insurance and we're here at the Indianapolis World of Wheels, 2020, and I'm here with John who's got a phenomenal, I call it a pro-street, but this Camaro. The color on it is fantastic. And you're going to see in some of the B-roll, the ghost stripe down the door line. It's just amazing. But tell me a little bit about how you got the car, how long it took, and really what's your favorite piece?
John: Well, actually my favorite piece would be the whole car. But the color, I love the color. The color just worked phenomenal on the car. It seemed to really make the car pop. I've had the car about three years now. I got it as a roller and once we brought it home, car came from New York actually, as a roller. And then once we brought it home, we went ahead and created the monster you're looking at.
Drew: Tell me a little bit about the motor. I mean, it's cranking some serious horsepower back there.
John: It's a 498 big-block. It's got AFR heads on it. It's got 1100 dominator in it. Puts about 750 horsepower on the motor. And then I got a fogger system putting out 300 to 500 horse on top of that. So it's a fun car. It's nice to drive. It's a street car. I drive it all the time on the street. Cruise nights. Got a 488 rear end in it, got a turbo 400 trans in it with a reverse pattern. I can run about 60 miles an hour, about 2800 revs. So it's not too bad. It gets me around and I do enjoy it because I don't want to stay in that circle. I want to get outside the circle and enjoy my car. What I do it.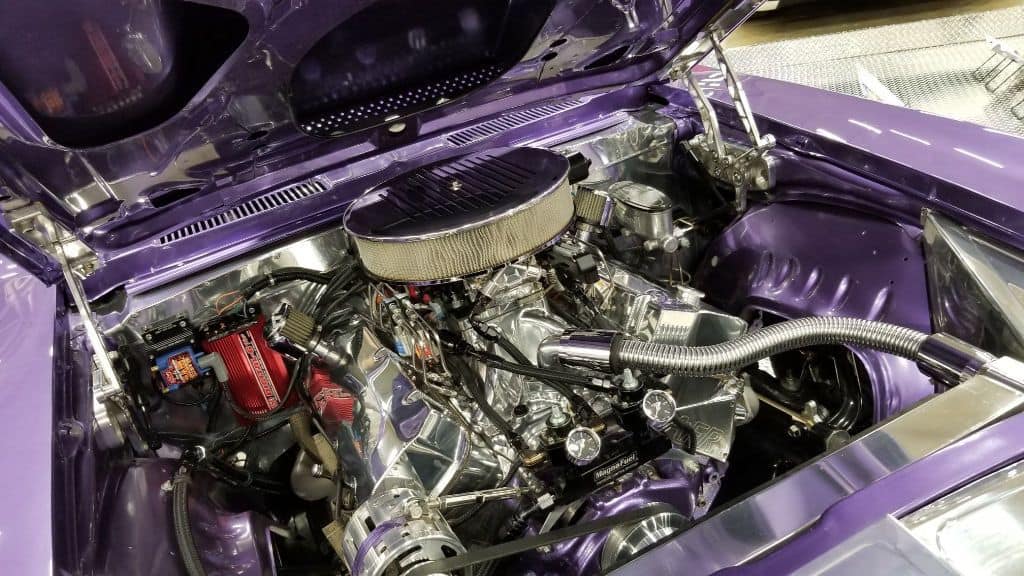 Drew: Real quick, before we go though, we noticed something on the plate and a lot of display about the Hitman. Tell us how you got that nickname.
John: Oh, it's just a name I've had when I was younger. I used to have a 6B9 pro-street Corvette.
Drew: Okay.
John: It had big fat tires on it and stuff like that. And that car was called the Hitman. You know what I mean? So it kind of just carried over to me.
Drew: Yeah.
John: I'm from Chicago and it kind of fits. It's fun.
Drew: Hey man, I really appreciate your time. Phenomenal build and appreciate your passion for continuing cars like this.
John: Hey, thank you for stopping by and loving it like I do, man.
Drew: And those guys are an important piece to what happens here. So again, appreciate your time. Thanks John. Nice to meet you.
World of Wheels
Since 1960, features exhibitors displaying and selling their wares, competitive car, bike and truck classes, from sport compacts to custom and lowriders to hot rods. The auto show is sanctioned by the International Show Car Association (ISCA) and exhibitors vehicles are assigned categories and professionally judged based on ISCA rules. Points are awarded on the "A" rating. Cash and awards are distributed to various category winners and special entries at each event. Plus celebrity appearances, sponsor exhibits and race cars from NASCAR, NHRA, IRL, World of Outlaws, CART and more.
Collector and Classic Car Insurance for Less
Protect your valuable iconic ride for years to come with Classic Auto Insurance. Let us customize a policy to fit your needs. We offer affordable, Agreed Value coverage for a variety of collector, classic and custom vehicles. Our friendly, knowledgeable staff can answer your questions and give you a quote on the spot. Call 888-901-1338 or get an instant quote online and see how we can help safeguard your dream car.