Throughout the 1960s, Chevrolet created many stunning vehicles, including the Impala SS Convertible, the Chevelle SS, the C10 Pickup truck, and many more. One of the company's most iconic creations from the decade is the Chevrolet Camaro. 
Chevrolet produced the first generation Camaro from 1967 to 1969, but within that short period, the Indianapolis 500 used the vehicle as a pace car for two different competition years: 1967 and 1969. In response, Chevrolet produced Indy Pace Car Replicas (PCRs). Many of these replicas are available at various classic car shows and auctions, and they also serve as hot collector's items for motor enthusiasts. Unfortunately, it's often difficult to tell whether a pacer car replica is authentic or a detailed copy. 
Whether you're a collector or just interested in learning more about these stunning Indy Pace Car Replicas, it's helpful to know how to identify authentic PCRs. Here's what you need to know about these breathtaking vehicles.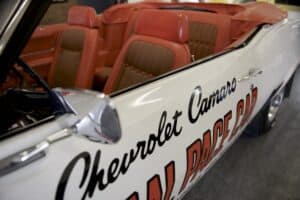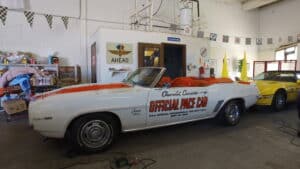 History of the 1967 Camaro Pace Car
The Indianapolis 500 first selected the Camaro as the official pace car in 1967. Chevrolet had only recently unveiled the stunning first generation Camaro in the fall of 1966, and the motor company initially developed this powerful muscle car to compete with the highly successful Ford Mustang. 
The 1967 Chevrolet Camaro came with various package options, including the RS appearance package, SS performance package, and Z/28 performance package. The 1967 Indy 500 used a Chevrolet Camaro RS/SS convertible as a pace car. It was equipped with a 396 cu in V8 engine. 
In addition to powerful specifications, the vehicle was also equipped with an iconic style. It sported a pristine white exterior with an eye-catching blue interior. 
Chevrolet produced one hundred replicas for various racing officials, motor journalists, and others involved in the 1967 Indy 500. These replicas were only for temporary usage, and after the race concluded, the pace car replicas were distributed to various Chevrolet dealerships across the country. They were displayed in dealerships and sold as second-hand vehicles. 
Although these cars are likely floating around somewhere on the collector's market, it's incredibly difficult to prove their authenticity. If you ever find yourself in a situation in which you can purchase one of these historic beauties, make sure you obtain as much verification as possible to corroborate its authenticity. Otherwise, you might just purchase a lookalike that sports a 396 V8 with a stunning color scheme. There's certainly nothing wrong with obtaining a breathtaking copy of a PCR, but you shouldn't pay an exorbitant amount for a pacer car that isn't authentic. 
The 1969 Camaro Pace Car
Although Chevrolet produced only one hundred replicas of the 1967 Camaro pace car, that was not the case with their 1969 pacer car. On January 28, 1969, Indy 500 officials announced that a Camaro convertible would once again pace the historic 500-mile race. In response, Chevrolet created thousands of pacer car replicas. But these units were not exact replicas. Instead, Chevrolet offered the 1969 Pacesetter Value Package. These cars came with many different desirable engine options and features designed for those wanting a fast, high-performing pony car. 
These units came with the SS equipment option, with a lot of muscle, fast acceleration, and noticeable horsepower. The engine options included a 300 hp Turbo Fire V8 or a 396 CID V8 with either 325, 350, or 375 hp. Additionally, the vehicle could come with different transmission options: the 3-speed, 4-speed, power glide, and turbo hydra-matic shifters. 
On the outside of these breathtaking replicas, you can view their special hood, orange sport striping, Firestone F70x14 wide oval tires, 14 x 7-inch wheels, rear spoiler, and Super Sport (SS) emblems. Finally, they came with power disc brakes, bright engine accents, and a heavy-duty Delco battery. 
Chevrolet produced these high-performing pace car replicas at the Norwood GM assembly plant in Ohio, and they created a total of 3,675 units. 
How To Tell if a Chevrolet Pace Car Replica is Genuine 
There are far more 1969 Chevrolet pace car replicas than the 1967, but there are plenty of copycats available on the collector's market. So you need to know what to look for when it comes to authenticating PCRs. 
One obvious indicator of authenticity is the car's style and specifications. The vehicle will come with the Chevrolet SS performance package, so it should feature a V8 engine. Chevrolet also equipped these vehicles with a special Rally Sport option, coming with a rear panel emblem, a special grille sporting concealed headlights, fender striping, steering wheel accents, black and orange upholstery, and front and rear wheel opening moldings. Yet another obvious indicator is whether it's a convertible — Chevrolet never produced hardtop pacer car replicas. 
Finally, perhaps the simplest way to authenticate the 1969 Chevy Camaro pacer car is through its body tag. The body tag on the firewall near the master cylinder should include the tags "211," "TR720," and "50 APNT." 
Get Great Insurance on Your Camaro Pace Car Replica
If you have the good fortune of tracking down a genuine 1967 or 1969 Camaro pace car, you need to protect your stunning piece of history with the best classic auto insurance available. For robust insurance for your Camaro or another classic muscle car, contact Classic Auto Insurance. 
We create custom policies that fit the individual needs of our customers, and we provide exceptional perks, including inflation guard, nationwide flatbed towing, rollover miles, and more. Call us today at 888-901-1338, or you can get an instant quote here.