In June 1948, Porsche introduces its very first model, the 356 No. 1 Roadster. It is the crowning glory of Ferdinand Anton Ernst "Ferry" Porsche, an Austrian car technician and entrepreneur who envisions manufacturing the perfect sports car. For his entire life, Ferry Porsche makes it his mission to nurture an automobile brand that represents his core values: design excellence, technological expertise, pursuit of creativity and a special "fascination factor" that every Porsche fan understands. Porsche has had record-setting sales records for the past few years, breaking many U.S. sales records among sports car companies decade after decade. Last year, 246,000 Porsches are sold globally, with China becoming world's largest market for new Porsches. Porsche's latest model, the Cayenne, is launching in the U.S. and China first, before the rest of the world.
Commitment to Tradition
What puts and exotic car like Porsche at the top of so many car enthusiast lists year after year? Oliver Blume, Chairman of the Executive Board of Porsche AG, says it's about tradition. "Tradition is a commitment," he says during a 70th birthday ceremony at the Porsche Museum in Stuttgart, Germany. "Without our tradition and without our core values, we would not be where we are today." The Porsche name is one of the most recognizable on Earth, and is associated with trust, quality, sophistication and of course, tradition. Porsche owners benefit from decades of research in automotive design and performance. The company consistently wins awards from J.D. Power, Car and Driver, Auto Trader, MotorWeek and Edmunds. Year after year, Kelley Blue Book acknowledges Porsches not only for holding resale value, a Porsche is the one of the best buys for the used car buyer. This is one of the big reasons Porsches are so popular among collectors.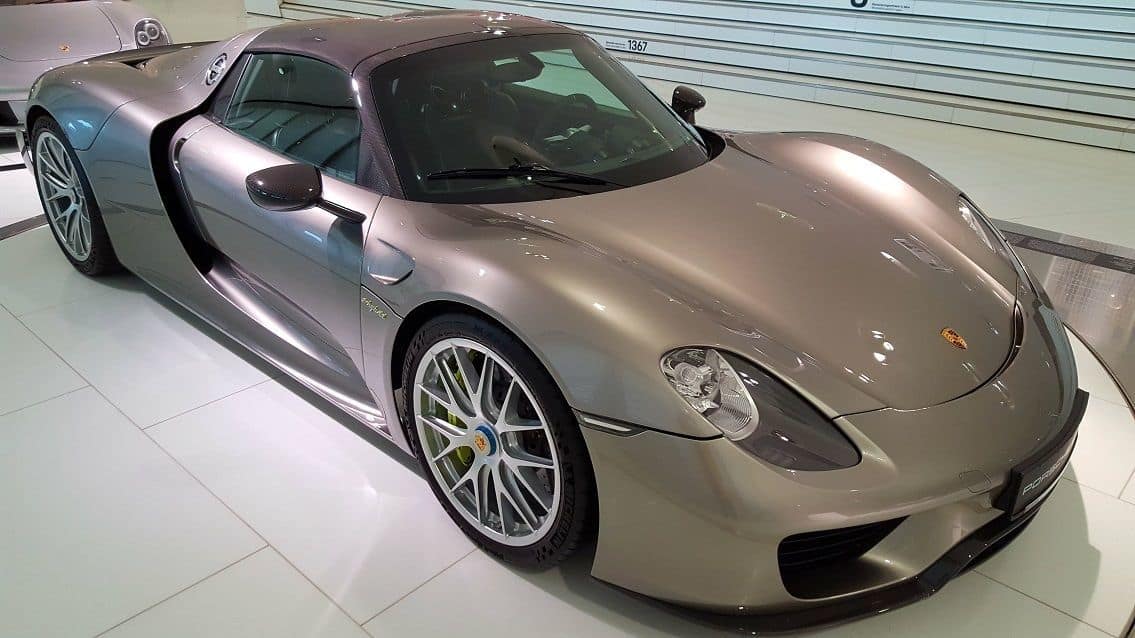 918 Spyder at the Porsche Museum
7 All-Time Best Porsches
When naming the all-time most popular Porsches, it quickly becomes a long list. Here are just seven of the most beloved Porsches in history:
1950s-era 356 Speedster Convertible. This jaunty little convertible has race car spirit, all buttoned-up for a Sunday drive. For many collectors, the 50s Speedsters are the pinnacle of retro Porsche style.
1970s-era 911 Carrera RS. These beauties are extremely difficult to find – probably because nobody wants to sell them. They're snappy and drivable, plus they're rated one of the best classic car investments of all time.
1975 911 Turbo. The 911 is Porsche's supercar. Having a turbocharged engine in a street car thrilled Porsche fans in the 70s, and it continues to attract collectors today.
917 Race Car. The endurance racer is built to dominate races in the 1970s – and it does: Daytona, Monza, Spa, Brands Hatch, the Austria Ring, Watkins Glen and two wins at Le Mans. This car is an icon in racing history.
918 Spyder. When this car débuts in 2010, it defines the term "hybrid hypercar." It's extremely fast for a production car and has a sleek, aerodynamic body that looks like a cat poised to attack.
986 Boxster. When this car debut in the late 90s, it helps the automaker recover from serious financial troubles. While it might not be a collector favorite today, it's one of the most important cars in Porsche history.
911 Speedster Concept Car. Created for the company's 70th anniversary, this futuristic tour de force is based on the design of the original No. 1 Roadster, reshaped and supercharged for modern buyers. It's an instant classic.
Porsche Exclusivity Priority of the Future
If the
911 Speedster Concept Car
is any indication of Porsche's future, every new model will continue to be a masterpiece in its own right. The new hybrid
Panamera
is gaining accolades among both Porsche and hybrid fans, and the
911
has an enduring popularity that makes every new 911 a big launch event. The new
Cayenne
has launched to great fanfare and is especially popular in China. Porsche says the
Macan
and
718
models are also some of the best-selling Porsches and are part of the company's plan for the future. Regardless, mass appeal is not the company's number one priority. Sales and marketing executive board member
Detlev von Platen
says, "The exclusivity of the brand will continue be our top priority in the future."
Collector and Classic Car Insurance for Less
Classic car enthusiasts of all ages know the importance of protecting their valuable investment with specialty insurance. Let us customize a policy to fit your needs. We offer affordable, Agreed Value coverage for a variety of collector, classic and custom vehicles. Our friendly, knowledgeable staff can answer your questions and give you a quote on the spot. Call 888-901-1338 or get an
instant quote online
and see how we can help safeguard your dream car.