There's an old saying that April showers bring May horsepower, and April 2023 was no exception. For much of the country, April is the official start of the collector car driving season, with exceptional events around the country like the April Indianapolis Cars & Coffee and Barrett Jackson's annual Palm Beach sale. Here are some exciting highlights in the world of motoring that happened this past month. 
A Soaked but Successful Sale: Barrett Jackson's 20th Annual Palm Beach Auction
Those who are familiar with attending car shows and events in April likely know about the "weather permitting" caveat. The month is no stranger to bad weather, and heavy rain often forces event organizers to reschedule or cancel events. As someone lucky enough to live in Florida, our springtime events are rarely interrupted by the weather, but this month proved to be an exception. 
Heavy rain seriously impacted Barrett Jackson's 20th annual Palm Beach sale, which took place from April 13-15 at the South Florida Fairground in West Palm Beach. The historic rain forced many motor enthusiasts to reroute their flights to airports around Florida rather than landing close to auction grounds. Those who landed in Fort Lauderdale, about 40 miles south of Palm Beach, were met with 25 inches of rain at the airport, a historic amount even by Florida hurricane standards.
Did the torrential rain dampen the auction? Not at all, as motorheads were eager to bid and compete for the cars of their dreams. The auction hit it out of the park with 622 cars crossing the block, ultimately totaling $44 million in sales. 
The Success of In-Person Auctions: The 2020 Ford GT Heritage Edition and 1957 Ford Thunderbird
One of the most stunning vehicles to make an appearance at Barrett Jackson's auction was a 2020 Ford GT Heritage edition. This breathtaking powerhouse led the auction and sold for a whopping $1.45 million. 
Although impossible to deny the Ford GT's fine craftsmanship and specifications, we're somewhat more interested in the cars that weren't top sellers. What often occurs with these cars that sell for millions is that they're scooped up by phone bidders, meaning the buyer didn't even bother coming to the event. Auction location is meaningless to them.
We find in-person auctions far more interesting because it involves passionate car enthusiasts making hard decisions in person and buying what they love. The Barrett Jackson Palm Beach sale is a perfect example of those bidders having a positive effect on car values, as one eye-catching classic sold way more than the average market price. 
The car that sold was an excellently-restored 1957 Ford Thunderbird. These cars are typically overlooked at car auctions and usually sell for under $35,000, even when it's a nicely-restored example.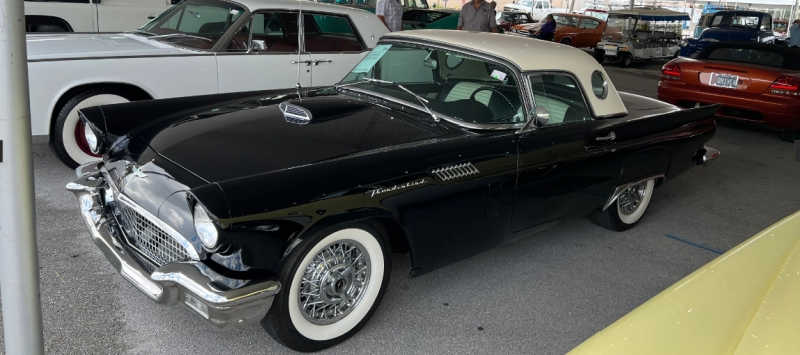 This impressive car sold for $50,000, and it's just one of the many vehicles that crossed the block selling for more than expected. The lesson here is to know your audience and location when selling a collector car at auction. For example, roadsters sell exceedingly well in Florida, while classic trucks dominate Texas, and exotic cars are hot sellers in California.  
Revving Up at the 2023 Indianapolis Cars & Coffee: A Blend of Classic Cars and Racing History
Location isn't just essential when it comes to selling a classic car — it's also important if you're planning a car show. One of the most popular Cars & Coffee events in the USA is held monthly in and around Indianapolis and is simply known as the Indianapolis Cars & Coffee.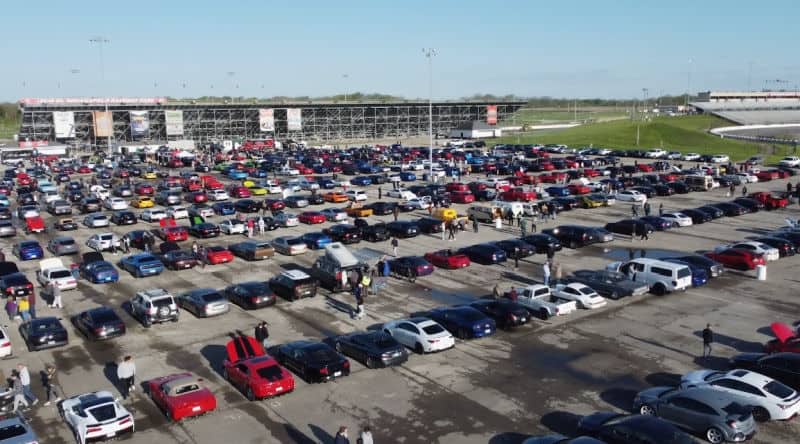 April 22nd saw the launch of the 2023 season at the iconic Lucas Oil Indianapolis Raceway Park. The event's appeal was not only the stunning cars but also the hallowed grounds of the Lucas Oil Indianapolis Raceway Park, a staple of world-class racing since 1960. 
Built around the original NHRA quarter-mile dragstrip, Indianapolis Raceway Park has featured some of the greatest drivers of all time, including Kenny Bernstein, Don Garlits, Mario Andretti, Jim Clark, and AJ Foyt. A young driver named Jeff Gordon — perhaps you've heard of him — got his USAC license at age 16 and made his name storming the banks of Raceway Park's world-famous short track before heading off to NASCAR.  
Unsurprisingly, the event drew a large crowd and featured over 2000 cars. Participants in this month's Indianapolis Cars & Coffee were given the privilege to make a pass on the drag strip, truly a once-in-a-lifetime opportunity. How many Cars & Coffee events have you attended where that was an option?  
The Time is Now — Go Check Out a Motor Event Near You
Now that collector car season has kicked off, there are many opportunities to show off your classic beauty and behold other fine pieces of motor history. 
On May 20th, car lovers can attend the May Indianapolis Cars & Coffee event at Tom Wood Aviation. Of course, this is just one of the many car events happening soon, so if you're an enthusiast, consider looking up events close to your neck of the woods. 
Just like auctions, location is critical for the success of car shows, so think about that as you drive into summer and pick what events to attend. It's all about making memories and appreciating rich motor history. 
Before taking your classic car on the road this summer, don't forget to protect it with top-of-the-line classic car insurance. Here at Classic Auto, we offer robust and customizable policies perfect for your ride! Call our classic car insurance experts today at 888-901-1338 or get an instant quote online here.