See Racing History Come Alive
Vintage race car fans rejoice! The
2017 SVRA Brickyard Vintage Racing Invitational
is happening June 16 -18 at
Indianapolis Motor Speedway
just in time for Father's Day this year. Over 500 classic cars, from pre-war racers to modern day marvels, are competing on the IMS oval and Grand Prix road course. This is your chance to see the vintage sports cars of your dreams. Which classic car do you consider the ultimate race car? Which Indy 500 driver is the best of all time? Share your opinions in our comments section. We'd love to hear them.
Some People Collect Art …We Race It!
The Sportscar Vintage Racing Association (SVRA), the largest vintage racing organization in the U.S., is the driving force behind this amazing gathering. Classic sports cars are restored to their original racing specifications, with added modern safety features to protect drivers. As the SVRA proudly says, "Some people collect art … we race it."
Indy Legends Race for Charity
One of the weekend's highlights is the
Indy Legends Pro-Am Charity Race
, which pairs 33 veteran Indy 500 drivers with amateur racing partners. Classic 1963–1972
Corvettes
,
Camaros
and
Mustangs
race the IMS road course to raise money for local charities. This event is a crowd favorite. Spectators get the opportunity to see racing history behind the wheel as well as on the track.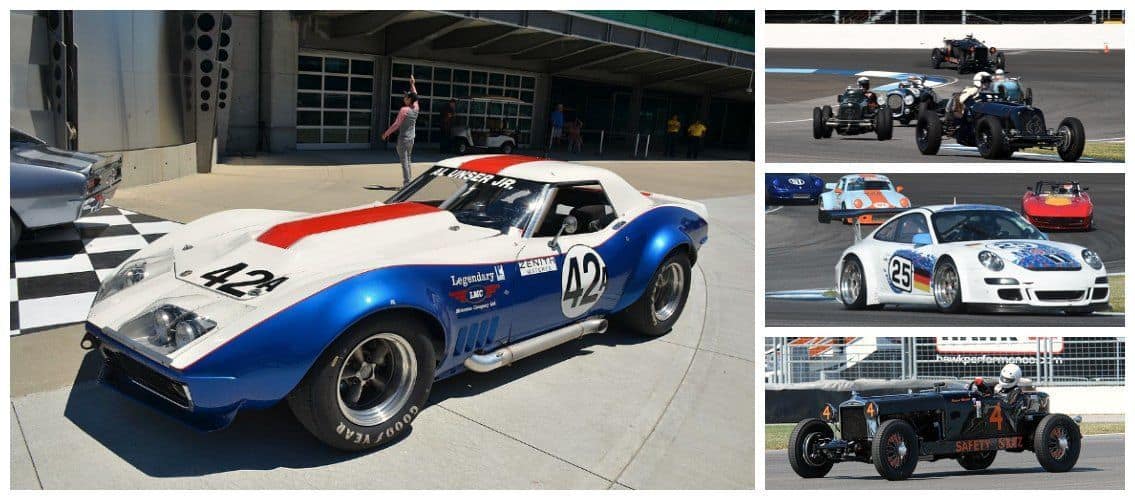 (www.indianapolismotorspeedway.com)
Indy 500 Veterans Compete in Pro-Am Race
Two-time Indy 500 winner Bobby Unser will serve as Grand Marshall for the Pro-Am race while the rest of the Unser family takes to the track. Competing in the event will be his brother, four-time Indy winner, Al Unser Sr., Bobby's son, Robby Unser and his nephews, two-time Indy winner Al Unser Jr. and Johnny Unser. Among the many other Indy veterans competing are A.J Foyt, Davey Hamilton and Lyn St. James.
Vintage Race Cars Take on Modern Competitors
The Indy Legends Oval Race Car Exhibition and Concours pay homage to the history of the Indy 500 with three group races over the weekend. Pre-war Indy cars, roadsters and rear engine racers compete together on the famous 2.5-mile oval track. SVRA's goal is to showcase the earlier vintage cars while ensuring the safety of the faster, modern racers.

(www.indianapolismotorspeedway.com)
Trans Ams and Mazdas Come to IMS
This race lover's weekend is packed with something for everyone. In addition to a vintage motorcycle race, two new modern events are set to début. The Trans Am Series presented by Pirelli and the Mazda MX-5 Cup are sure to impress those with a need for speed.
The Perfect Father's Day Gift – Vintage Race Cars!
SVRA has compressed a week's worth of vintage race car events into a single weekend. Add live music, fireworks and a classic car auction and this is the perfect Father's Day present for any car enthusiast. Witness automotive history up close when the 2017 SVRA Brickyard Vintage Racing Invitational streaks into IMS June 16-18. Oh, so much better than a tie.
Collector and Classic Car Insurance for Less
For classic race car collectors, preserving a piece of automotive history is their duty.
Classic Auto Insurance
understands this commitment. We can help you protect your one-of-a-kind sports car with the right coverage. From tiered mileage plans to agreed value, our knowledgeable staff can answer all your questions and tailor the right policy to fit your needs. Visit our website at
www.classicins.com
or call and see how we can help safeguard your dream car.