Celebrating the 10th Anniversary of the Ford GT Rally
Dearborn, Michigan played host to a very special gathering, the 2015 Ford GT National Rally 10 on August 25-29. Presenting sponsor Classic Auto Insurance and many of the Ford faithful converged on Ford's corporate world headquarters (WHQ) to celebrate an amazing ten years of taking the Ford GT around the country. It was also a chance to celebrate the past, present and future of this great American supercar as it makes its return to the road in 2016!
Excited GT Enthusiasts "Rally" 'round the New Ford GT
This year's rally featured a car show, a social event at the Henry Ford Museum and special guests from the Ford teams that built the GT, who shared their insight into the car's evolution. The gathering also gave GT enthusiasts an opportunity to reflect on why they love this car and what they thought of Ford's decision to bring the GT back in 2016 on the 50th anniversary of the car's big win in 1966 at the 24 hours of LeMans.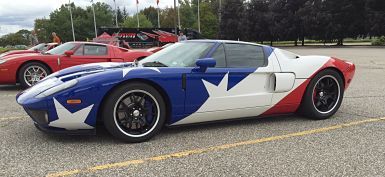 Inspired by a Legendary Race Car
The Ford GT started out as a concept car in 2004 as part of the company's centennial year celebration. Influenced by the design of the legendary Ford GT 40 race car, the first generation GT soon became a favorite with its retro look and its impressive speed. The early GT is a must-have for collectors, even if they cost around $150,000.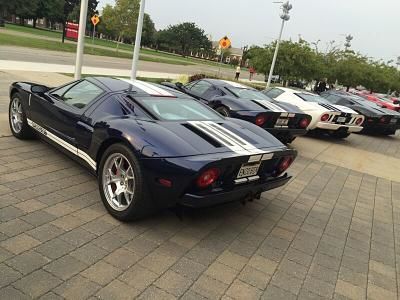 Just like Being at LeMans
From 2004 to 2006, only 4,038 Ford GTs were produced, a rare sighting on the street. The GT has a 5.4L supercharged modular V8 engine and can go from 0-60 in 3.5 seconds. At a top speed of 205 mph, you could almost imagine racing at LeMans.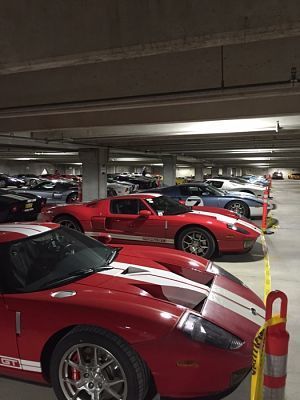 The GT 40 Didn't Just Win – It Dominated
To have an American race car hold its own against the European racing titans Ferrari and Porsche was unheard of in the early 60s. In 1966, with Henry Ford II's vision and Carroll Shelby's know how, a Ford GT 40 dominated the 24 Hours of LeMans, taking first, second and third place. The GT 40 would go on to win the race again in 1967, 1968 and 1969.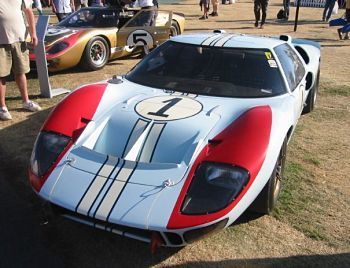 (Photo courtesy of www.wikimedia.org)
A New GT Heads for LeMans in 2016
Just as it did 50 years ago, the Ford GT is heading to LeMans. Unveiled in Detroit early this year, Ford's new supercar is the flagship of their efforts to stay at the forefront of technology. "That same spirit that drove the innovation behind the first Ford GT still drives us today," says Ford's executive chairman Bill Ford.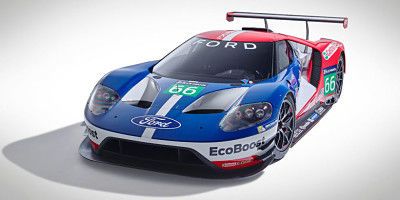 (Photo courtesy of www.roadandtrack.com)
Poised to Make History … Again
The new Ford GT has a 3.5L EcoBoost V6 engine, Brembo brake rotors and calipers and an "active" suspension that lowers the car itself at speed for stability and better aerodynamics. The GT has 600+ horsepower and a top speed of 200 mph. Some say it has the best power to weight ratio of any car – period. This isn't just a marketing statement on Ford's part. The designers and engineers were seeking the ultimate handling experience and clearly had Ferrari set squarely in their sights.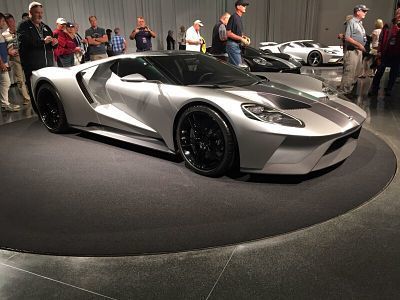 I Want My New GT!
The new 2017 GT has everyone talking! At this year's National Rally, Ford announced that it will allow current GT owners to apply for an allocation of one of the limited edition cars. The line began forming immediately.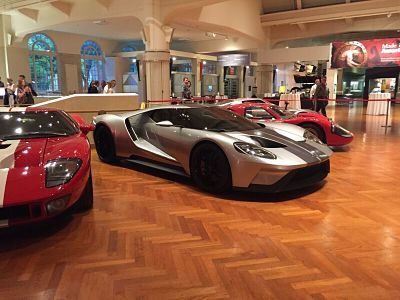 Celebrating Ford's History
We were thrilled to be there in Dearborn to celebrate Ford's history. As a former owner of one of these beauties, it is exciting to see a whole new generation of car enthusiasts get so passionate about how unique the 2017 model really is. It perfectly complements the GT cars from the 60's as well as the 2005-2006.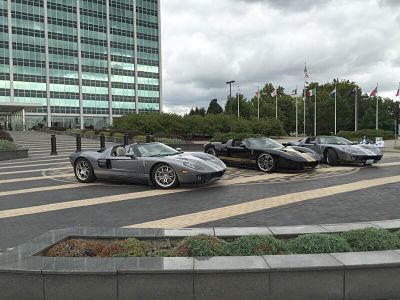 Proud Sponsor of the Ford GT National Rally
Classic Auto Insurance has been a proud sponsor of the Ford GT National Rally since 2007.  Participating in gatherings like this one, getting to meet all of the great owners, and sharing in our love of collecting is one of the highlights of our job. It is our hope that classic car collectors will continue to join us at these events and will help keep our passion alive and well. Whether you own a Ford GT or a Model T, your car needs protection. Let our friendly staff at Classic Auto Insurance help you find the right policy for your needs. Visit our website at www.classicins.com and see how we can help safeguard your dream car.