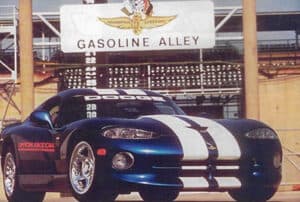 The Dodge Viper left its mark as a stylish, powerhouse sports car during its run from 1991 to 2010 and 2013 to 2017. The history of this stunning sports car began in 1988 at Chrysler's Advanced Design Studios, and it made its impressive debut at the 1991 Indianapolis 500.
Although Dodge produced many impressive iterations of the Viper — such as SR I, ZB I, and VX — the groundbreaking 1996 Dodge Viper SR II solidified a special place in the hearts of motor enthusiasts. Here's the history and specifications of this breathtaking and important sports car. 
The History of Chrysler's Sport Cars
Chrysler's impressive Dodge Viper began in 1988 in the minds of Bob Lutz, President of Chrysler's Advanced Design Studios, American automobile designer Tom Gale, Vice President of Design, and François Castaing, Vice President of Vehicle Engineering. Bob Lutz suggested that the studio produce a contemporary version of the AC Cobra. He wanted a classic 1960s roadster performance combined with modern technology. 
In 1989, the vehicle debuted as a concept car at the North American International Auto Show. The public loved the vehicle, so Chrysler got to work developing the impressive Dodge Viper. 
Roy Sjoberg served as the chief engineer on the project, and he selected 85 engineers to create the car. This team was known as "Team Viper," and their work on the vehicle spanned from March 1989 to February 1990. 
The vehicle features a tubular steel frame as well as resin-transfer molding fiberglass panels. Additionally, it came with vinyl windows and a canvas roof.  
The Dodge team equipped the stunning vehicle with a 488.1 cu in odd-firing Viper V10 engine. Chrysler's subsidiary Lamborghini helped Dodge design the V10 engine, which produced 400 hp at 4,600 rpm and 465 foot-pounds of torque at 3,600 rpm. The vehicle could go from 0 to 60 in 4.6 seconds and 0 to 100 in 9.2 seconds. Finally, the car sported a 6-speed BorgWarner T56 manual transmission. 
Although this car is powerful, it's certainly not the safest vehicle. The Viper lacked traction control, anti-lock brakes, and even airbags. 
The 1991 Indy 500 Dodge Viper Pace Car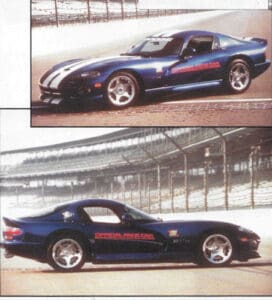 Sjoberg and his team's impressive Dodge Viper pre-production car made its debut at the Indianapolis 500 in 1991, driven by legendary automotive designer and driver Carroll Shelby. The Dodge Stealth (Mitsubishi 3000GT) had previously been slated to serve as the event's pace car, but the United Auto Workers rejected using the car because it was manufactured in Japan rather than the United States.  
The Indy 500 served as a critical moment for Dodge cars. Dodge's general manager Marty Lavine once stated that the event established Dodge as the performance division of the Chrysler Corporation. Millions of Indy 500 viewers immediately fell in love with the breathtaking vehicle, leading Dodge to get to work on the first production Viper.  
The Dodge Viper SR I finally became available to the public in January of 1992. Dodge continued producing this first generation until 1995 when the Dodge Viper SR II replaced it. 
1996 Dodge Viper SR II
Chrysler introduced the Dodge Viper SR II with the Dodge Viper GTS. Although the vehicle looked incredibly similar to the previous Viper iteration, the V10 engine received a much-appreciated performance upgrade. It produced 450 hp at 5,200 rpm and 664 foot-pounds of torque at 3,700 rpm. 
The vehicle also featured important safety updates, including airbags, power windows, and power door locks. The car also came with air conditioning, which the Dodge Viper SR I lacked. 
The Dodge Viper returned to the Indy 500 as a pace car in 1996 with a metallic-blue Viper GTS coupe. This time, it was driven by one of the Viper's creators, Bob Lutz. In addition to being a highly successful automotive executive, Bob Lutz is also a skilled driver.
After debuting the second generation of their stunning Dodge Viper, Chrysler continued producing the vehicle until 2002, when it was replaced by the Dodge Viper ZB I.
Get the Best Insurance for Your 1996 Dodge Viper
If you're looking for premium insurance on your 1996 Dodge Viper SR II or another breathtaking classic or sports car, look no further than Classic Auto Insurance. We offer customizable policies that are perfect for our clients and their breathtaking cars. 
Unlike most car insurance companies, we provide our customers with agreed-upon value policies, meaning that we'll work with you to determine your car's value. In the event that you total your vehicle, you'll receive the full amount of the car's agreed-upon value minus your deductible.
We also offer additional valuable benefits for our clients including rollover miles, inflation guard, nationwide flatbed towing, and much more. 
If you're ready to learn more about how Classic Auto can keep your classic sports car on the road for years to come, call our car experts at 888-901-1338. You can also get an instant car quote here.