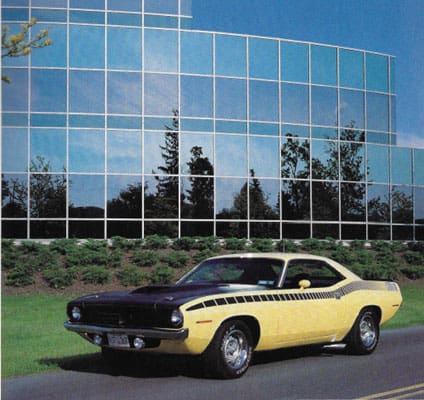 The 1970s was a decade marked by impressive muscle cars. Some notable vehicle entries from this period included the Plymouth Firebird, the Chevrolet Chevelle, the Ford Mustang Fastback, the AMC Hornet, and many other robust and high-performing muscle cars. 
One of the most iconic muscle cars from the 1970s had only a brief production period, making them exceedingly rare. This was the 1970 Cuda AAR, which was developed by the Chrysler Corporation's Plymouth brand. Although Plymouth only produced these remarkable vehicles in 1970, the vehicle left its mark on muscle car history through its impressive handling and performance. 
Development of the 1970 Cuda AAR
Although muscle cars of the 1960s and 1970s featured exceptional horsepower, they often didn't have good handling and balance. They were fast when it came to straight-line acceleration, but they were not well-rounded cars, making them unideal for road racing. The sport of road racing required vehicles with better handling, flexibility, and agility, which most muscle cars failed to offer. 
During this period, the public became increasingly interested in racing, especially road racing. As a response, Chrysler focused its attention on the sport. 
The company began sponsoring teams competing in NASCAR and the SCCA's Trans-Am series. In 1970, they backed a factory-sponsored team competing in the Trans-Am series that included the likes of Dan Gurney and Swede Savage, both of whom had established themselves as serious racing contenders. 
To support Dan Gurney's team while showcasing the company's offerings, Chrysler developed more balanced Mopars, including the 1970 AAR Cuda and the Dodge Challenger T/A. Chrysler called the special Cuda the AAR after Gurney's All-American Racers team.  
Both Dan Gurney and Swede Savage raced with Plymouth Cuda 1970 models, and Chrysler produced three other factory-backed Mopars to compete in the Trans-Am series. Although these vehicles performed exceedingly well on the race track, the team was unable to capture first place in any of the Trans-Am's events. 
During the year in which Chrysler sponsored Gurney's team, the auto company produced around 5,100 street versions of their Mopar cars, including around 2,400 Dodge Challenger T/As and 2,700 AAR Cudas. 
Unfortunately, Chrysler's involvement in racing was short-lived. After 1970, the company withdrew support from Gurney's team because executives determined that the sponsorship wasn't worth the return on investment. Because 1970 was the only year in which Chrysler sponsored Gurney's team, it was also the only year that they produced the street version of the AAR Cudas. 
1970 Cuda AAR Specifications 
The 1970 AAR Cuda debuted during the first year of the third-generation Plymouth Barracuda. Each third-generation Barracuda featured a long and wide hood as well as a short rear deck and low profile. Its available body options included the 2-door convertible and the 2-door hardtop. The hardtop came with three options: the Barracuda, Gran Coupe, and the Cuda trim. 
Chrysler unveiled the street version of the 1970 Cuda AAR halfway through the 1970 model year, and its A53 Trans-Am package sported a 340 cu in V8 engine with special cylinder heads, valve train, and block. The car's impressive powertrain boasted 290 horsepower. 
The vehicle also featured an Edelbrock high-rise aluminum manifold with three Holley 2300 series 2v carburetors, close-ratio four-speed transmission, 3.55 ratio limited-slip differential, and robust brakes with a power disc front and drum rear. The breathtaking muscle car also came with a low-restriction dual exhaust system with distinct megaphone exhaust tips.
The car's tires were E60 x 15 on the front and G60 x 15 on the back and were mounted on 15 x 7 Rallye road wheels. This historic and rare Barracuda also came with a left remote racing mirror and distinct paint and striping that emphasized its exceptional style.
One especially notable part of the 1970 AAR Cuda was its great handling and suspension. It had a Rallye suspension with front and rear sway bars, heavy-duty torsion bars, and shock absorbers. The car also came with a rather prominent rake because it had a relatively large camber in its semi-elliptical rear leaf springs. This unusual suspension offered better ground clearance for its side-exiting, reverse-flow exhaust system, and had better wheel-well clearance for the rear tires, making it more aerodynamic. 
With its impressive engine and handling, the 1970 AAR Cuda received a great deal of praise from motor enthusiasts and critics. Don Mathews of Sports Car Graphic stated that the car was "one of the best handling special-edition cars that we've driven," and he praised the impressively-powered engine.
Great Premium Classic Car Insurance for Your Plymouth Barracuda
Although Plymouth only produced the AAR Cuda for a single year, it established an important trend for Chrysler vehicles. The car set the stage for high-performing yet well-balanced muscle cars.
Whether you're driving one of these historic cars or another Plymouth Barracuda, you need ample protection to preserve your piece of luxury. For exceptional and affordable classic car insurance, contact Classic Auto Insurance at 888-901-1338, or you can click here for an instant quote.