The Ford Motor Company unveiled many spectacular Mustangs through the years that boasted notable styles and impressive speed performances. One of the company's most important and innovative Mustang iterations was the unforgettable 1969 Mustang Mach 1. 
Ford released this car during a pivotal time in automotive history when manufacturers were competing to dominate the new pony car market. The Mach 1 demonstrated Ford's attention to speed and innovation, leaving competitor cars in the dust. 
History Behind the 1969 Mustang Mach 1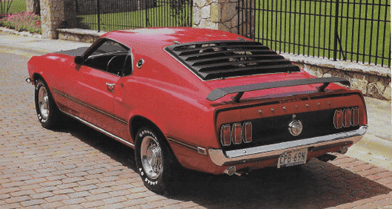 Ford made history with its original, breathtaking 1964 ½ Mustang, the second pony car on the market after the Plymouth Barracuda. Although Chrysler technically beat Ford at releasing the first pony car, the company's creation of the Barracuda was intended to compete with Ford's upcoming car, and, of course, the Mustang defeated the Barracuda in sales and performance. 
The first generation Mustang was truly a force to be reckoned with, but the pony car was too small to handle Ford's exceptional FE engines. The first iterations came with either a 170 cu in (2.8 L) or 200 cu in (3.3 L) Thriftpower I6 engine. 
After the initial success of the first-generation Mustang, the Ford Motor Company realized that the Mustang needed to up its performance to compete with new additions to the pony car game: the Chevrolet Camaro and the Pontiac Firebird. As a result, Ford designed the 1967 and 1968 Mustang models to accommodate larger and better performing engines, like the big block 390 cu in (6.4 L) FE V8, 427 cu in (7.0 L) FE HiPo V8, and 428 cu in (7.0 L) Cobra Jet V8. 
Ford continued this trend of enlarging the Mustang to accommodate more powerful engines with its 1969 and 1970 Mustang models, adding four inches to the Mustang's length and four-tenths of an inch to its width, but the car continued sporting a 108-inch wheelbase. The company also added quad headlights and removed its vent windows. 
In 1969, the company debuted one of its most iconic Mustangs to date: the 1969 Mustang Mach 1. 
The Fastest 1969 Mustang: The Mach 1
The 1969 Mustang Mach 1 was an important addition to Ford's line of Mustangs. It boasted a gorgeous 2-door fastback style with special stripes, a non-functional hood scoop, color-keyed sport mirrors, rocker-panel moldings, NASCAR-style hood pins, and a pop-open gas cap. The car also featured unforgettable styled-steel chrome wheels and E70-14 white sidewall tires.
The vehicle's interior was also a sight to behold with its high-back bucket seats, instrument panel with a wood-grain appearance, extra insulation, rally clock, deluxe three-spoke Rim-Blow steering wheel, trimmed foot pedals, console, and carpeting with red inserts.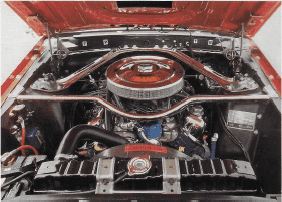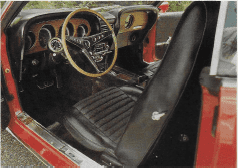 Of course, the car's main characteristics worth writing home about were its powertrain and speed performance. The vehicle's standard powertrain was made up of a 351 cu in (5.8 L) Windsor (351W) V8 engine with a 3-speed manual transmission that sported 250 horsepower at 4,600 revolutions per minute (rpm) and 355 foot-pounds of torque at 2,600 rpm. The 1969 Mustang Mach 1 top speed with the Windsor V8 was 128 miles per hour, and the vehicle could go 0 to 62 mph in only 8 seconds. The car also came with an upgraded suspension.
The base price for this unforgettable Mustang was $3,139, but drivers could also upgrade their vehicle's performance with notable additions, including a four-speed manual or three-speed automatic transmission, limited slip differential, tachometer, power steering, and sports slats. Mustang enthusiasts could also upgrade the Mach 1 with a 351 cu in (5.8 L) Cleveland V8, 390 cu in (6.4 L) V8, and a 428 cu in (7.0 L) CJ/SCJ V8. Those who chose to have their Mach 1s fully loaded could expect to pay around $4,200. 
Get Great Insurance on Your Unique Ford Mustang
Ford produced 299,824 Mustangs for the 1969 model year, 73,458 of which were Mach 1s. The company offered other impressive Mustangs that year, such as the economic Mustang E with a 6-cylinder engine, Mustang convertible, notchback coupe, sleek fastback, luxury-centric Grande, Boss 302, and Boss 429. 
If you're an unapologetic motorhead driving a breathtaking 1969 Ford Mustang or another classic vehicle, you need the best car insurance available to protect your exceptional beauty. Luckily, you're in the right place for protective and customizable muscle car insurance.
Here at Classic Auto Insurance, we're more than just a car insurance company — we're also classic car enthusiasts. That's why we offer unique policies tailored to the individual needs of our clients and their stunning vehicles. Our policies also include great benefits including rollover miles, inflation guard, and nationwide roadside assistance with flatbed towing. 
Ready to learn more? Call us today at 888-901-1338, or you can click here for an instant quote online.