At Classic Auto Insurance, we have a soft spot for the Chevy C10 Truck and we knew there must be a great story behind this 1967 Chevy C10 at this year's 2020 Detroit Autorama. The proud owner, Susan, was happy to tell her story and how she came up with the name of the beautiful paint job, Rio Blue. 
This was a raw interview as we got the pleasure to hear the story from the owner, Susan, her husband, Dan and from the builder, Ernie.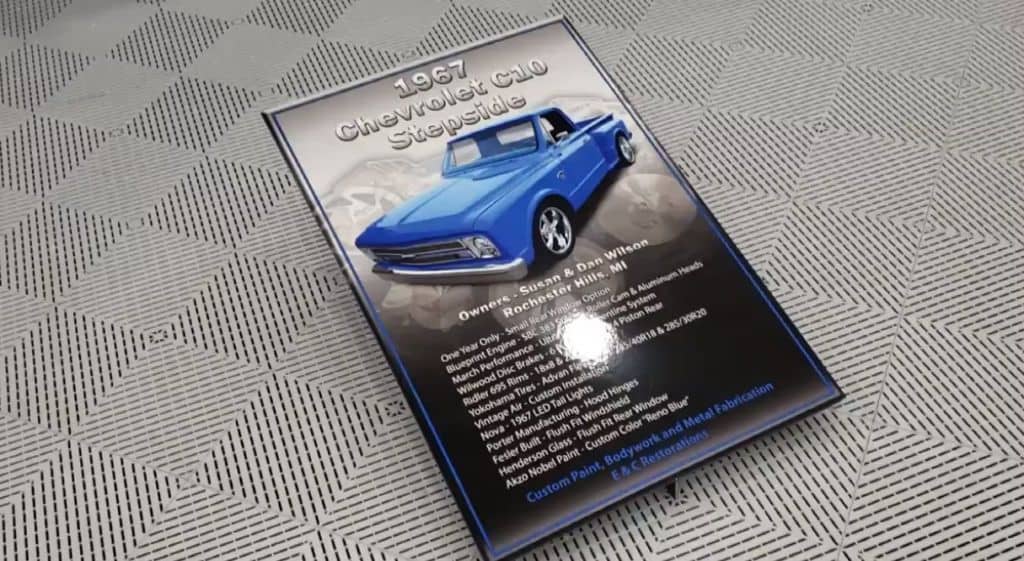 Interview Transcription:
Rick: This is Rick Drewry. I'm with Classic Auto Insurance here at Detroit Autorama 2020. I am here with Susan who has this beautiful Reno blue?
Rick: Reno blue pickup truck, a Chevy pickup. And the truck is amazing. But the story behind it is even better. Susan, can you tell me how you got this truck?
Susan: Well, we were in Reno, Nevada. We went to the Hot August Nights Event, and we walked into a corral, and I saw this truck, and fell in love with it. I immediately fell in love with it. So a couple of the guys that I was with, I asked them if they would look it over to see if it was worthwhile, and they loved it. They said it was great. So I bought it before my husband actually walked back over to see it. He didn't even know I bought it. He was like, "You really bought that truck?" And I said, "I did." So then after I bought it, it was on a whim. I mean, I just had to have it. So then, we parked it underneath the Reno sign, and we realized that it was exactly the same color as the famous Reno sign. So that's how it got the name Reno blue. Then when we brought it home, we had it trailered home, and one day my husband was on M-59 driving it from picking up a radiator, and he called me up, and he said that he blew the engine in the truck.
Rick: Oh, no.
Susan: I know, I was so sad. So I said to him, "Did you really?" And he said, "Yes." So I was thinking it over. He pulled it up in the driveway. He had a tow truck pull it up in the driveway, and I said to him, "Okay, let me ask you this question. Is there any way you can go bigger?" Well, that's all I needed to say, and he said, you're talking my language.
Rick: I don't know guy one, that if you said, "Can you go bigger on the engine?" that will say, "Oh, no."
Susan: I know. So on September 16th, EMC Motors took it away, and they spent every single night, morning, noon, night, and day putting it together. I've now got a bigger engine that is going to beat my husband's 1969 Mach 1 Mustang.
Rick: And what happened for you today?
Susan: I was so excited, because today was the big reveal. I haven't seen my truck since September 16th, so I came down here not knowing what they did with it at all. I walked in the door and I was just in awe. I could not believe it. I really and truly felt like I won the lottery. I mean, they've done so many beautiful things to this truck that if you could see the before and the after, it's unbelievable. So I actually cried, I was so excited. So, it was the best surprise I've ever had in my entire life.
Rick: So way beyond expectations?
Susan: Way beyond expectations.
Rick: That is so awesome. So, your husband, Dan …
Susan: Yes, my husband, Dan.
Rick: Got a few brownie points on that?
Susan: Oh, a lot of brownie points.
Rick: Dan, can you come on over here? I want to talk to you too. You can jump right in here. All right, so now tell me, what made you decide to just go hog wild on it?
Dan: Well, it started out as just a motor, and a couple of brake lines. And I said, "Well I've got to clean up the engine compartment a little bit.
Rick: It kept snowballing, didn't it?
Dan: I called Ernie to look at the paint, and that was it, we're going to do it all the way down.
Rick: Why not? So you did go with the bigger engine, because she said she wanted a bigger engine.
Dan: That's true.
Rick: Okay. What did you end up putting in it?
Dan: A small block 383 stroker board.
Rick: Very good. How much horsepower?
Dan: The Dino is at 435 is what the-
Rick: To the wheels, or on the crank?
Dan: At the crank.
Rick: That's still way more than enough with that light back end.
Dan: Yeah, I've experienced it. It's enough.
Rick: Okay. Very good, very cool. All right, and Ernie … Ernie, come on over here, Ernie. Ernie is the builder, and took this thing in. Now I got to know, did you run into any snafooz, rust, weird old repairs, or anything?
Ernie: No, it wasn't too bad. It was a good California car, or truck. It was in pretty good condition, a few dings and dents in that. But we've sanded it down, blocked it, put the nice Reno blue paint on top of it, four coats of clear, block sand, and worn off my fingerprints.
Rick: I'll bet you did.
Ernie: And it turned out like this. Dan had a lot of different little things we wanted to do to it. I tried to incorporate it, like the tail lights off a 67 Chevelle put on a flush mount bumper in the front. I tried to set that up. The engine is satin, so we did a satin theme of it, and this is what you see. 
Rick: All right, well you guys do obviously do really good work.
Ernie: Oh, thank you.
Rick: You can tell that, and then you followed the scheme in the engine bay with the Reno blue
Ernie: Reno blue, tried to keep it neat, tuck things away.
Rick: Right. And all the little details pay off.
Ernie: Yes they do.
Rick: They do, well, great work.
Ernie: Thank you very much.
Rick: Yeah, it was nice meeting you. Nice meeting you, Dan.
Dan: Nice to meet you.
Rick: Cash in on them brownie points.
Susan: And I'll take you for a ride some day. You and I on Woodward. I'll take you for a ride on Woodward someday.
Rick: I will call you on that.
Susan: Okay, I will give you my phone number. We'll go cruise.
Rick: All right, all right. Well thanks a lot, appreciate it.
Dan: Thank you.
Rick: Beautiful truck, and it's a great story. It's awesome.
Collector and Classic Car Insurance for Less
Protect your valuable iconic ride for years to come with Classic Auto Insurance. Let us customize a policy to fit your needs. We offer affordable, Agreed Value coverage for a variety of collector, classic and custom vehicles. Our friendly, knowledgeable staff can answer your questions and give you a quote on the spot. Call 888-901-1338 or get an instant quote online and see how we can help safeguard your dream car.